The fine art of App Store Optimization is to master your ASO Metrics: track & test your keywords and visuals, then, iterate on your app or game metadata.
And if you thrive on these arduous tasks, you can even get featured.
As an Indie developer, you may be familiarized with ASO testing tools, such as Google Experiments. Or even you may have already found about the recently announced A/B testing tool for Apple App Store. These tools make it super easy to compare different creatives, test them on your core markets, and improve your icon, screenshots, videos, and many other assets of your App Store Product Page.
This article will focus on some of the ASO Metrics & Tips that will make the most significant impact on your mobile apps and games.
Learn how to boost your ASO (App Store Optimization) organic reach with our other articles on the Appodeal Blog!
If you're eager to boost your conversion rates, installs, visibility, and many more metrics, then keep reading!
Summary of Contents:
ASO Metrics for App Store Visibility
When we talk about ASO, or App Store Optimization, we mainly focus on improving the visibility of your mobile apps and games on the Google Play or Apple app stores.
As an Indie Developer, the main goal for you is to increase the organic traffic you receive from the Search Results Page, Category pages, the Top Charts, and even the Apps or Games tab or various other places in Google Play or App/ Game of the day in App Store.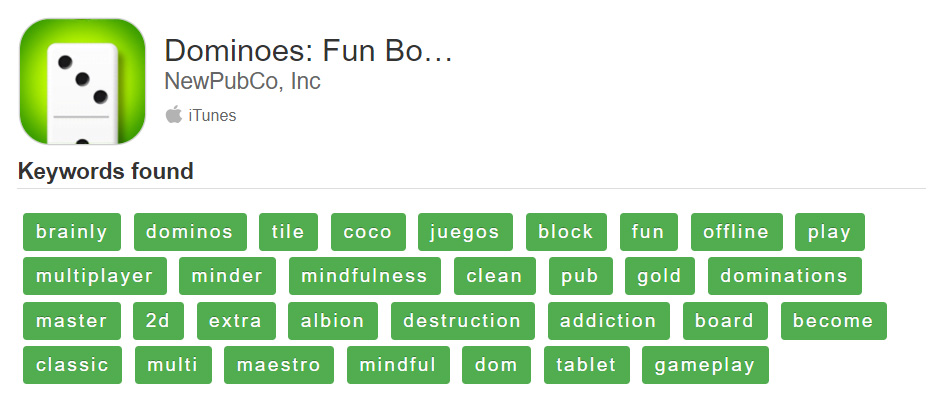 To track how visible your app is, these are the most common ASO metrics that you must check from your preferred ASO Tool:
Keyword Rankings: Once you've set your target keywords (or combination of keywords), you must check how your App ranks on the Search Results Page for each keyword you selected. This will allow you to modify and optimize the use of keywords in your metadata.
Top Charts: There are three main Top Chart Rankings: Free, Paid, or Grossing. Check them to see how trendy your game has been lately.
Category Pages: Users can search mobile apps and games by categories, and they're ranked by relevance. Check which positions you occupy to see how relevant you are in comparison to your competitors.
Similar & Related Apps: Find out those apps that are driving traffic to your products. Many users come from the "similar apps" widgets on other App Store Product Pages. Finding those apps that drive you most users to your app can give you ideas on how to adapt your communication.
Featured: You can track this metric with several ASO Intelligence tools. Further, in this article, you will find a dedicated section on getting featured.
Once you integrate more advanced ASO tools into your ecosystem, other visibility metrics may become relevant for you.
In our article "ASO Keywords: Boost the Discoverability of your Apps & Games", you will learn more about keyword KPI's and how to track them to increase your visibility.
Check these ASO Metrics regularly. Then, organize them into different countries or markets — Benchmark your rankings against your competitors' apps. Little by little, you'll find more growth opportunities.
ASO Metrics for App Store Conversion
Once the users have already found you through search or exploring the stores, as previously mentioned, and they have landed on your App Store Product Page, you want them to install your app or game.
On ASO, when talking about App Store Conversion, there are two primary ASO Metrics that you must check:
Click-Through Rate (CTR): Also known as Tap-Through Rate (TTR). The % of users who have seen your app or game in the search results or rankings, and have decided to click on it and open your App Store Product Page.
Conversion Rate (CVR or CR): Also known as Install Rate (IR). The % of users who have landed on your Product Page, and have installed your app or game.
These two ASO Metrics are decisive to understand how your app store assets are performing.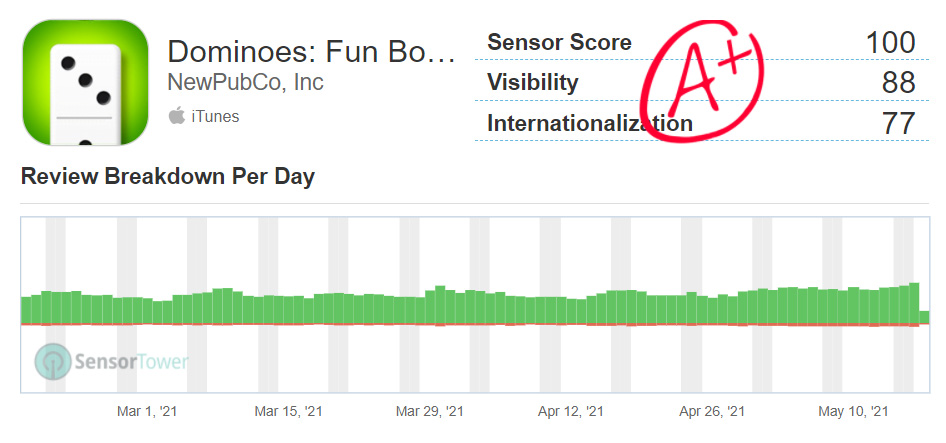 If you're an Indie Developer soft-launching your game and still don't have any data, compare your CTR and CVR with the average scores in the industry. Then, for even more accurate data, contrast it with the averages on your app category you're in.
Once you already have some data from your potential and current app store visitors, it's up to you to A/B test and update your assets to improve those ASO metrics.
Check our articles "ASO Conversion for Indie Devs" and "ASO Title & Description" to get tips and ideas on how to improve your app store assets.
If you want to get deeper into your ASO conversion metrics, you can also check how many users click on your "read more" button in the description; how many of them read other people's comments; if they scroll down a lot; if they get to play your video; etc.
ASO Metrics for Apps' Growth
Every expert on App marketing has a different view on how to measure mobile growth. For Indie mobile developers, sometimes this may be confusing.
In ASO (App Store Optimization), growth is commonly measured by:
Number of organic installs (on a specific period) - If you were to choose only one ASO metric, this would be the most important of all. Also, depending on the installs' speed, number, quality, source, and other KPIs (Key Points of Interest), you can say that your app or game is growing or not.
Retention Rate - This is a secondary metric that could be tracked for ASO purposes with the help of various tools. You can check retention rates for the 1st, 2nd, 7th, 30th days since installation in relation to the organic traffic to your app page that converted into organic installs and thus analyze how the in-app experience meets installers' expectations initiated on the app page.
The main goal of ASO is to increase your Organic Growth, and the main ASO Metric to consider here are the organic Installs. You can track your app installs on your Developer Console on each app store. While the data provided by Google Play Console or App Store Connect Analytics can be a good indicator of how your app page is performing, if you're also engaging in some paid campaigns, you better look for an Attribution tool to split your organic and paid installs.
From Appodeal, we support both Adjust and Appsflyer integrations. When you soft launch your next mobile app or game, you'll be able to integrate with Appsflyer or Adjust in your Growth Dashboard and cross your UA Metrics with your Monetization Data. This will help you to create better user-profiles and segments and generate tailored experiences for your users.
Paid installs most likely boost your organic growth. A well-tuned user acquisition campaign can drive you enough installs to uplift your ASO and make you reach the top charts. You may want to consider that when launching your marketing campaigns.
To understand how your paid installs affect your organic, do this formula:

The greater your Growth Uplift, the lower the eCPI (effective Cost Per Install) of your user acquisition campaigns.
ASO Metrics on User Feedback
ASO Metrics that track feedback from your users are probably the most intuitive.
On your Product Page, you'll find the User Ratings & Reviews section on both Apple and Google Play app stores.
The KPIs (Key Points of Interest) that affect most of your ASO (App Store Optimization) is:
Rating Score: Can range from 1 to 5 stars.
Number of Ratings: The latest ratings you receive tend to have more weight in the search & rankings algorithm.
Number of Reviews: If they're positive and lengthy, they may help you reach better ranks.
The ratio of Ratings / Reviews: The closer it is to "1", the better. Means your users are engaged with your app or game.
User Sentiment: This ASO metric gathers data from all the previous reviews and tells you the overall customer sentiment in relation to your app and in-app experience, as the name already points out. Bear in mind, though, that every ASO tool may calculate it differently.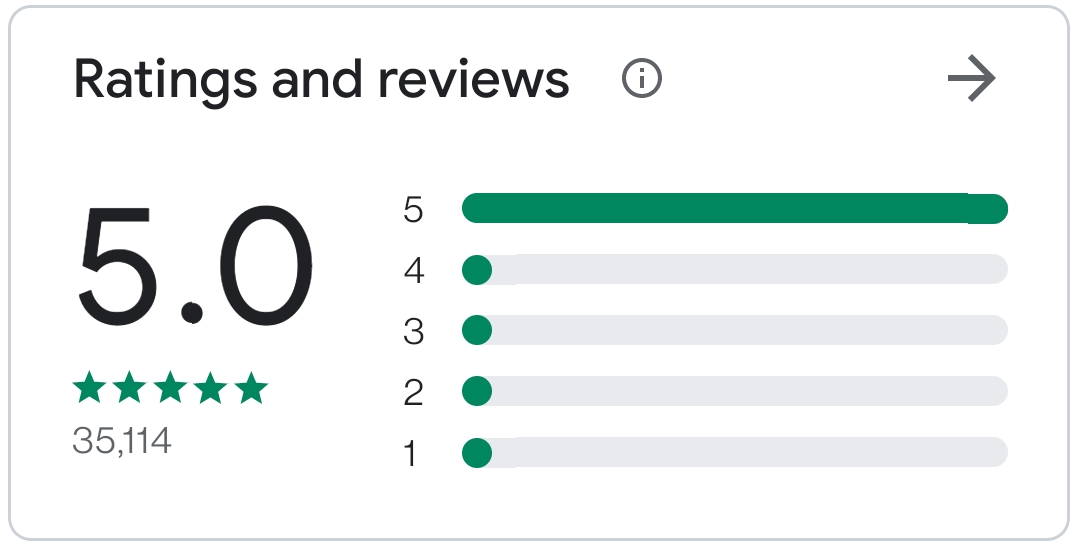 The ASO Metrics on User Feedback are important to know how solid and reliable are your apps and games.
If you want to dive deep into this topic, check our article "ASO Ratings & Reviews: Boost your Growth Strategy".
These metrics will not only help you get into the top charts. They also play a part in your ASO Conversion. The feedback your game gets will influence your app visitors when deciding to install your game.
Monetization Metrics for your ASO
One of the main goals of launching a new app or game into the App Stores is to profit from it.
Unless you're releasing a branded app to build brand awareness, a mobile indie developer needs to check your monetization metrics and use them to improve their ASO (App Store Optimization) and overall growth.
On Appodeal, we've recently released several articles to help Indie developers to "Improve the Cost per Install (CPI) & Average Revenue Per User (ARPU)", and talking about the importance of the "Lifetime Value (LTV) for Mobile Games".
Track your Monetization Metrics to find out your top-grossing users, how they behave, which user acquisition campaigns they come from, what ASO keyword they used to find your app, etc.
Once you get to track and understand the VIP users that matter most to you, improve your ASO strategy and adapt it to them.
ASO Metrics: Track, Test & Iterate
Measuring all the previous ASO Metrics and the whole process of tracking, testing, and iterating your App Store product page can be time-consuming for an Indie Developer.
But even if it takes time, testing your App Store Optimization pays off.
Be mindful when measuring the improvement of your apps' performance after testing new ASO assets or keywords.
There are common errors that you may want to avoid, such as:
Do not mix your data from the organic installs with your paid acquisitions: Users who have installed your app organically have different behaviors than users acquired from marketing campaigns.
Not taking care of your User Signals: Metrics such as "download velocity", "conversion rate", or "time spent on the page store" are also used by App Store Algorithms to rank your apps.
Not crossing UA data with your results: Your UA traffic also affects your user signals. For example, if you stop running a social media campaign while testing your ASO, it may impact your test results.
You may find some of this stuff overwhelming initially. However, once you start working on your ASO (App Store Optimization), you'll get the drill.
Sooner than you expect, you'll be rationalizing the time and efforts you spend on your ASO and achieve more remarkable results that will translate into a significant number of high-quality installs.
Looking for an extra push to your ASO Strategy? Register our Appodeal Accelerator Program at NO entry cost. Receive funds, resources, and dedicated marketing support to help you boost your organic reach.