App and game developers like you, usually do not have the time to check which UA campaigns are ready to be upgraded or scaled.
To do that, you must save some days in your calendar and analyze the performance metrics of the ad creatives. Then create the proper reports, compare the KPI's… and a long and tedious process that takes a lot of time.
Time, that you could spend developing your game, fixing bugs, or creating new awesome features.
Check other Appodeal's use cases such as: "how to stop losing money in UA campaigns", "detecting ARPU variations", or "how UA affects your organic installs".
Now, let me show you how, just by using the Appodeal Reports Dashboard, you can save a lot of time.
Detecting UA Campaigns that allow Higher CPI
Let's imagine that you have your UA Campaigns, and you know you have to reach 100% of your ROAS on day 30 to generate revenue.
Open your Appodeal account and set up the report dashboard in a way that shows all your UA campaigns along with their ROAS.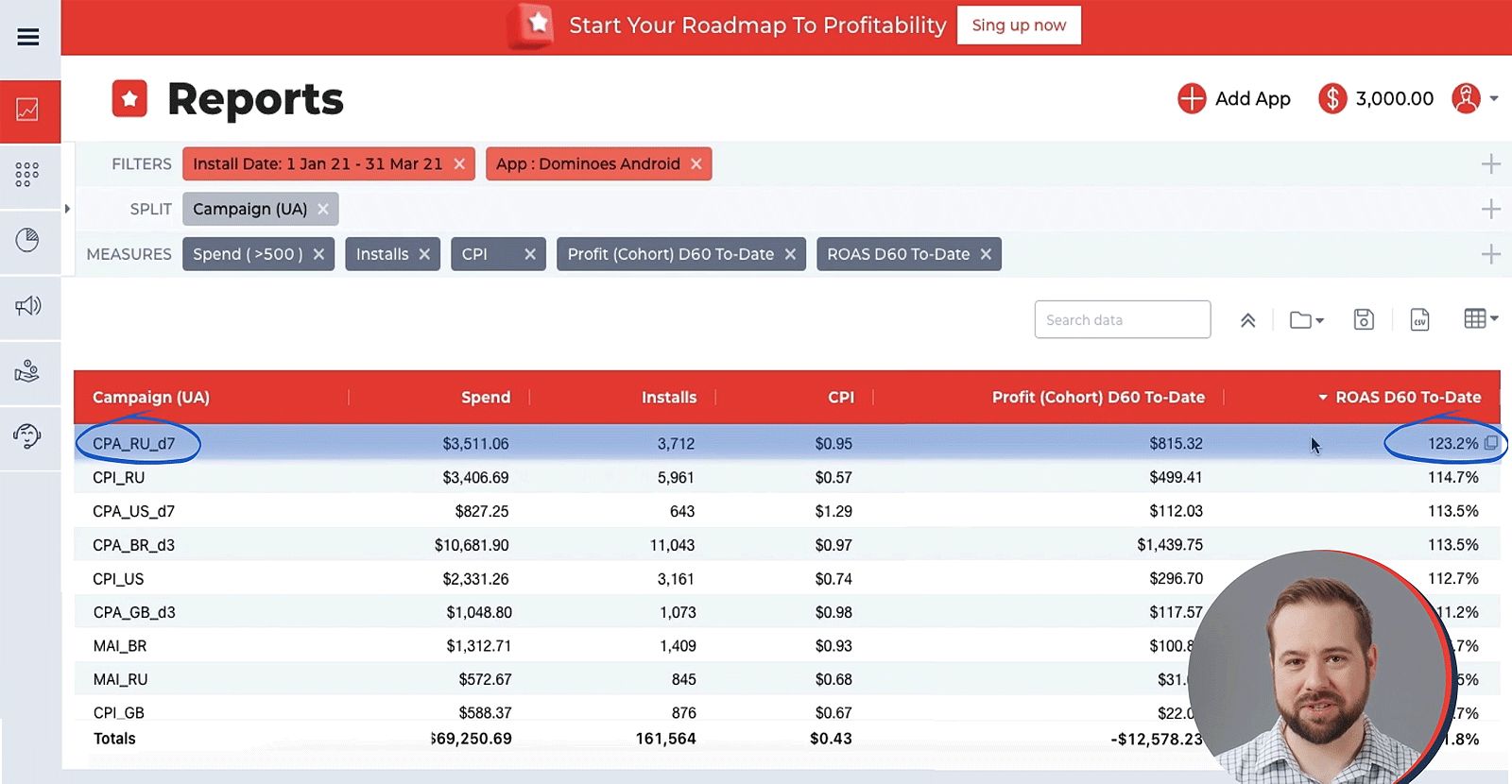 In the first line of this chart! the campaign that is named CPA_RU_Event_d3. And look, the ROAS on Day-30 is 127%.
It is already telling you this UA campaign is profitable: you are already paying less of what you're going to get from these new users. Meaning, that you can safely increase the Cost per Install of this campaign without losing money.
Keep checking your ROAS insights for the rest of the list, and you will find which UA Campaigns should have higher or lower Cost-per-installs.
Why to raise CPI when your UA is already OK?
Now you may be wondering: why would I want to raise the Cost-per-Install of a campaign that is already doing well?
The answer is because, this way, you will get more installs. Installs that will generate more revenues. Installs that, at the same time, come from a campaign that you know has a good performance, and brings you high retention metrics.
And this is how the Appodeal Reports can mark a difference in your apps and games.
Find the Reports Dashboard in your Appodeal account, and start turning your apps into top-earning hits.
It's easy. It's smart. It's Appodeal.