We have DOUBLE-CHECKED & UPDATED all the data on the quarterly eCPM Reports so you can be ready for 2023. Now it's up to you to be at the top of your game to make smarter & data-driven decisions.
However, how to keep a steady growth for all your mobile apps & games?
To help you boost your monetization strategy this 2023, we're releasing the Appodeal Mobile In-app Ad eCPM Report for the first time, which brings you a complete month-by-month analysis, with the latest eCPM data.
Use it wisely to spot trends that can be a starting point when preparing and segmenting your ads.
And you can download it here!
This year 2023, purchase behavior is expected to change drastically.
In past years, the global pandemic resulted in more people using mobile devices than ever before. App installs and engagement were usually higher as people would receive mobile devices as gifts downloading apps in tandem.
Additionally, we were more likely to see plenty of activity among loyal mobile game users who would make more in-app purchases (in-game currency, extra lives, weapons & unlocking levels) as a result of spending some spare free time inside their houses.
While the holiday season traditionally brings huge eCPMS & revenue for advertisers, the results gathered with the Yearly eCPM Report are entirely different during the last 2022. As the world returns to a new normality, some industry analysts have been saying that we're in the middle of a cold season for mobile devs & studios.
5 Key Findings from our Mobile eCPM Report 2023:
Inflation has risen across global markets. With less purchasing power, users may interact more with rewarded ads.
Privacy changes & restrictions to data granularity have caused a notable impact on the ARPU in recent years.
eCPM for the USA ramps back to levels only seen a few years ago.
South Korea, the Philippines, and other emerging countries have increased their revenue metrics on Rewarded Ads & Interstitials.
Russia, Poland, and other Eastern-European countries have been less affected by the economic conjuncture compared to their Western counterpart.
What will you find in the Mobile eCPM Report?
For this first edition of the Mobile eCPM Report, we focused our attention on 18 different countries to give you more accurate data. This wide variety of countries will allow you to identify eCPM trends for countries with similar user behaviors. Once you have detected which country resembles more to your audience more, it will be easier for you to create sound strategies for 2023.
Find valuable insights on representative markets such as Australia, Brazil, Canada, France, Germany, India, Japan, Mexico, Philippines, Poland, Russia, Saudi Arabia, South Africa, South Korea, Taiwan, Turkey, The United Kingdom, and The United States.
A breakdown report to learn how the eCPM Trends perform throughout the previous year, including
18 countries — From all continents (except Antarctica).
3 Ad Formats — Rewarded Video, Interstitial & Banners.
2 Platforms — iOS & Android.
+200 Billion Ad Impressions — +100,000 Apps & +70 Ad Demand Sources
Interactive Infographics — Navigate through the data that matters to you the most
An in-depth look at our Mobile eCPM report:
Now that inflation has risen across all global markets, users with less purchasing power may interact more with rewarded ads.
Discover which ad types are bringing the highest eCPMs per country. Then, narrow down your analysis to the platform of choice within your target audience.
Month-by-month eCPMs
Compare, month by month, the eCPM evolution to spot trends that may occur again in 2023, and strategize accordingly.
In past years, the eCPMs would be at their highest during November and December. Advertisers would compete aggressively with each other for limited ad inventory by increasing their ad bids, resulting in higher eCPMs for mobile app publishers monetizing with ads.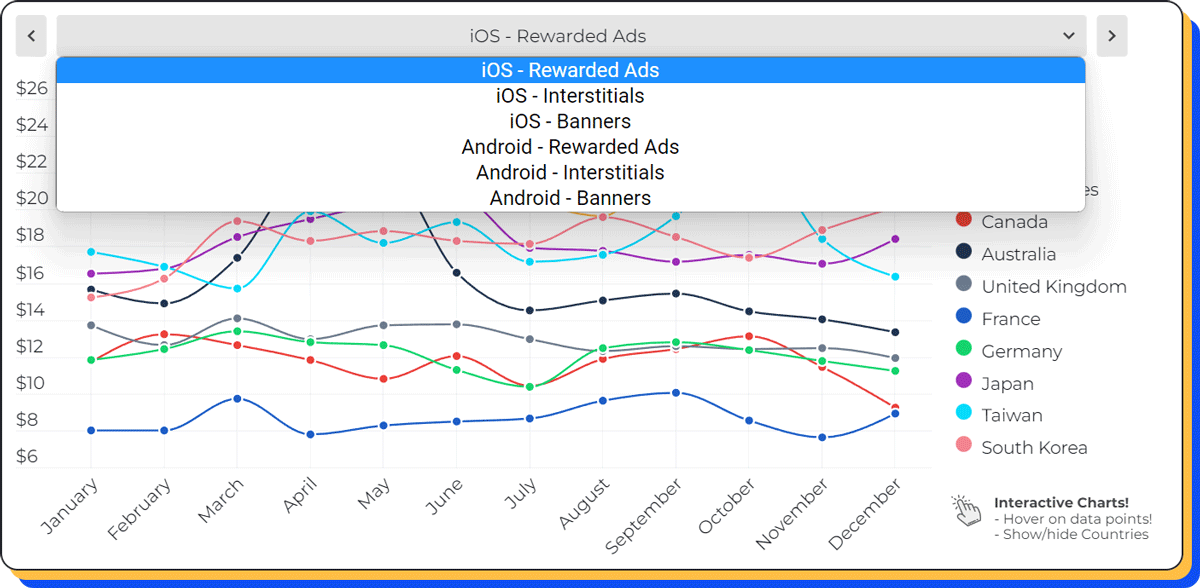 For 2023, eCPMs predictions for some markets seem to be positive. However, privacy changes and restrictions to data have drastically impacted the ARPU compared to previous years, making it more difficult to track the effectiveness of the install ads through which many mobile studios & developers both acquire new users and earn money from other app makers.
Times are changing! And you need to tweak your monetization strategy just in time to ensure you boost your eCPMs & overall ad revenue despite the factors running our actual economy and shaping a new world.
Top eCPM Countries & World Map!
Explore in a world map the eCPM of your targeted countries, and see how they have evolved every quarter.
You can also check the eCPM in each country based on the Ad Type!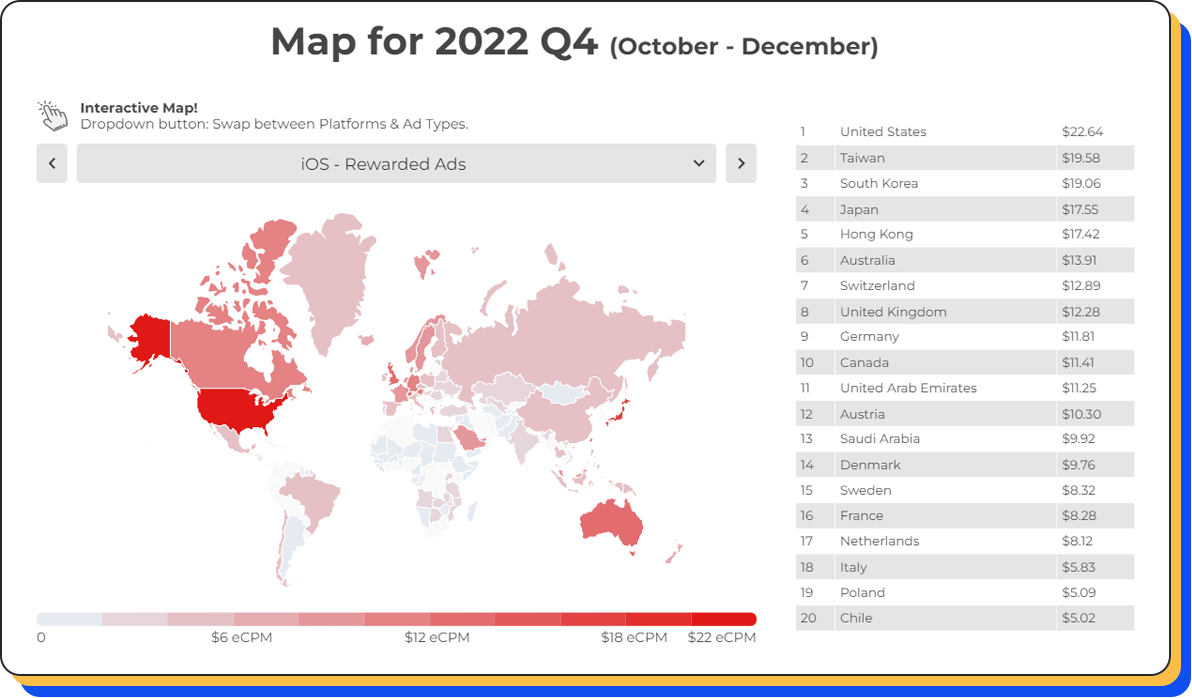 The economic conjuncture may cause your users' living needs may overpass consumer wants. This could result in more users preferring and interacting with rewarded video ads during gameplay instead of investing their money in in-app purchases.
Markets such as South Korea, the Philippines, and other emerging countries have increased their revenue metrics on Rewarded Ads & Interstitials.
However, other Eastern-European countries have been less affected by this economic conjuncture, which becomes an excellent opportunity for advertisers planning to launch seasonal in-app offerings to level up their games & apps.
What can we expect for 2023?
There's still room for advertisers to increase revenue through properly segmented marketing campaigns that drive more engagement, downloads, and installs.
The extra free time and every single penny saved throughout the year still represent an opportunity for advertisers to get high earnings from mobile users as the excuse to spend money on seasonal promos and discounts makes more sense during an economic downturn.
2023 is the year to grow your Mobile eCPMs!
People spending their free time on their devices means more and more eyeballs glued to your app, increasing chances to get more ad impressions and boosting your eCPMs.
This report dives deep into the data from 2022 to analyze how the eCPMs have been affected over time as a consequence of seasonal app behavior. This way, you know where to start when preparing your ads strategy, campaign setup, and spending distribution.
The recent advertising ecosystem changes have impacted brands' ability to reach audiences with relevant, timely ads. This report is the most accurate and current indication you can take into consideration when tuning your apps' monetization strategies for the next upcoming months.
Navigate through all the charts & insights, and adapt your monetization strategies to get the most out of this first edition of the Yearly Mobile eCPM Report.