It's nearly impossible to talk about mobile ad monetization and not mention rewarded video ads in mobile games.
Rewarded videos are often used for monetization purposes as they enhance user experience, drive engagement, and boost retention (if properly implemented). Even the most casual gamers will seek out a short video in hopes of earning an extra life, spin, or a few gold coins.
Find the main advantages of rewarded video ads; learn tips, strategies, and best practices when using them, and explore which options you have to integrate into mobile games & non-gaming apps.
Summary:
Advantages of Rewarded Video Ads in Mobile Games
Rewarded Video Ads in mobile games are not just a fancy trend anymore. They are the dream ad format for everyone.
The premise behind rewarded videos is simple. As the name implies, the popular mobile ad format rewards users with in-app currency or another high-value feature in exchange for viewing a video ad.
According to Amelia Zins, Product Marketing Manager at Facebook, mobile game players are most loyal to Rewarded Video compared to other ad types.
It's the easiest way to attract and retain users eager to stay in the game. They are an essential part of short and long-term user retention.
They are the favorite of everyone:
Mobile players get to choose an engaging ad that comes with a reward.
Indie developers have more tools and resources to integrate rewarded ads into their games. It has never been easier to increase your ARPU with them.
Publishers also use them to increase their revenue (as this format has the highest eCPMs) and cross-promote other games in their portfolio.
And advertisers get positive ROI and more significant exposure for their brands.
The eCPM's of rewarded video ads have been non-stop growing over the last years. 
Our latest Performance Index analyzes rewarded video format in 3 regions USA, Western Europe, and Eastern Europe. Rewarded videos' eCPM continues to grow non-stop. And if you want to know the latest market trends and shifts, you can check our Mobile eCPM report. We update it every quarter of the year!
Rewarded Video Ads in Mobile Games
Since it's an integral part of the app's success, the first tip for developers is to think through where rewarded videos would naturally fit at an early stage of designing the game.
Rewarded videos shouldn't feel like an interruption or an obstacle in the game. If you incorporate rewarded videos to look like a logical sequence in the game, you will receive a positive response from your users.
The reward offered for watching the video should be firmly connected to the user's goals in the game and be valuable to them.
Good Example of Rewarded Video Ads in Mobile Games:
After watching a rewarded video ad unit, users should get slight benefits: more time to complete a game task, acquire in-game currency, get a second chance after failing a level, etc.
Let's take a look at how Archero handles rewarded videos: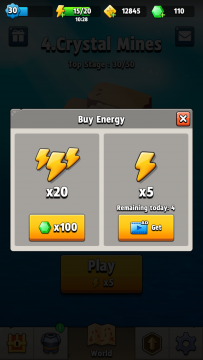 Players need energy, a currency re-chargeable over time, to progress in the game,.
Alternatively, when a player is out of energy and dies, they receive an option to watch a video or several videos in a row to get enough energy to continue playing.
Bad Example of Rewarded Video Ads in Mobile Games:
If your players need hundreds of coins to buy a necessary gaming unit to continue the game, don't just offer a single coin. This will render your rewarded video ads useless.
The quality of the reward should be more important than its quantity.
Rewarded Video Ads in Non-Gaming Apps
Do non-gaming apps even need rewarded videos?
Mobile app developers should consider integrating rewarded video ads too. The format has so much potential outside of games and can boost ad revenue for apps that primarily rely on subscriptions or in-app purchases.
Since rewarded videos are in an opt-in scenario, there is a high probability that a user would find this ad format a positive reinforcement.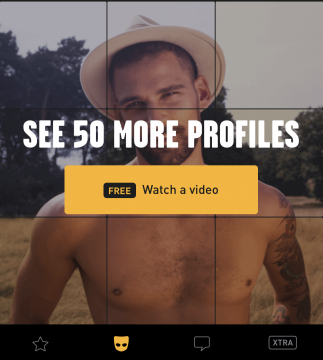 An excellent example of rewarded videos in a non-gaming app is the popular gay social networking app Grindr. Unless users pay for a subscription, the number of profiles they can see is limited. After watching a rewarded video, free users unlock more profiles and chat with more people.
In general, giving users a sample of paid gated content within an app is perfect for rewarded videos. It also helps increase the likelihood of the user making a purchase. However, as with gaming apps, you have to maintain a balance — the value exchange should be reasonable for users.
7 Tips to Integrate Rewarded Video Ads in your Apps & Games
Every app is unique. Still, rewarded video ads can fit into most of them.
We have created a summary of what we see as best practices for rewarded video ads within the space of one app.
1. Provide real value for the user
Make sure your rewarded videos provide real value to the user. In exchange for watching a rewarded video, the user should get enough of a reward to keep using an app.
2. If they don't fit, don't force them
Tweak your in-game features so you can offer rewarded ads more gently. Place your ad units organically within your game. Use rewarded video ads when a player loses or dies in a game, or reaches gated content.
3. Standalone Rewarded Video Ads
Consider offering several rewarded videos outside of gameplay or the core game. Let your users watch your rewarded ads voluntarily, and don't always attach them to your game's core features. It will likely help increase your user retention. Some apps place a tv icon in the app menu or map for additional rewards.
4. Add other Ad Formats to avoid fatigue
Despite its allure, rewarded videos can be repetitive. Adding other ad formats like banners or interstitials helps create diversity. eCPMs on banners are stable, and users are used to them and don't find them disruptive anymore.
5. Optimize & Iterate your Ad Placements
You can place banners on app pages that deal with settings, volume, app shop, etc. Those are the spaces where users do not feel agitated to decide or get frustrated because they are interrupted while taking important actions.
6. Deliver relevant & quality Ads
Reduce the frequency of your other non-rewarded ads and work with ad networks or DSPs that choose to work with trustworthy brands. Banners definitely should not be abundant. They work better when are simple and can be quickly closed.
7. Don't be too punitive
Most importantly, remember that ads are a way for users to continue enjoying your app for free and to support in-app purchase incentives. They are not meant to bombard users for the sake of ad view stats.
Effective Strategies for Rewarded Video Ads in Mobile Games (Video)
In a recent webinar, here at Appodeal, we have explored some of the most effective strategies for using rewarded video ads in mobile gaming.
Natalie Portier (Appodeal's Evangelist), and Gaetan Pauchet (Appodeal's Account Strategist Lead), chat with Alex Ariestov (founder of Heather gLade) about the success he has seen using rewarded videos to monetize two popular mobile games, Zero to Hero (iOS | Android) and Billionaire Simulator (iOS | Android).
During the discussion, Alex outlines some of the strategies when successfully integrating rewarded video ads:
Principles to understand how players relate to your mobile game.
Indie developers should focus on user experience and retention to increase the value of the rewarded videos they deliver.
How to offer a Reward Video Ad that is tied to the core game mechanics and, at the same time, incentives players to keep users retained.
Steps to choose the location of rewarded video ads according to your user behavior.
Things that every indie developer should never forget when testing and optimizing their Rewarded Video Ad results (to scale user engagement).
Top 3 Best Practices for Successful Rewarded Video Ads
Many game developers often feel that their games don't have the correct monetization model, the ideal game genre, or the specific core mechanics to incorporate rewarded video ads in their mobile games.
Other indie developers invest the time and energy to build a great game but sprinkle on ads as an afterthought.
What's the best way to use video ads effectively without harming retention? Below are some best practices and examples of using rewarded video ads to achieve the greatest effect.
Rewarded Ads to overcome Difficulty Peaks
Show a quick video right after your game first increases in difficulty, spurring gameplay with an extra life or other valuable feature.
Check how many times the user has attempted to complete a level or a stage. Create triggers for these cases. If things are getting too hard for your players, give them an extra helping hand by offering them rewarded video ads.
By that same token, you can also display rewarded videos every few levels to increase retention.
Don't make your rewarded ads too foreseeable
Give your players what they want, but only so often.
Display them occasionally to keep them guessing and integrate them with the energy mechanics of your game if applicable.

Over-showing rewarded videos get boring and predictable. It eliminates the surprise factor and decreases the value of your reward.
Segment your players and personalize their ad experience
It isn't enough to reward every player the same way.
To enhance user experience and increase revenue, target your players and add personalization with Appodeal Segments.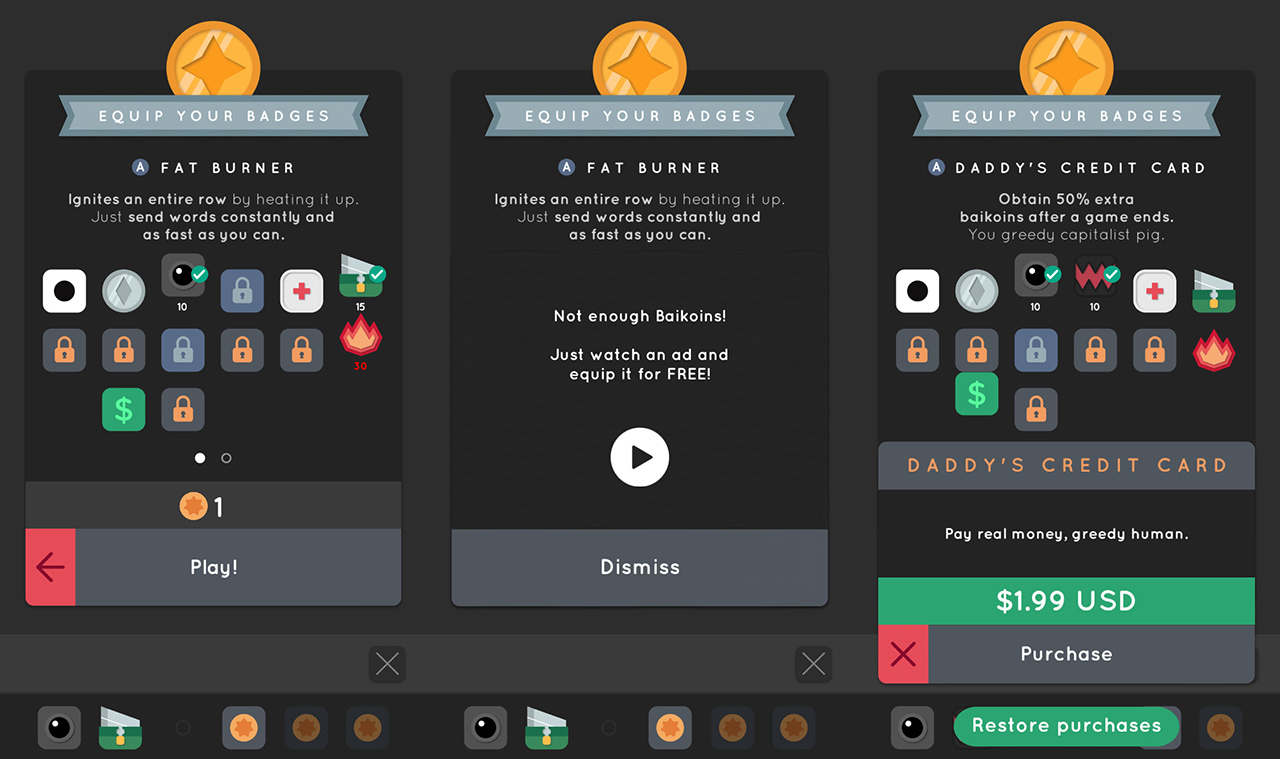 Segments allow you to divide users into targeted groups so that you can alter the frequency and type of reward given.
You might find it most beneficial to monetize non-paying users. Show ads 5 minutes after launch rather than after 2 minutes. With Segments, you have the freedom to experiment and refine your strategy.
Summary: Time to integrate Rewarded Video Ads in your Mobile Games!
If you're looking for a new way to integrate ad formats into your apps, check the Appodeal Growth Platform. Optimize your ad waterfalls from over 70+ ad networks through the most efficient ad mediation in the market.
From the same Appodeal growth platform you'll have access to plenty of tools. From features & services focused on helping indie developers and publishers self-launch your games. Take advantage of the most advanced demand control center, user segmentation tools, A/B testing, cross-promotion, and everything your apps need. We'll ensure you always get the max eCPMs from your ad units.
To learn more about the incomes & eCPMs generated by rewarded videos ads (and other ad formats), we have prepared for you a comprehensive Mobile eCPM Report that we update every quarter.
Check also our most recent Performance Index. Our comprehensive report will provide you with insights about top-earning mobile ad networks, ad exchanges, and DSPs. Along with each category, you will find the eCPM over time and the average eCPM of each country globally. The eCPM trends of mobile ad formats are on both iOS and Android devices.