When mobile app and game developers want to scale an app or a game, it can be done in many ways: ASO, organic reach, Public relations, influence marketing… Those are valid but long-term strategies.
When you need installs, fast and steady, you go and create a Paid User Acquisition Campaign: You set up your audiences, build your best creatives, launch your paid ads, and start getting millions of installs.
Easy, right? Well… not exactly.
Table of Contents:
Metrics & Common Questions when scaling a game
Little mistakes here can be pretty expensive, and even more when your marketing budget is tight.
There's a ton of metrics you have to think of: Return of Investment, Return of Ad Spending, Cost per Install, Click-Through Rate, Life Time Value, Forecasted Life Time Value, etc.
And when you're done with that, there are many more questions:
What is the performance of a specific UA source or ad creative?
What's the max CPI you can afford before you get into negative ROAS?
How much revenue will your app generate in the next couple of years?
How do you know your revenue per user before waiting months, or even years, of gathering data?
Appodeal first-class Growth Platform
These problems keep piling up... Until now! Because at Appodeal we decided to put an end to it.
We have upgraded our mediation tool, and now Appodeal it's a first-class "Growth Platform": Now you can build forecasts and predictions of your user's Life Time Value... and other revenue metrics.
Also, the Appodeal Growth Platform includes a Business Intelligence tool that predicts all your app revenues and retention rates... up to 365 days in the future!
How does Appodeal Growth Platform works?
First, you gather all your monetization, retention, and user acquisition data into your Appodeal dashboard - it's very convenient to keep all the metrics into one single place, instead of chasing your data in dozens of tools, Demand Service Providers and who knows where else-.
Then, Appodeal Growth Engine will learn from all your historical data to predict and forecast your future metrics.
The more data you feed to Appodeal, the higher the accuracy of your predictions!
All the big companies in the top charts have Business Intelligence tools like this. This is how they can produce so many paid campaigns with outstanding returns, how they keep getting installs, increasing their user base, growing their games, and staying on top.
But now, with the Appodeal Growth Engine, you have the chance to compete with them and put yourself at the same level.
Setting up your Ad Campaigns with Appodeal
First, you have to set up your Ad Campaigns. Then, just after three days of gathering data, you will see which users will bring you long-term revenues, and which don't.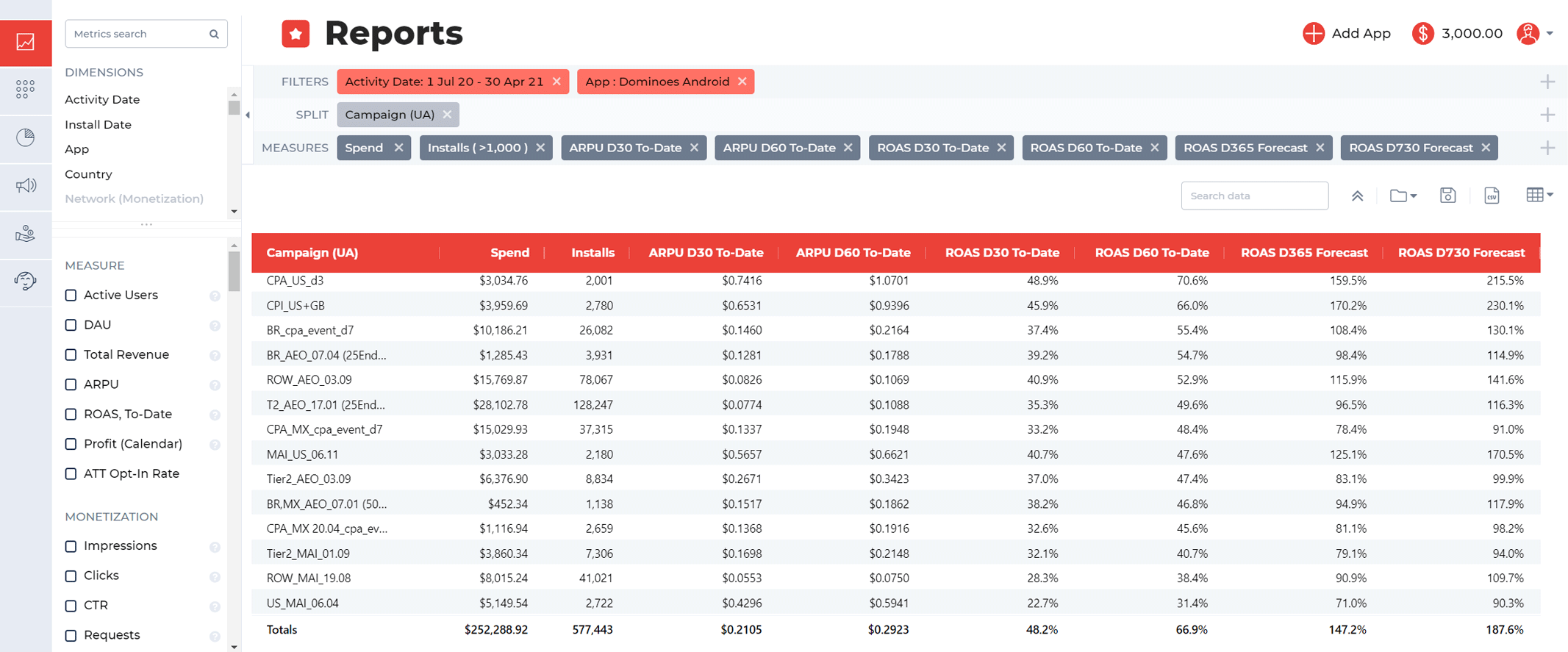 In these charts, you will already see when your campaigns can increase your user's Life Time Value after 30 days or 60 days. Those paid campaigns that do not report positive returns, you can stop them, and redistribute your marketing budget to better ad creatives.
And for those campaigns that are giving you nice returns, if you decide to keep them active and running for a few more days or weeks, your forecasted metrics will extend to one year... or even two whole years of predictions!
Forecasting your Life-Time Value
Imagine that you want to predict your LTV, Life-Time Value. You want to know the projection of these metrics, a year or two from now, but your paid campaigns don't have enough traffic to predict it.
That is not a problem either for the Appodeal Growth Engine.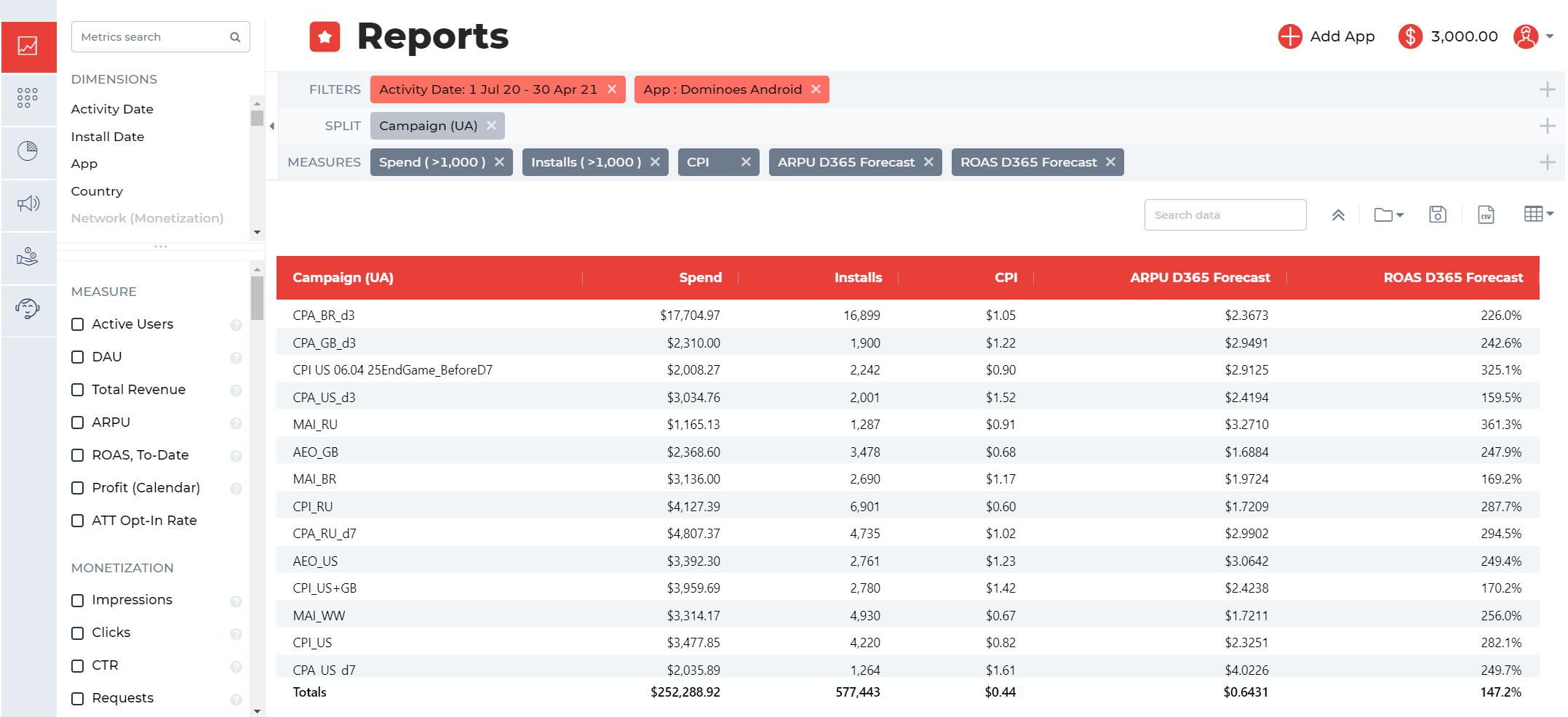 In the picture on top, you can see how the Appodeal dashboard can give you predictable ROAS metrics. This will show you the profitability over a long time, without even having actual data.
Check which campaigns are profitable in two years: Choose those campaigns that, based on your ARPU metrics, have or will have higher ROAS. Then, you can increase the CPI of your User Acquisition campaigns, and observe how much traffic you can get while keeping positive returns.
You can increase your ad spending and, in a year, still have a ROAS that is above 100%.
You will still increase your installs, attract more users to your app, and accelerate the growth of your mobile app up to 11 times!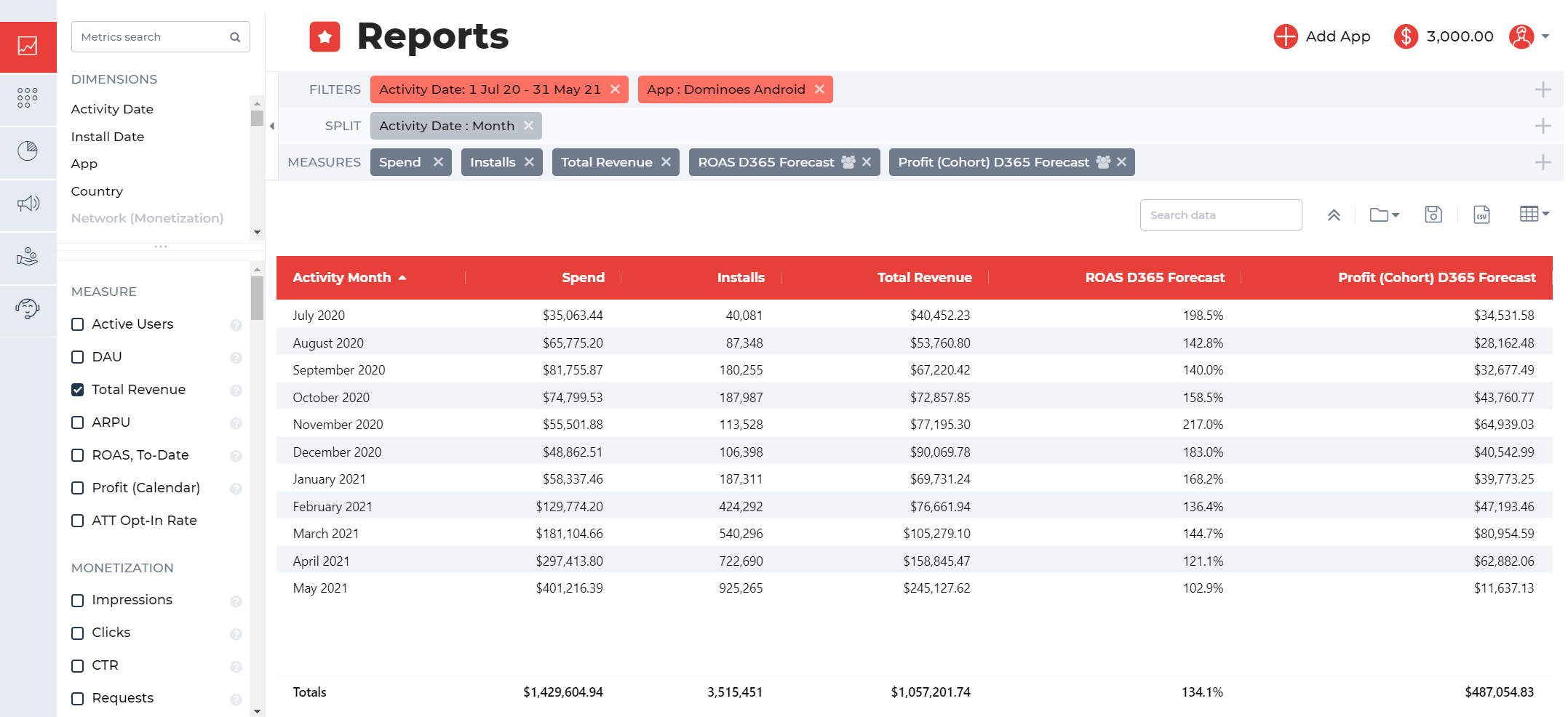 Long Payback Strategies to beat your competition!
And this is the type of paid campaign, with long payback strategies, that top companies do to get in the top charts and take dominant positions in the app stores.
The Appodeal Growth Platform puts your company at the same level as your top competitors.
If you're struggling with your paid campaigns
You're not sure to increase the CPI of a campaign or just stop it
You don't know which campaigns will bring you the highest returns in the future
Or forecasting your revenue metrics is too tedious
... and you're looking for a way to make your life easier when dealing with User Acquisition.
Then, the Appodeal Growth Platform is for you. And, for a limited time, it's completely free. No entry cost. Just sign up and get it. It's up to you to start raising the stakes and turn your apps and games, into top-earning hits.
It's easy. It's smart. It's Appodeal.