In the Definitive Guide of Growth, you will learn all you need to know to turn your mobile games & apps into top-earning hits. A document with 65+ pages full of content that will teach you:
Ways to boost your Retention & Revenue Metrics.
How to acquire high-quality users with Ad Creatives.
& Help you grow your UA (User Acquisition) Campaigns.
Tips, strategies & insights for mobile game studios and indie developers. We have tailored all the guide contents to the current market trends & latest changes in the ad industry (such as iOS 14.5). Get to solve the most common questions when launching & growing mobile apps & games.
This eBook will help you not miss any of the points you must cover to keep growing your mobile games.
Contents of the Guide of Growth
The Definitive Guide of Growth covers most relevant areas that you, a mobile developer, should know if you want to launch a successful mobile app or game.
These are just some of the topics that you will learn in your free copy of this eBook:
Check the list of all the Retention Metrics you need to track.
Learn how to build a Retention Formula.
Discover new strategies to grow your Retention Rates.
Find effective ways to calculate your LTV & ways to improve it.
Boost your ARPU, ARPPU, ARPDAU, and other revenue metrics.
App & Game strategies to Improve your Ad Revenues.
Get to know the optimal CPI you should be paying for your UA Campaigns.
Identify all the questions you need to ask yourself before producing your Ad Creatives.
Find out what makes a great Video Ad Creative for a mobile game.
Learn to read your Ad Creative metrics to check how effective they are.
& Master all the things you need to create a top-earning hit!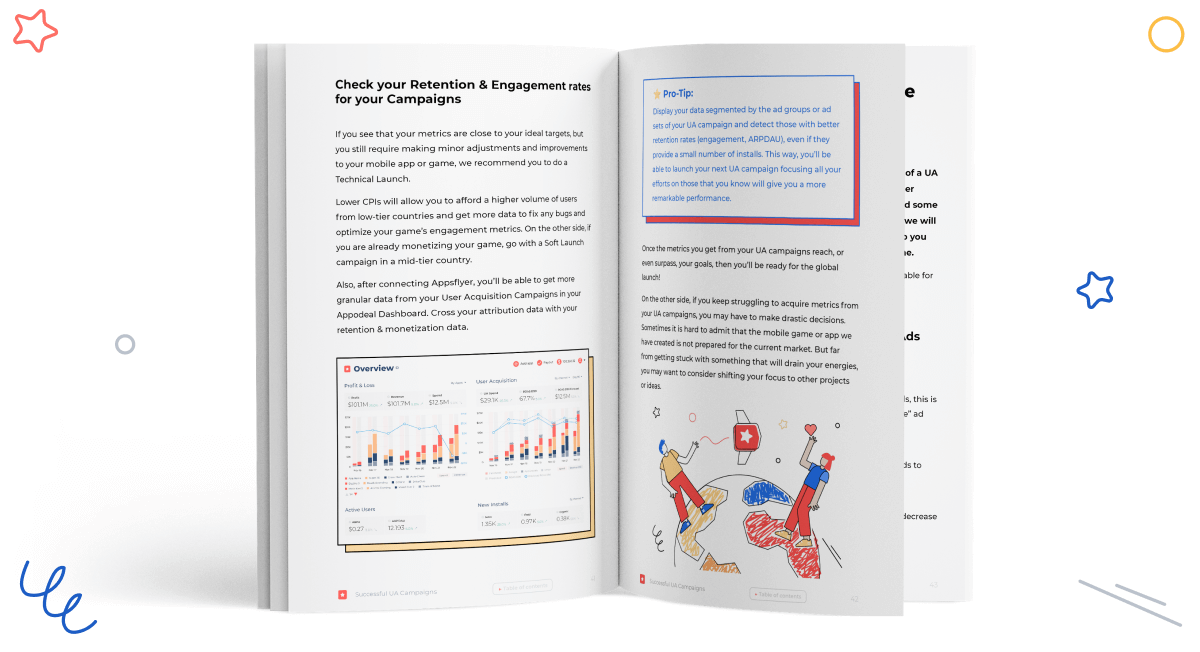 Check out "The Definitive Guide of Growth for Mobile Games & Apps". A 65-page eBook where you will find step-by-step guidelines on how you can grow your mobile games.
Behind the Ultimate Guide of Growth
At Appodeal, we empower Indie Mobile Game Developers & Publishers since 2015.
For that purpose, we don't just provide the best growth platform to monetize your mobile apps and games. We are constantly creating eBooks, guides, and other resources for you to reach the top charts.
The Ultimate Guide of Growth is the must-have tool for your mobile business to keep growing. From the latest eCPM trends in the market to the impact caused by iOS 14.5. This eBook summarizes and adapts its contents to the current mobile ad industry changes that we're facing.
Get it now for free to keep the growth of your Apps & Games & stay ahead of your competitors.