Body shaming & sexualized mobile ads are everywhere, yet, they could disappear at any moment.
Despite all the harsh criticism, warnings, and sanctions, the trend remains. Moreover, it has become a popular option among game developers and mobile studios looking to drive installs to their mobile games.
Anyone browsing social media has likely encountered advertising for mobile games – and while some are quite naive, there's a new genre of ads drawing attention through stereotypical images that some people claim are promoting female self-objectification, body shame, sexualization, and reduced psychological well-being.
The trend describes itself pretty easily. Some ads show women - usually in revealing poses or clothing - in condescending situations towards men. Some ads highlight words like "slave", "master", and "you must avoid me" as part of their dialogue. Others bring back old beauty standards that relate body sizes to male acceptance, accentuating how men prefer a shapely feminine body with a correct bust-to-waist-to-hip ratio, over a curvy body.
"Aren't we all over this already? Let's not go back to the "cutting carbs" era. 😅" is one of the most common claims from their detractors in social media.
The real enigma is not the content they show - but how they trigger users' emotions, convincing them to download the games they promote.
Table of contents:
Decoding users' behavior - why do they click?
Love it or hate it - the strategy is brilliant. So genius that it makes you react. Despite widespread criticism, the underlying message of objectifying women does the trick for app marketers doing their work.
The big enigma: why do they work? Shouldn't the emotion of disgust, anger, or repulse drive you exactly to do the opposite of downloading the app? Humans are drawn to what's different, prohibited, and scandalous. We Love Drama. And data proves this damn too well.
Remember when you were young and your mom would stop you from watching horror movies, but you watched them anyway? You knew you weren't supposed to and yet, that didn't stop you.
The same thing happens with these ads. Some users that interact with them may even have opposite values and ideologies to those reflected in the ads. Still, interacting with what they consider "such an inappropriate and prohibited topic" drives them to satisfy their curiosity by downloading the games.
It's in our DNA and we can't help it. That's what got us into researching this topic in the first place after watching the ads.
What's the hype behind these ads
For this article, let's immerse ourselves in one polemic game: Project Makeover. This game invites players to give their characters makeovers to help them achieve their lifetime dreams.
At first, the whole concept seems harmless. But the ads are quite controversial, relating successfully achieved goals to perfectly shaped bodies and old beauty standards. They show the main character - a girl - trying to look better for men she either wants or is already going out with. They point out her major physical flaws, like her body, hair, natural eyebrows, or acne, that need fixing and invite the user to do a makeover on her.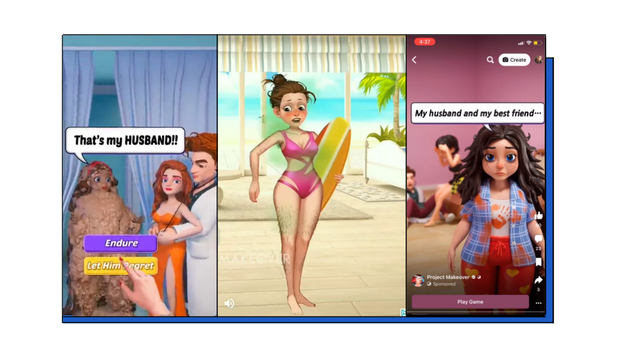 Events like that, trigger strong emotions and have the potential to make us look at something and stop from scrolling. Phrases such as "what should I wear tonight to get him to notice me" or "I'll shave my legs and wear makeup to win him back" are so shocking for some viewers that they feel way too tempted to download the game.
But there's another catch to these ads: the failure-based creative strategy. For some, the character receives the makeover and achieves its goals. Others result in a failed makeover where the character ends up looking even worse than it did before. Such a disappointing outcome drives you into what the marketing team wants you to do: download the game to try again and do better.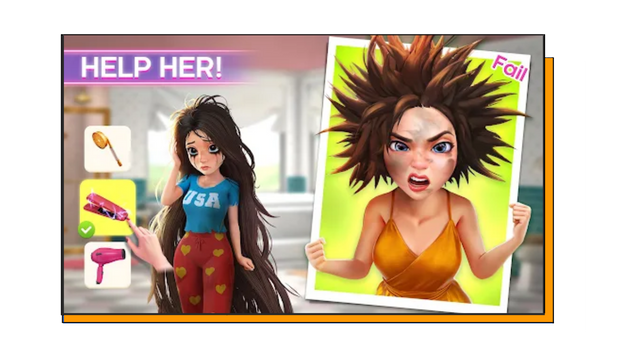 Does the negative social media response affect downloads?
For the people not downloading the game, the displeasure feels so personal that it turns into comments sharing their disgust on social media. And then again, the goal is achieved. The mobile game gets free publicity without spending a cent, and new users install it to please their curiosity.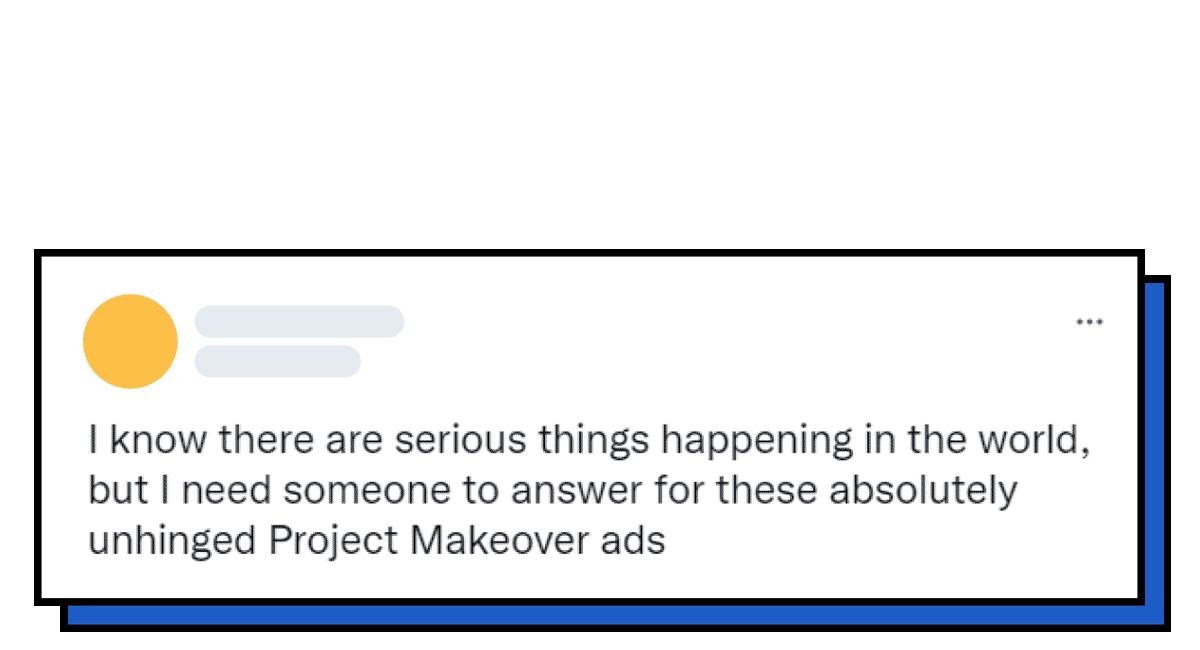 Other games worth mentioning are Game of Sultan and Episode.
GOS is an empire simulation RPG mobile game in which you experience the life of a Sultan engaging in wars, managing your empire, and securing your legacy through your heirs.
The ads for this game display a powerful sultan that takes female hostages, and pushes them to lose weight and answer chauvinistic questions about their bodies and looks. For example, the sultan can say to one of his female hostages, "You gave birth to an ugly creature, I don't love you anymore, slave. What should I do?".
Again, it triggers a strong emotional response. And the viewers either interact with the ad looking for more similar content that can upset them or destroy the game on social media. Both actions do the job and the revenue scales.
Another mobile app, Episode, is a storytelling network and platform that features interactive stories. Players start one of the stories and make choices as the storyline progresses. The attractive catch is its user-generated content creation platform, where players can also create their own stories.
Episode uses sexual elements in many ads to attract customer attention. One of its ads shows a female character in a suggestive pose with a policeman looking at her. Another ad shows an even more mind-blowing situation: a man desperately needs to go to the bathroom. Unfortunately for him, the door is locked with his wife inside, who happens to fall asleep on the toilet. The ad gives you two options: pee in her mouth or divorce her. (Makes sense🤔)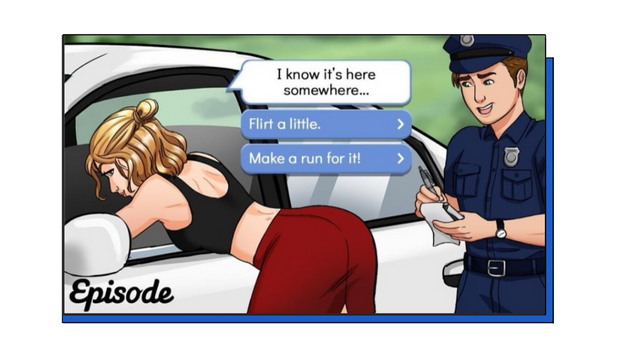 Call it humiliating, but the concept works.
And once again, the data speaks louder. Users engage with the ads, and downloads start to rise. The buzz for these ads was so big that even Youtubers like Danny Gonzales with 5.87 million subscribers got to make a video reviewing them. The result? A video with 8.2 million views and a strong viral effect for the mobile app, Episode.
Whether it is just people cringing at the absurdity of the ads or showing genuine interest, ads like these, and more to come - are getting the attention they need to reach new users and promote downloads. Just check it out for yourself: Project Makeover has over 50 million downloads on Google Play, Episode - 100 million & Game of Sultan over 10 million.
Advertising Standards Authority sanctions and warnings
Sexualization in advertising is as old as time. Back in the so-called "golden era of advertising" (1950-1980's) it was a popular strategy among advertisers portraying women in situations that today are considered out of fashion.
Societies evolve. In some countries, such as the UK, what was perceived as normal before, is now being banned by advertising and regulatory bodies such as the ASA (Advertising Standards Authority).
Today's ASA rulings include several decisions on mobile games using sexualized ads to attract new users, removing them where needed, and flagging advertising standards to developers. The ads must be careful when showing violent or sexual imagery, and segmentation should avoid specific audiences.
Game studios planning to market their games in the UK are aware of it. Over time, more and more advertising regulators may take a similar stand against body shaming and sexualized ads.
Will you use sexualized mobile ads?
Tell us what you think about this trend in the comments, or reach out to us on social media.
Be aware that, although sometimes sexualized ads may bring good results, regulatory entities seem to want to regulate them.
So play it smart. Regardless of your ads' content, always check your data, understand your audiences, and look into each country's advertising regulations to prevent any sanctions.