Appodeal SDK 3.1 is in beta version until this summer.
Are you grappling with frequent app crashes, a convoluted ad setup process, and a maze of data accessibility issues?
If your answer is a resounding 'Yes,' we have exciting news that could revolutionize your app business! At Appodeal, we understand these challenges that you face daily and have committed ourselves to developing solutions tailored to meet your needs. Our answer to your concerns is our meticulously engineered upgrade – the Appodeal SDK 3.1 (currently in beta version).
Are you eager to explore how this upgrade can transform your app business? Let's dive into the details of Appodeal SDK 3.1.
Tackle App Crashes Head-On: Ensure the best User Experience!
If you've been in the app industry long enough, you'll know that app crashes are more than just minor glitches. They disrupt the user experience, hurt your app's retention rate, and, if unchecked, can undermine your app's overall success.
Appodeal SDK 3.1 is designed to combat this key concern.
We have significantly reduced the ANR rates (Application Not Responding). The ANR rate, as measured by Google Play, has a threshold of 0.47%. An ANR rate at or below this threshold is considered acceptable and may positively affect the overall growth of your app.
Moving to SDK 3.1 beta with all top networks, our beta testers managed to reduce the ANR rate to as low as 0.16%.
This remarkable improvement means a smoother, more reliable operation for your app and a superior, hassle-free user experience for your audience. The SDK 3.1 equips you to reduce your app crashes significantly and fosters an engaging environment for your users.
Unified Interstitials: Say Goodbye to Complicated Processes
If you're tired of the cumbersome two-step process of managing static and video interstitials, SDK 3.1 has a pleasant surprise for you!
Our latest SDK 3.1 merges these two ad units into a single waterfall setup configuration, eliminating the need for you to juggle between different setups.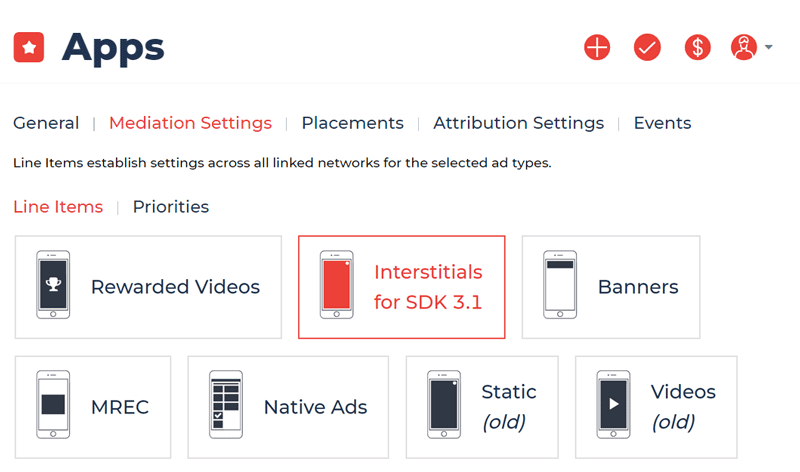 This groundbreaking change simplifies your mediation setup and streamlines your ad management process. No more confusing steps, no more wasted time - with SDK 3.1, you get a hassle-free, efficient ad integration process.
For our existing clients, rest assured, your metrics will remain split. However, new users can enjoy the benefits of a unified, simplified experience. Bid goodbye to complex ad management with SDK 3.1!
Access Rich Data with New Events & Callbacks
Data and insights are pivotal drivers of growth and optimization in the ever-evolving app industry. However, accessing detailed, impression-level revenue data is often a challenge. SDK 3.1 breaks down these barriers with the introduction of the OnAdRevenueReceived callback.
This new feature arms you with invaluable data about network name, revenue, ad type, and more. Imagine having this wealth of information at your fingertips, enabling you to make informed decisions and build effective strategies.
There is no manual intervention or data loss - just smooth, efficient data transfer.
SDK 3.1 also makes data sharing a breeze. If you're using Firebase, seamlessly integrated with the Appodeal SDK, your ad revenue data is automatically dispatched to your dashboard.
Harness the power of data with SDK 3.1 and drive your app's success!
Boost Your App Performance with General Fixes & Improvements
We're committed to ensuring your app remains compatible with the best ad services out there. That's why SDK 3.1 comes loaded with a series of updates and improvements.
This update includes various adapters from the most widely used networks in the industry, enhancing your app's performance and ensuring you stay ahead in the game:
AppLovinSDK 11.10.1
AppsFlyerFramework 6.10.1
Firebase 10.7.0
Google-Mobile-Ads-SDK 10.5.0
FBSDKCoreKit 16.0.0
myTargetSDK 5.17.5
UnityAds 4.7.1
Mintegral 7.3.7
BidMachine 2.1.0
What's more, Appodeal SDK 3.1 now supports apps built on Android, iOS, and Unity platforms.
We understand the importance of staying current, so we're also working on releasing our Unreal adapter. Stay tuned for more exciting updates!
Summers Sales: Now is the best time to Integrate Appodeal!
We are standing on the cusp of an exciting season in the mobile industry. Summer sales, a high-traffic season for mobile applications, are rapidly approaching. This period brings a surge of active users and potential customers, offering an incredible opportunity for app businesses to skyrocket their growth and revenue.
However, without the right tools and strategies in place, this could also strain your app's performance, possible crashes due to increased load, and missed opportunities in monetizing the incoming traffic. Equipping your application with an efficient, robust tool like Appodeal SDK 3.1 becomes crucial to mitigate these risks and take full advantage of the season.
By integrating Appodeal SDK 3.1 now, you not only stand to improve your app's performance significantly but also get a chance to streamline your ad operations before the rush hits. With enhanced crash rate efficiency, simpler ad setup, improved access to crucial data, and increased compatibility, you ensure your app is not just ready to survive the summer sales, but truly thrive in it.
Take the leap and integrate Appodeal SDK 3.1 now. Be prepared, be proactive, and watch as your app scales new heights during the summer sales.
Remember, timing is everything. And there's no time like the present to ensure your app's future success.