All-in-One Growth Intelligence
Turn Your Apps' Data Into Profits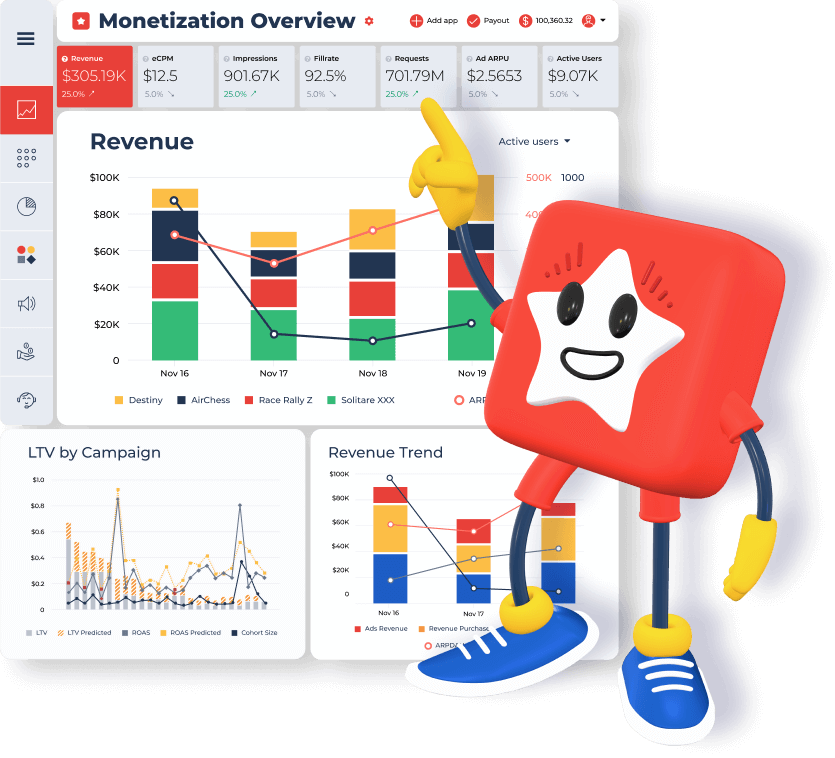 Get insights hidden deep in your data
User Acquisition & LTV Insights
Engagement & Retention Insights
Customizable Dashboard & Reports
Earn More Revenue
the Data-Driven Way
Where is my app's revenue coming from?
Easily see how much your apps are earning all together. Compare your revenue from in-app ads, in-app purchases, or subscriptions to see opportunities for growth.
How much ad revenue am I generating?
Dive into your in-app ad's eCPMs and ARPDAU metrics. Find out your best performance ad demand sources, geos, ad formats and much more all in one spot.
Which of my user segments are bringing me more value?
Create and compare your different user segments. A/B test various monetization strategies to discover the optimal ones for each segment.
Where should I place ads and how often should I show them?
Run A/B tests of your ad placement strategies and see which ones brings you the most revenue, app engagement and retention.
User Acquisition Insights
Grow your users and LTV with a 
precise data approach
What's the expected and forecasted lifetime value of my new users?
Find out how much lifetime value your new users are currently generating But don't stop there. Get also their forecasted LTV based on the UA channels, ad creatives and targeted countries.
What's driving the highest conversions for my app?
From the channels down to the creative level, find out what is giving you the best conversions, LTV, ROAS, installs, CPI, retention and more.
How much return or loss am I getting from my ad spend?
See where your ad spend is going and which channel and campaign is giving you the best ROI. Use this insight to better allocate your ad budget, so you never waste your ad spend again.
Where are my most valuable users coming from?
Find out your most effective channels and campaigns for increasing your user base and bottom line. No more guessing game.
Delight and retain more users with data
to lead the way
How is my app's retention rate holding up over time?
As your app grows, find out how its retention rates of different cohort changes. View not just the user session counts, but also the revenue and ARPU together.
How engaged are my users with my app?
Easily see your users' session length, count and time spent per day all in one spot. Locate any major deviation to pinpoint potential issues.
How will this product change affect my revenue?
A/B test any product changes to see how they affect your bottom line before rolling them out to all users.
See the metrics
that matter most to you

in one spot
How's my app doing overall?
Quickly glance at your app's most important metrics in one spot: profit, revenue, loss, installs, active users, ad spend, ARPU and more.
How do I unite my data with just a few clicks?
Unite your data into one dashboard with just a few clicks. Easily connect metrics via API from your Facebook and Google Ads campaign and attribution data from your AppsFlyer key to align them all with Appodeal's monetization data.
How can I see what matters most to me?
Easily build your own customized dashboard using the drag-and-drop dashboard builder. See what matters most to you.
How deep can I build my reports?
Get data as deep as you desire by building your own granular reports. Easily filter by various dimensions and select the metrics that matter to you, such as eCPM, ad whales, LTVs, retention rates and more.
Create an account and turn your mobile apps into top earning hits!