Mobile games have a huge potential audience with over seven billion active mobile devices worldwide. However, with millions of available apps, it can be difficult to stand out from the crowd. One way to make your game prominent is to create an introductory video for your mobile game.
As someone who has been involved in the mobile game industry for years, I know that one of the most worthwhile things you can do for your ASO strategy to get people interested in your game is to create a great intro video. People are visual creatures, and an engaging, well-made video can give users a taste of your game.
App store visitors often make split-second decisions about whether to download a game. And featuring your video prominently on your app store page can help to boost your game's visibility and conversion rates.
In this article, I'll walk you through creating an introductory video for your mobile game from start to finish.
Learn how to boost your ASO (App Store Optimization) organic reach with the Appodeal articles!
Pre-production: The Brainstorm
The first step is to brainstorm a creative concept for your video.
As this will be the foundation of your video, it's worth thinking about what will work best for your mobile game.
If you're planning to include animated elements in your video, you'll need to decide which animation style you want to use. There are dozens of different styles, from traditional hand-drawn animation to 3D computer animation.
Ask yourself some of these questions to get started:
What is your mobile game's distinctive feature?
What kind of tone do you want to set for your video?
What video style would be most effective in conveying the message you want to communicate?
Once you've decided on a concept, it's time to start planning out the video for your mobile game. This includes storyboarding and creating a shot list that will serve as a roadmap during the actual production phase.
One important thing to also keep in mind during pre-production is the length of your video. Google Play, for example, recommends a short and concise intro video for your mobile game, because only the first 30 seconds autoplay. This may appear like a short amount of time, but you'll be surprised how much you can fit into 30 seconds.
Production: Creating the Visual Elements
Once you have your concept, and the storyboard is ready, it's time to start production. This is the process of actually shooting your video and creating visual elements that will be included.
You must first choose a place for your shoot. This should be somewhere that's easy to access and has good lighting. It's also important that the location is quiet, so you won't have any unwanted noise in the video for your mobile game.
Once you've chosen a location, it's time to set up your camera. Using a smartphone, you can get by with just the built-in camera. However, if you're using a DSLR or another type of camera, you'll need to ensure you have the right lenses and other equipment.
During production, the individual frames for your animated elements are created and assembled. Make sure that the animation style fits with the overall tone of your intro video. This is a complex process that requires a lot of time and patience.
Take into consideration how your intro video will be displayed. Most video players are in landscape mode, so a portrait video will have black bars on the sides. Instead, shoot the video for your mobile game in landscape mode. This will fill the screen of most video players and give your video a polished look.
Also, remember that the first seconds of any video is crucial in keeping the viewers engaged. When showcasing your mobile game, it's important to focus on the best features and content within the first ten seconds. This will give the viewers an idea of what your mobile game is all about and help hold their attention all throughout the rest of the video.
After all, you don't want to waste precious time showing off graphics or other non-essential content when you could be hooking the audience right from the start.
Post-production: Audio & Special FXs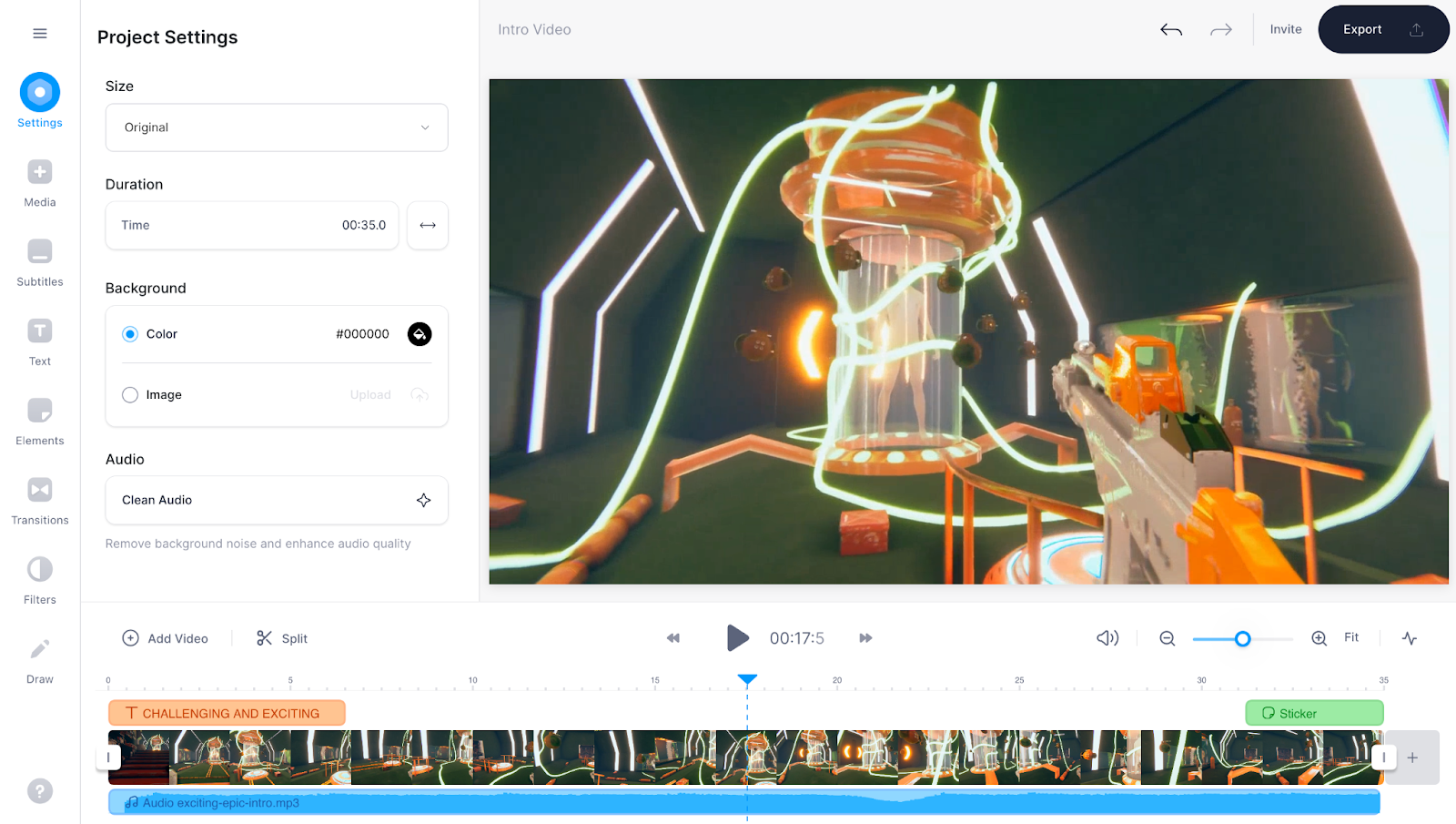 After you've finished shooting, it's time to move into post-production.
This is where you'll edit your gaming intro video and add any special effects or graphics. This is the stage where you can let your imagination flow and make your video stand out. Here are a few tips for post-production:
Add text and music: Adding text and music can really help set your video's tone and keep people engaged. Bear in mind not to overdo it, as too much can be distracting. The audio and visuals must be in sync. Nothing ruins an otherwise great animation like mismatched sound and visuals.
Add a voiceover narration: A voiceover can be a great way to add more information about your mobile game without overcrowding the video. This is especially useful if you include a lot of visual elements in the video for your mobile game.
Edit for clarity: During editing, it's important to keep your video clear and easy to follow. This means trimming any unnecessary footage and making sure the shots are in the correct order. Keep an eye on the transitions between shots, and look for any awkward cuts that might jar the viewer.
Add graphics and effects: Adding graphics and effects can really help to make your video more engaging. This can include things like color correction, green-screen effects, or animated text. However, again, it's important not to overdo it. A few well-placed graphics or effects can go a long way.
Bottom Line
Now that you know how to make an engaging and effective intro video for your mobile game, it's time to put your new skills to the test. While creating a high-quality video takes time and effort, it can be a worthwhile investment for any game developer looking to attract new organic players.
Keep in mind the tips and tricks we've covered in this blog post, and you'll be sure to create a video that will grab attention and entice viewers to download your game.
With video editing software like VEED.IO, you can easily create an intro video for your mobile game. Simply choose from a range of templates, add your images or videos, and then use the built-in editor to make final adjustments. If you're looking for an easy-to-use, affordable video editing platform, check out VEED.IO.
by Jennesa Ongkit, Content & PR specialist @ VEED.io
Jennesa Ongkit is a content writer and PR outreach specialist for a video editing company, VEED.IO. She has over two years of experience in the marketing industry and enjoys writing about everything, from tips and tricks to the latest industry news. VEED.IO is an online video editing platform that helps you create professional-looking videos in minutes.