Did you know that the holidays and Seasonal ASO are a super-powerful combo? Social events provide attention, new keywords, and bring you more traffic. App owners can learn many useful life hacks for their promotion strategy. But the real celebration of life may take place in mobile games.
There are hidden pitfalls, of course. In this post, we'll cover them and discuss possible Seasonal App Store Optimization Strategies.
At Checkaso, we regularly see which games and apps reach the search top, get featured and get love from users.
| Checkaso is an ASO analytics platform, where you can rate the effectiveness of your optimization and get advice on enhancing your App Store Optimization. Our ASO experts created it with different user experiences in mind, so you can be a beginner as well as a qualified specialist to leverage it.
We also see apps that do not put enough marketing effort and, as a result, get significantly less traffic than they could. Careful, we have a lot of case studies: from the Paleozoic era of the mobile industry to the most relevant examples here and now.
Table of Contents:
What is Seasonal ASO?
Before we start, let's go over the basics just in case. What is Seasonal ASO? To better understand this term, let's refer to the concepts of seasonal and situational marketing:
Situational marketing is the response of a brand to any social event important to its audience.
Seasonal marketing is the process of promoting products or services at special times of the year.
The main difference between the two concepts is that seasonal marketing stands for recurring events and you can plan it, while situational marketing can be compared to a challenge when unpredictable events occur and the task of the marketer is to catch the moment to benefit it if it's something positive or reduces negative impact otherwise.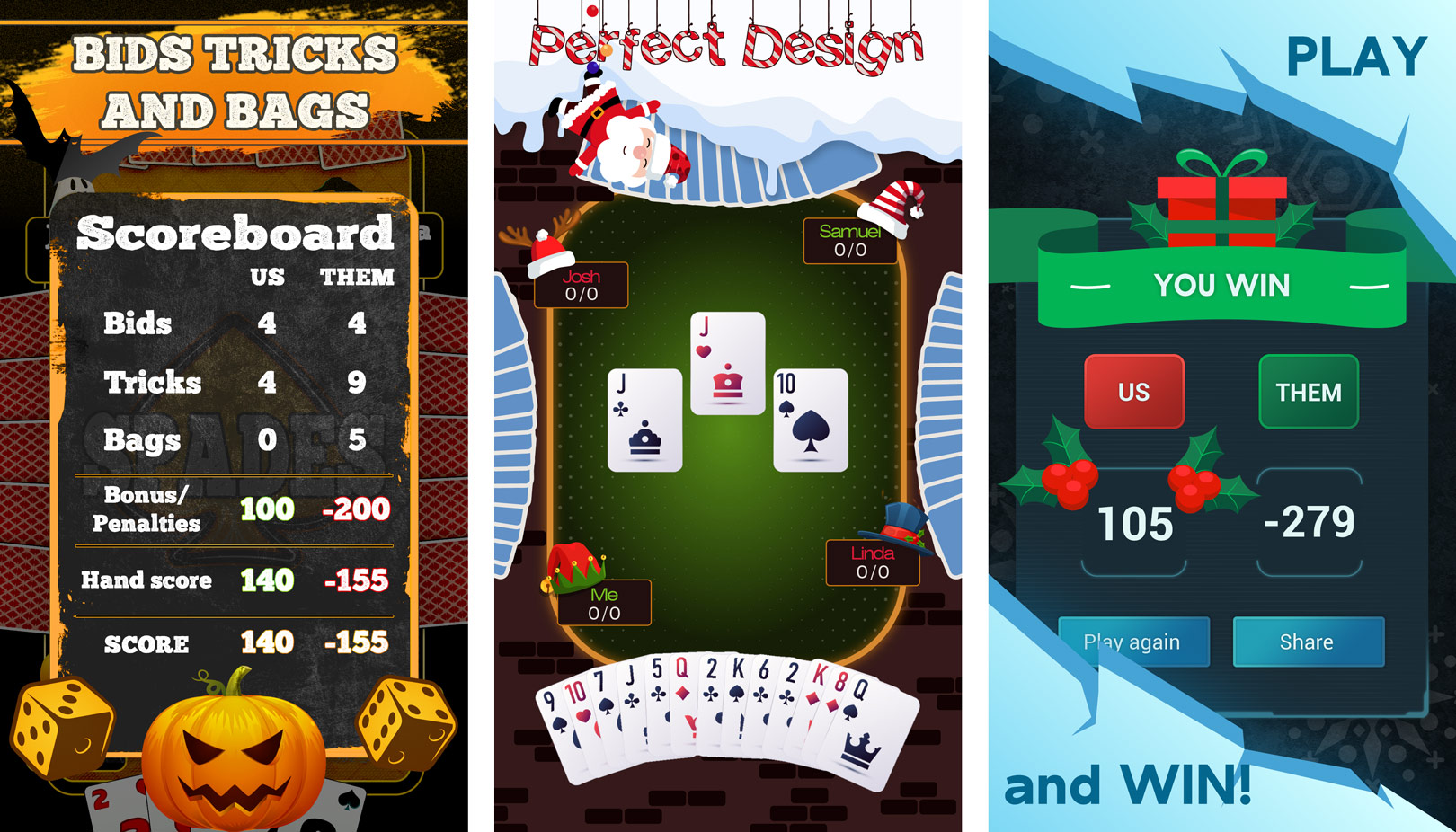 On our platform, you can obtain data on keyword impressions and search volume, real-time search results, ranking history, competitor analysis for the App Store and Google Play, etc.
By using these two concepts, we can see that both can easily be attached to your App Store Optimization Strategy for working together. Including seasonality in your keyword ASO strategy can help you benefit from increased search popularity for certain seasonal keywords and even display your app in front of an audience you may not have been able to reach otherwise.
Seasonal ASO consists of two parts:
Visual Optimization
When talking about App Store Visual Optimization, we refer to an adaptation of graphic assets (icons, screenshots) to boost conversions.
There are many examples we can easily recall: in New Year's and Christmas games add snow, decorated Christmas trees, Santa Claus; hearts and cupids for Valentine's Day; pumpkins, and various ghostly characters for Halloween.
Search Optimization
App Store Search Optimization involves adding relevant keywords to the text elements.
In Seasonal ASO, queries like "New Year gifts," "Black Friday" and "Halloween costume" become more relevant in the short term, and they can drive significant traffic.
Examples of seasonal events and types of seasonal ASO
First, have in mind that there is no universal recipe for success. You should always carefully check each specific app for compatibility with any event and with specific search queries.
All in all, seasonal ASO is an effort to optimize an app in the app store in connection with some recurring events.
Festive (holiday): (Valentine's day, Independence Day (the 4th of July) in the USA, New Year's, Spring Festival also called "Lunar New Year", etc)
Religious (e.g., the holy month of Ramadan for Muslims)
Mixed (e.g., Easter, Hanukkah, Christmas)
Social (e.g., Pride Month in June, Asian Pacific American Heritage Month in May)
Other
Those are some examples that you can use to get your inspiration running. However, the best way to visualize this is with the following Case Studies we have prepared for you.
Case Study #1: Launching the Birds at the Pigs Halloweenly
One of the first vivid examples of the meaningful use of seasonal events can be a game that is a landmark for the very concept of mobile games — Angry Birds.
The second game in the series was called Angry Birds Seasons and was all about holidays and seasons. In 2010, no one had thought about App Store Optimization yet, but it worked as seasonal marketing: Halloween, Christmas, and similar holidays.
Angry Birds Seasons is a separate app, not the levels/releases of the "main" game (original Angry Birds).
Originally, the game was originally released as Angry Birds Halloween and the major difference was a dedicated episode, called Trick or Treat. But with the release of the Season's Greedings, another specific episode revolving around Christmas, the game was renamed.

Each episode of Angry Birds Seasons was about a specific seasonal event or holiday, such as Halloween, Easter, New Year's, Valentine's Day, etc.
You may notice and be surprised by the word "free" on the branded "birdy" covers. Now GooglePlay & Apple App Store guidelines do not allow the use of these words anymore, but that was a common thing in the mobile gaming industry of those days.
Full versions of Angry Birds, Angry Birds Seasons, and the like were paid and did not include any in-app purchases. The "free" version was like a short demo version of those paid apps.
The paradigm changed in 2016 when paid games became free-toñ-play, and their respective free versions were removed from the App Store.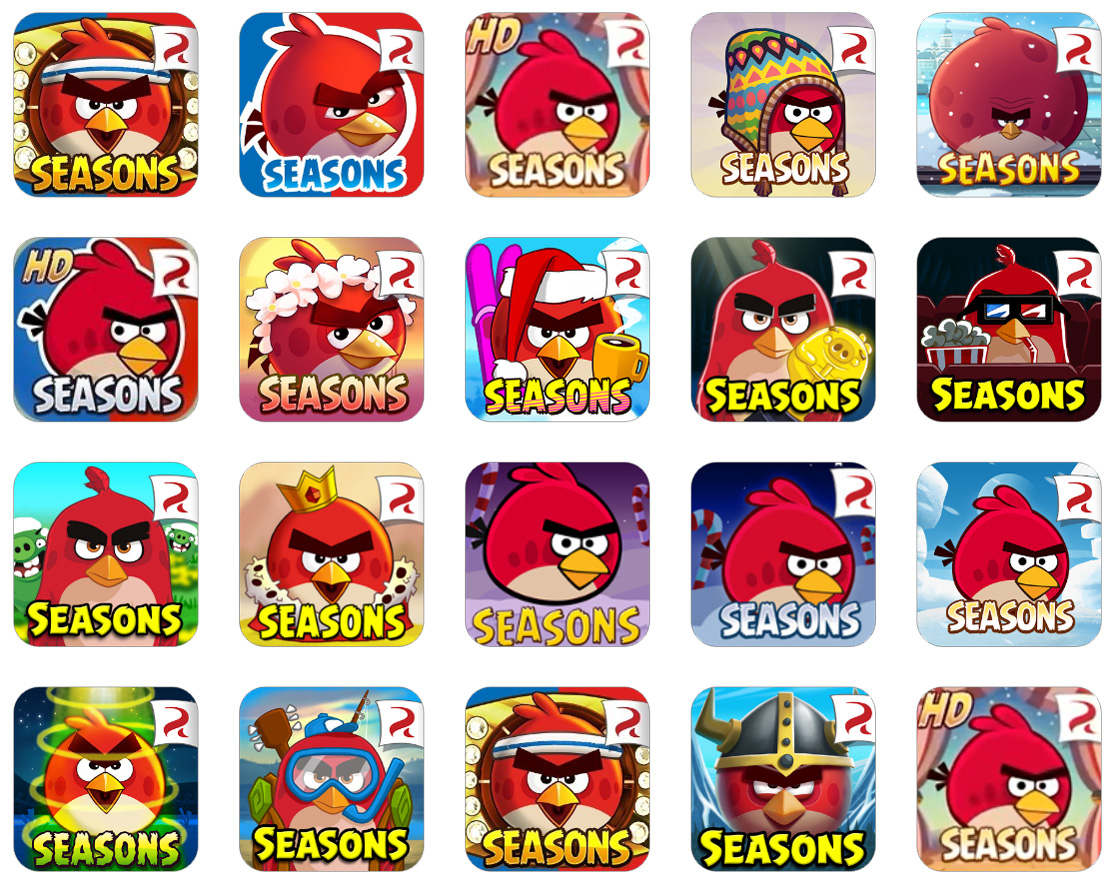 Angry Birds Seasons history of icons on the App Store.
Halloween, Christmas/New Year's, and Easter are fairly "predictable" holidays. But what about the Line-crossing ceremony, Knowledge Day, Hanami (tradition of enjoying the beauty of cherry blossoms in Japan), and even the 2014 FIFA World Cup in Brazil?
Yes, Rovio marketers certainly applied a lot of Seasonal ASO, even when the term wasn't even a thing in the mobile industry.
The Rovio team's "legacy" is still relevant to anyone who is looking for new ways to attract organic traffic.
Case Study #2: Not adapting your ASO to your Seasonal Content
Now take this the great example of Seasonal ASO we have just covered, and let's compare it with other games that didn't excel in this area.
Everyone knows the so-called "puzzle quests" or "3-in-a-row" games. D3 Publishing together with Octagon Games has developed and published a couple of such games under license from the copyright holders: Marvel Puzzle Quest and Magic Puzzle Quest.
Surely, if you want to increase your player's retention, you must constantly grab their attention with new stuff. Seasonal events are a great opportunity to achieve that. But there's no limit to perfection. Sometimes, developers can highly increase their Seasonal ASO performance & results by tweaking just a bit of all the efforts they already do.
Magic Puzzle Quest
Magic Puzzle Quest, based on Magic the Gathering multiverse by Wizards of the Coast, is one of those mobile games that are doing pretty well, but with a lot of margin for improvement regarding their Seasonal ASO.
It's the 14th of February, Valentine's day. Year after year, Magic Puzzle Quest provides a special event called Angels' Embrace. Everything in this event is linked to the angelic theme because it's a reference to Cupid and angels in general.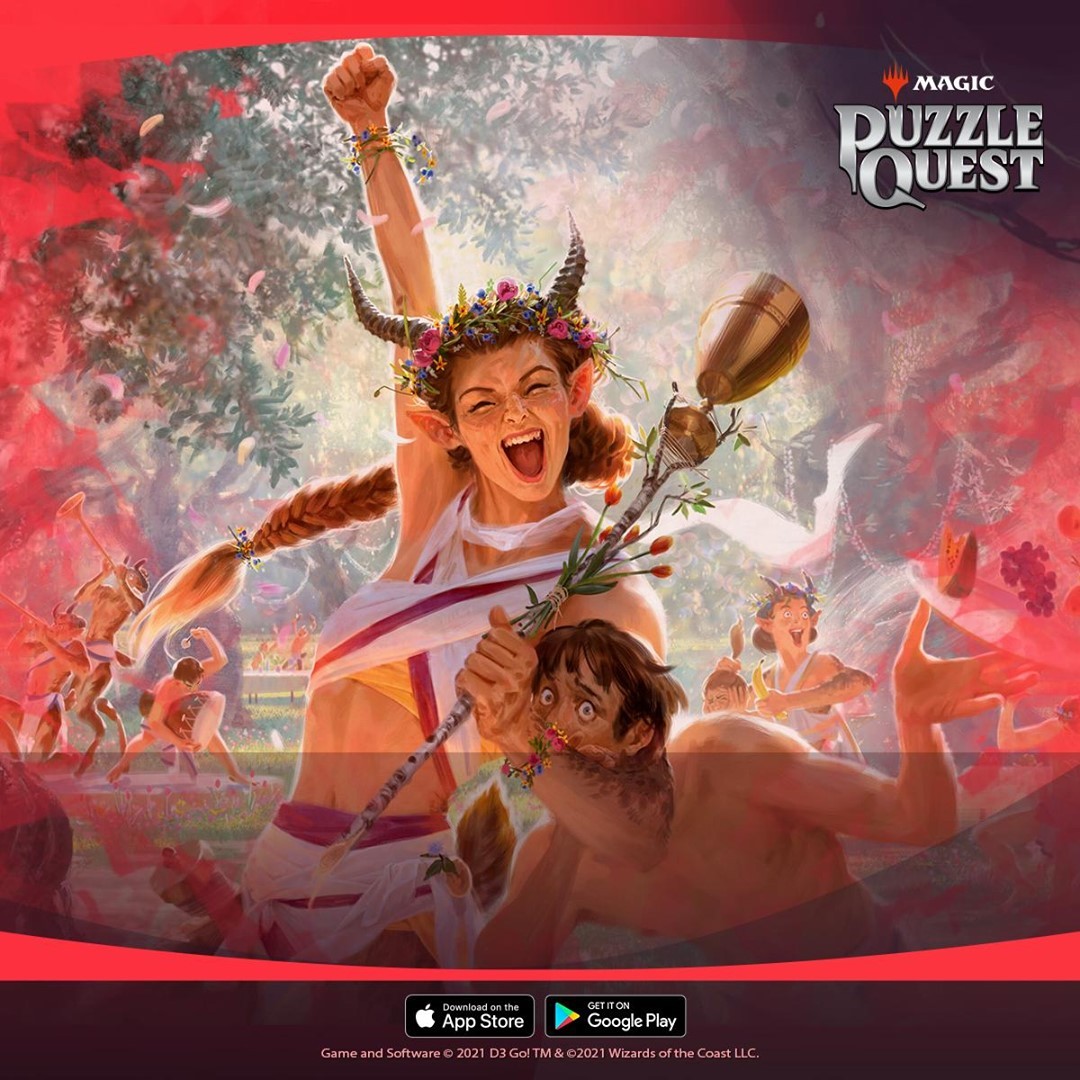 To participate in this event, the player must have a playable character (so-called Planeswalker in the MtG multiverse) with red mana. Red is the color of love and passion, which suits perfectly, and at least 3 rewards for winning battles in this event are also angelic.
You can get:
a Dawning Angel card if you score 10 points,
Angelic Ascension if you score 30
and a mighty and rare Legion Angel if you score 50.
Love is in the air. Everything is about love, the color red, and angels.
But there's a problem: they don't announce it on their App Stores. Not in the ASO Title or Description either. If we search for mentions of something special for February 14, we won't find anything. Either in the graphic creatives or in the text metadata.
This means that only active players of Magic Puzzle Quest when they open the app, will know about this Seasonal event. And probably, long-term users that have previously played Angel's Embrace may remember it too.
But new players, looking for games with Saint Valentine's day themes and content won't find information in the App Stores. Well, unless they install the app, open the game, finish the tutorial and get the first missions of Angel's Embrace.
What a wasted opportunity to acquire more users organically, only by using the assets you already have!
Temple Run 2
A good example is Temple Run 2. On the right side of the screenshot, you can see that Valentine's Day is reflected both in the gameplay and in the graphic elements: the icon and the screenshot carousel.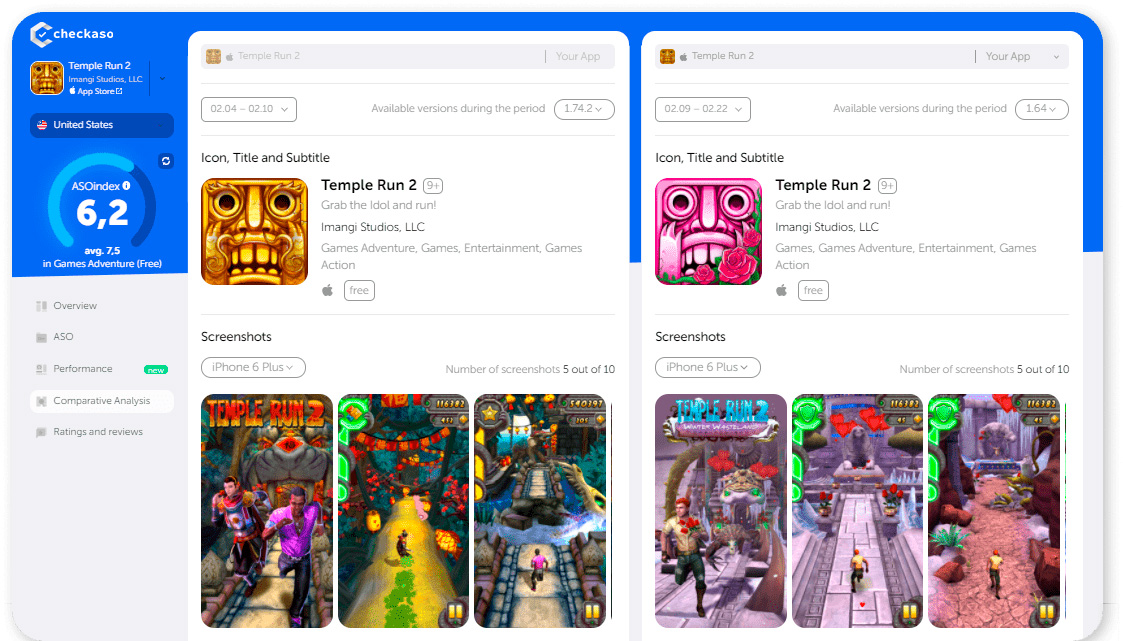 This is not an isolated case. We can find lots of major publishers that forget to adapt their Seasonal ASO.
Puzzle Quest from Marvel
Puzzle Quest from Marvel stumbled over the same stone. In May 2021, during the Asian Pacific American Heritage Month, Marvel's game along with D3 sent a gift to all their players. Each player could get, for free, 400 points of in-game currency.
Also, PVP (Player vs. Player) Events during the month featured Asian-American characters in honor of Asian Pacific American Heritage Month and the poster looked "Asian" enough to just trust the slogan.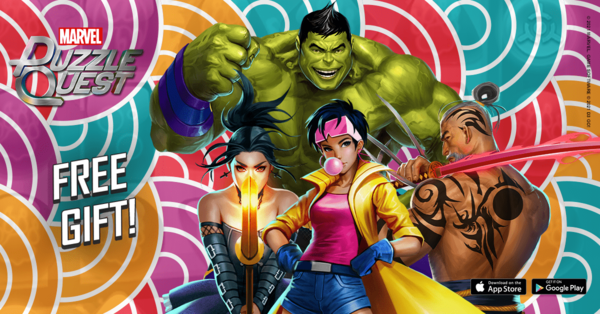 But again, they didn't adapt their App Stores. Neither ASO Visuals nor texts were modified.
Therefore, the focus of those activities was still on the active players, and they probably missed a bunch of new organic installs that could have been attracted by the "Asia-Pacific" seasonal event they were featuring.
Case study #3: Seasonal ASO done Right
And last but not least, let's now take a look at a great Seasonal ASO example. The game is Hidden City and, in this case, the developers of this mobile game got it right.
Their publishers, G5 Games, paid attention to the holidays both in the game (new locations, activities, quests) and optimized it in the app stores.
In the screenshot below, you can see how the graphics in the App Store (icon, screenshots) have changed in the run-up to Halloween and New Year's.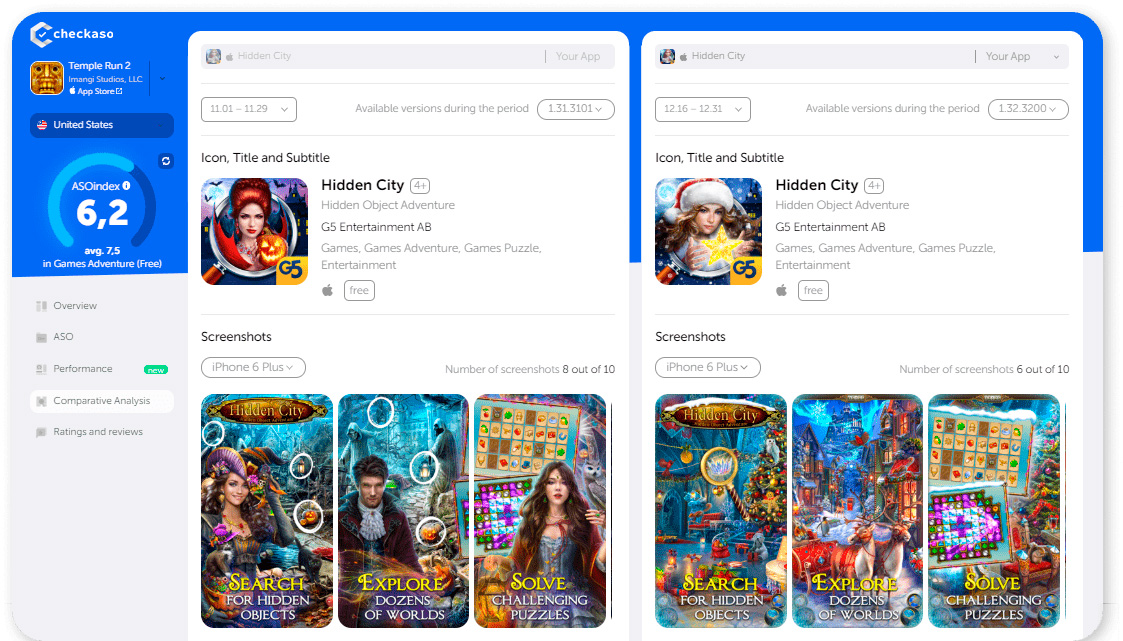 One of the tools of the Checkaso platform, Comparative Analysis, allows you to compare your app page to a competitor's app page or to compare two different versions of the same app.
In CheckAso you can find more than 10 tools for ASO. In 2020 we added 30 new locales, introduced the indices system, launched an App Store Optimization audit service, held 15 training webinars and were nominated for the Best ASO Company at the App Growth Awards.
For game developers preparing their Seasonal ASO, this tool gives you insights and retrospective data on how your competitors reacted (or didn't) to a particular recurring event.
A comparison of the two versions of the app page will help you in testing the seasonal graphics. The easiest way of such testing is "live".
Refresh your graphics and analyze the conversion data for the same periods before and after.
For example, you can test your New Year creatives from the end of November. A week is enough. You should evaluate only the Search channel (installs after clicking on search queries) and Impressions (installs after clicking on Collections, Top Charts, articles, and Similar apps). This is organic traffic — the most relevant traffic.
This is why you need Seasonal ASO
Implementing holiday-themed events to your app can bring significant advantages, as seen in many genres of games.
By introducing a combo of features including event-specific currency, seasonal tasks, unique game modes, and collaborations, you can greatly boost your chances of revenue growth and even attract old users that are looking for new content and an entirely different experience.
Seasonal ASO is a great way to highlight today's agenda. Mobile games generally get a lot of organic traffic from the Browse/Explore sections of the App Stores.
Besides, it may be essential if you want your app to get featured – by getting into a thematic collection of the App Store/Google Play, you will acquire new users and that's your primary goal.
And don't forget that seasonal In-App Purchases associated with certain holidays (unique rewards, improvements, or cosmetic items) are only available during a limited time. Players see that content as something exclusive and limited, and IAPs automatically become more valuable in their eyes... Which translates into revenue growth!
Here are some final Tips on Seasonal ASO and its proper implementation:
Provide value to your users/players. It's kind of a given. Nobody likes meaningless products that are empty inside and made only to shake money out of users.
Carpe Diem in Latin stands for "Seize the moment". So if you're a marketer and you feel that there is a great opportunity that may impact the popularity of your product, dare to use it.
Make great content and awesome creatives to grab attention and acquire users. It's kind of a given too. Remember, the competition is a rush and if you make so-so content, someone else makes great one and attracts more users.
Pay attention to ASO for organic traffic and traffic from Browse (from category chart, lists of similar apps and other featured collections). App Store Optimization is an iterative process, app stores' algorithms tend to change, and your competitors also take part in optimizing their apps. As Lewis Carroll wrote in his Alice in Wonderland, "My dear, here we must run as fast as we can, just to stay in place. And if you wish to go anywhere you must run twice as fast as that".
We wish you great ASO conversions from views to install!
By Yaroslav Chuykov, former Product MK Manager @ CheckASO. Yaroslav Chuykov is product marketing manager at Checkaso. Previously took part in e-commerce analytics SaaS product and VPN / cybersecurity product as well as had huge marketing experience outside IT.