Rewarded Video has become a robust addition to app monetization. Undoubtedly, this ad format is very useful in terms of user engagement: Soomla reports that Rewarded Video increases revenue by 20-40%, and Facebook has recently introduced Rewarded Video implementation in its Facebook Audience Network. Nevertheless, working with this format is not as ordinary as it may seem.
Working with Rewarded Video, you should pay attention to Display Rate — this metric demonstrates a correlation between shown and downloaded ads. Display Rate values can be different depending ad format: 90% for small banners and 60-70% for Static Interstitials, according to Appodeal's data.
In the context of Rewarded Video and Video Interstitial, there can be some disappointing figures — 10-20%, and even 1-5% Display Rate. It means that say, only 100 of 1000 downloaded videos were actually shown. Such a low display rate benefits neither developers nor ad networks, because advertisements stay unspent and, consequently, unpaid. Simply put, there's no revenue from it.
Low Display Rate and revenue loss is the outcome of insufficiently considered video ads downloading. The golden rule of implementing Rewarded Video: do not download videos if you know you can't show them just yet. And yes, you can learn the right moment in advance.
Many developers download videos on the spot, starting with a new session alongside other formats. There's auto-cache in Appodeal that works for Rewarded Video as well. Rewarded Videos download during the launch at the same time as banners and interstitials, and then they're "waiting" for a chance to be shown. This process supercharges ad networks' servers. Networks get unspent ads, therefore they can't estimate an app's potential realistically. There are more ads downloaded than can be shown — understandably, it leads to Display Rate decline and affects devs' revenue in a negative way.
Check if the video downloads too early
Consider the following example where the video downloads too early. Let's suppose that you suggest users open a "reward box" after the 5th level. To get the reward right after the level, they should watch the Rewarded Video. In case users don't want to watch the video, they can open the "box", say, only two hours later. Most likely, they'll want to watch the video — indeed, the prepared video will be useful. However, it takes several game sessions for players to achieve the 5th level — e.g., 10 sessions. All 10 times that users enter the app but don't reach the 5th level, ads are being downloaded again and again because of auto-cache — and then they fall into oblivion, never being shown.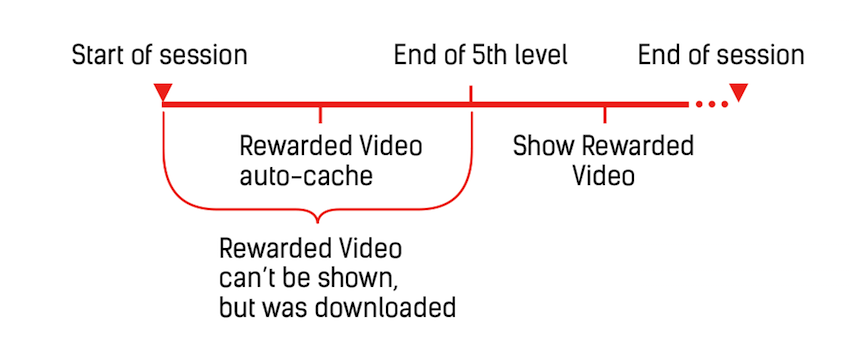 Think like a player
Now let's take a look at a more thoughtful work scheme of the same app. It makes no sense to download ads in advance for users who play on the 3d level in the game discussed above. These players might re-enter the app several times before they achieve the 5th level with Rewarded Video and a suggested reward. Once they approach an event of reward distribution, for example, the 4th level, it makes sense to prepare a video — it has better chance to be shown now. In this case, Rewarded Video auto-cache needs to be turned off. It's better to focus on gameplay logic and switch to manual caching for Rewarded Video. The moment of video download (preparation) is delayed until the 4th level event. Thus, the video is downloaded in advance, but not too early. It appears that the best (even though the most obvious) way to avoid troubles is to work with the audience and analyze its behavior within the app.

Certainly, there can be no exact plan on gifting reward boxes in a gameplay. For instance, users may get in-app currency in exchange for watching Rewarded Video. When this is a case, it's wise to proceed from the app statistics and monitor users activity related to an in-app shop. Probably, it shows that during the first 3-5 minutes players are just trying different characters or solving simple puzzles. During the first minutes, it can appear that they aren't interested in the in-app shop. Also, statistics may demonstrate that nobody opens Rewarded Video earlier than 4 minutes after the game starts — so it makes no sense to prepare an ad from the very beginning, and it matters to start downloading only 3 minutes after the start.
Track your stats
We've covered several common ways of cracking down on low Display Rate by rationalizing Rewarded Video download. In addition to that, there are many individual cases which should be considered with a help of specialists. For example, besides that, there's a lot of ways to increase Display Rate by encouraging players to watch Rewarded Video. For example, pop-up notifications help a lot: they should alert about the end of the level, a lack of currency, a necessity of updating a character, etc. These pop-ups should be clear enough so users understand what kind of reward they get and why they need it.
Please feel free to contact your Appodeal manager or our support team at [email protected] to learn more about increasing Display Rate and implementing Rewarded Video in your app.
Main image source