WordBakers (iOS | Android), an addicting word puzzle game, was the first game developed by the indie team at Oazis Games and published by NewPubCo, in association with Appodeal. It was also the first app for our newly launched Accelerator Program, as well as our first successfully accelerated app!
We recently helped WordBakers reach #1 word game on Google Play in its launch market of Russia, and it continues to gain in popularity all over the world with over 1.2+ million installs in just a few months.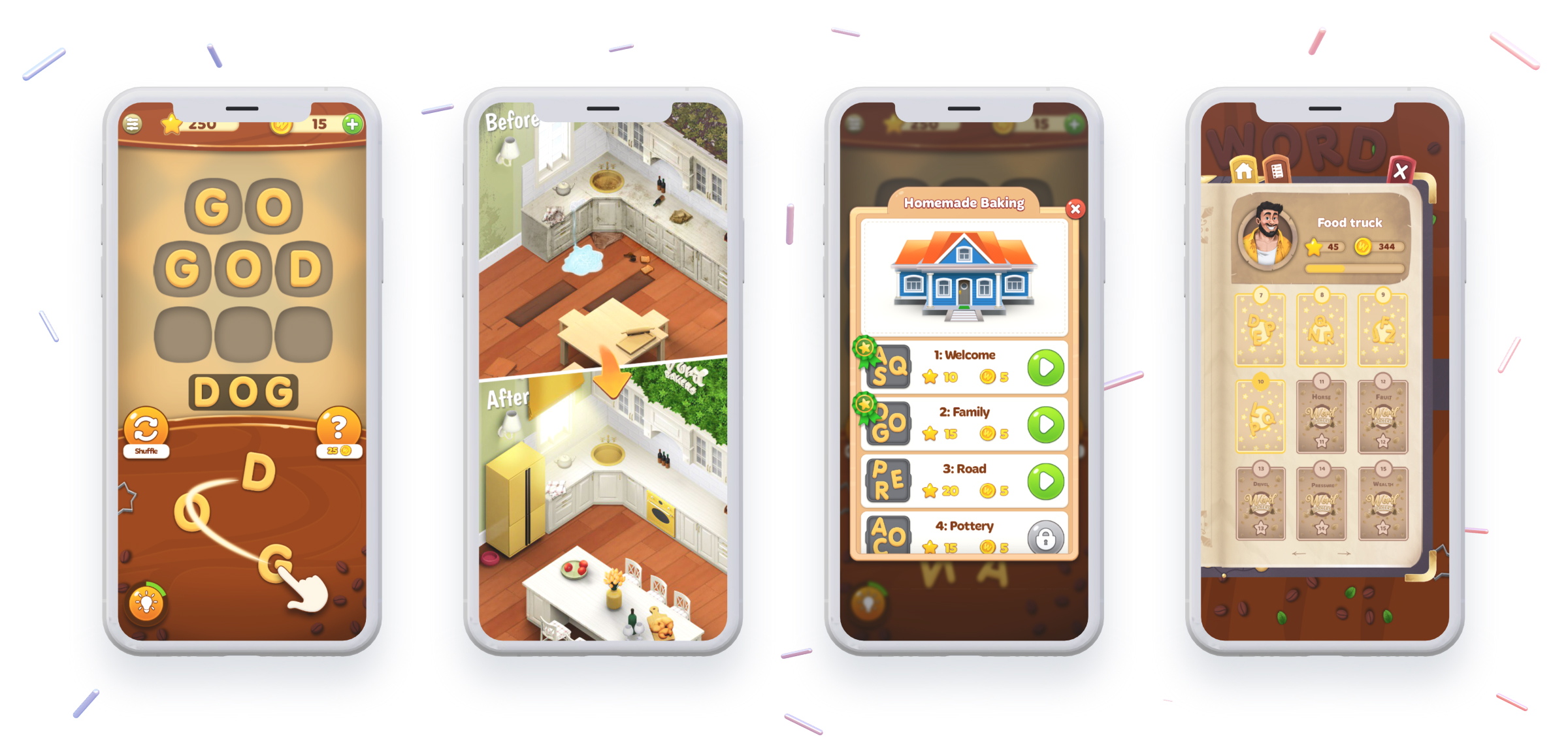 WordBakers Selected as The Pilot App
Right from the beginning, WordBakers showed great potential. It had incredible retention rates from its initial users and the team behind it was also very talented and committed. But with WordBakers being the team's first game, they were struggling for a long time to take it to the stratospheric level where it belongs, especially on the revenue and user growth side of things.
That was why we invited WordBakers to be the first game that we accelerated.
Most people know of Appodeal as an ad monetization platform. But, over the past year, we've been expanding our offerings to turn apps into top earning hits. This includes funding for UA and development, as well as managing and aligning our monetization, UA and app analytics solutions into one holistic solution, called the Accelerator Program.
Before our team got started accelerating the game, Appodeal gave the WordBakers team an initial credit line of $100K that was used to further develop the game. As the credit line was meant to be deducted from the game's future profits, this partnership agreement meant that both the teams were equally dedicated to the game's ultimate success.
After the dev team transformed WordBakers into a chart-topping quality game, it was time for our team to start turning it into a top earning hit!
First Things First: Analytics!
The foundation for any apps to succeed is to have the right analytics setup from the get-go. Without it, app developers would be driving blind, not knowing what needs to be improved or what is working well. That is why the first thing our team did to set WordBakers up for success was to implement the right set of analytical tools.
Using the right mobile attribution tool is key for:

Understanding where and how users found WordBakers

Tracking the LTV (life-time value) of different cohorts of users

Determining the ROAS (return on ad spend) of user acquisition channels
AppsFlyer, a leading mobile attribution company, is our trusted partner for this.
After our team helped set up AppsFlyer into WordBakers, we then aligned its data with our ad monetization data stream into DataCore, our end-to-end actionable analytics dashboard (soon to be a part of Appodeal's regular analytics dashboard).
DataCore aligns Appodeal's ad impression-level data with the attribution and UA analytics so that it is possible to obtain extremely useful yet difficult to obtain insights, such as:

Identifying the ad whales, where they came from, and where to acquire more

Seeing the eCPM decay to see the optimize number of ads to serve per user session
Understanding the LTV of ads and IAPs, and broken down into detailed views, such as UA channels, monetization configurations, product changes, user segmentation and even device types
Obtaining LTV predictions, based on the different configurations, to see how they affect what matters -- user's potential revenue generated
Gathering A/B testing results by comparing how product changes, such as the game's default difficulty settings, or monetization setups can affect the LTV outcome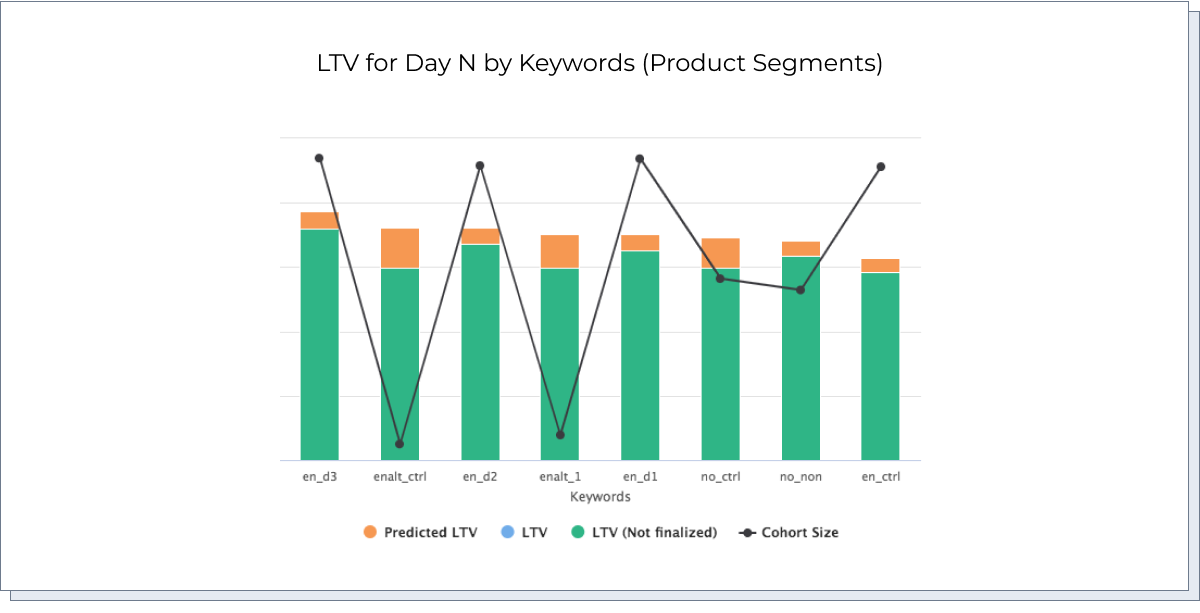 With AppsFlyer and DataCore set up, we now had the analytics foundation in place.
For the initial stage, we just needed to start tracking one important metric: ARPMAU (average revenue per monthly average user).
Why ARPMAU? Because this number takes into account the revenue generated along with retention and engagement rates. The higher this number, the more sustainable and healthy the app is considered.
Since WordBakers was a new app, we needed more users to help us determine its baseline ARPMAU as well as for conducting A/B tests to optimize their monetization setup. To do that, we simply ran a UA campaign on Facebook to acquire a batch of new test users.
Once we got enough initial users, the fun part could begin.
Now Show Me the Money
With the analytics and test UA campaigns up and running, our monetization team got to work on one main goal:
To optimize the monetization setup so that the ARPU (average revenue per user) ends up being higher than the cost of install.
To achieve that, here are the top actions our monetization team took:

Integrated Appodeal's ad mediation SDK with in-app bidding enabled to give WordBakers access to over 70 top ad networks and DSPs. They included global ones like Facebook Audience Network, Google's Admob, Unity Ads, Applovin, Chartboost, Liftoff, and AppGrowth, as well as top regional ones like Yandex and MyTarget.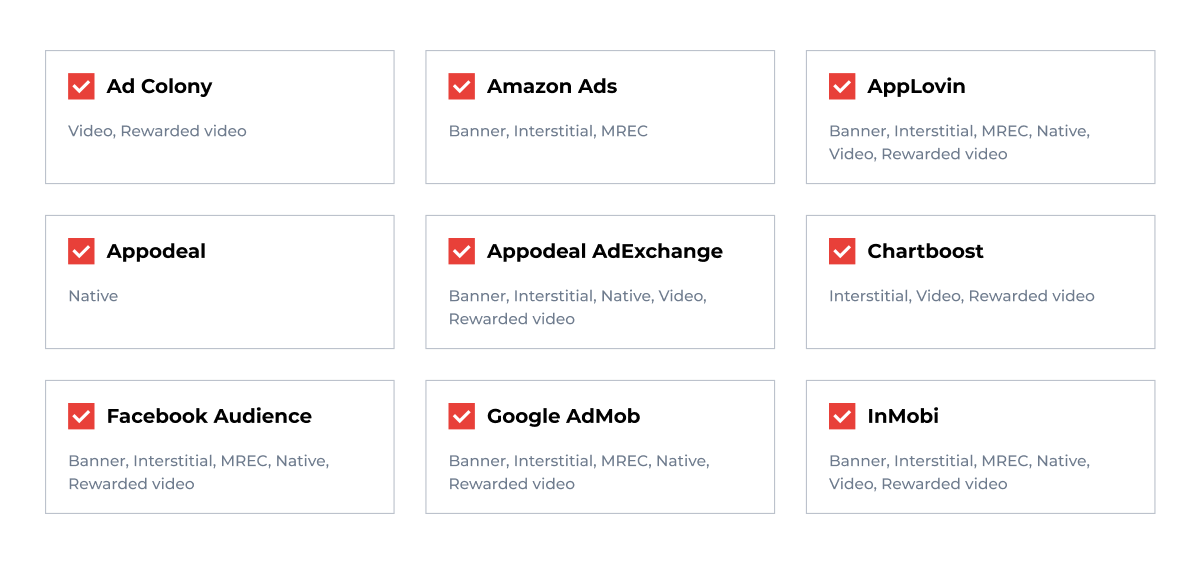 Placed and tested various mobile ad formats to see which ones performed the best. For WordBakers, Rewarded Videos proved to be the best performing one, followed by Interstitials, in terms of both user experience and revenue generated.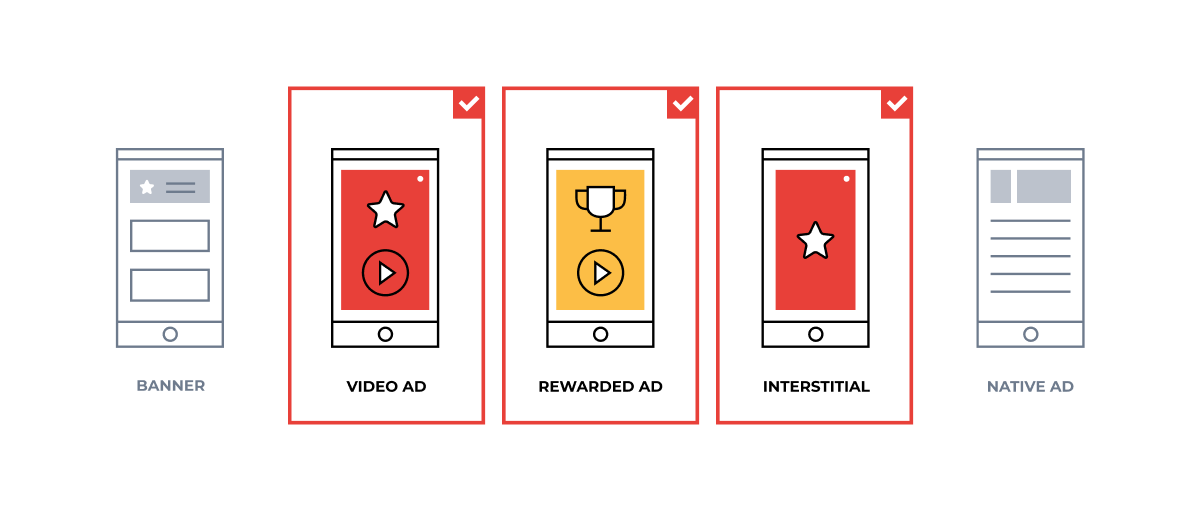 Launched A/B tests of over 60 user segments, ad placements and product settings configurations using the Segments tool to identify the optimal ones in terms of both revenue and retention.

In this example below, our monetization team a/b tested four different monetization setups and discovered that the segment disabling CPI ad networks led to the highest LTV, around 7% higher than the segment in which price floors were used.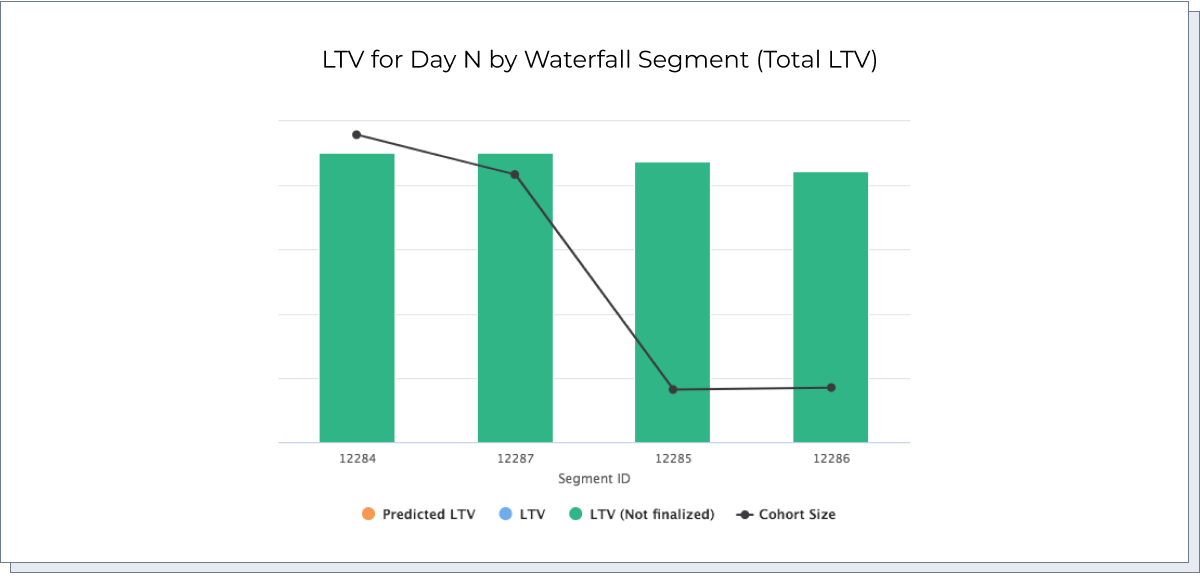 Created numerous manual ad waterfalls, line items and price floors using the Demand Control Center tool to ensure that the most valuable ad placements get filled by the best paying demand sources.

With the users acquired from our initial test UA campaign, in a month our team was able to fine-tune the monetization setups that led to ARPU increasing by 20%.
Next, it was then time for our UA team to launch UA campaigns at scale to turn WordBakers into a top earning hit!
It's UA Time!
While the monetization team fulfilled one part of the equation by reaching its goal of obtaining a high ARPU, our UA team worked on reaching this main goal:

To minimize the cost per install while maximizing the numbers of high LTV users
Thanks to the set up of DataCore and AppsFlyer earlier in the process, our UA team had all the necessary analytics infrastructure in place already to accomplish this.
Before launching UA campaigns at scale, it was important to set them up for success first. And that was by optimizing the first experience a potential user has with an app: the app store page. Otherwise, a UA campaign could have the best click-through-rates but terrible install conversion rates if the app store page was unappealing.
Preparing for high conversions
That's why the first thing our UA team did was A/B test around 40 different hypotheses for the app store page.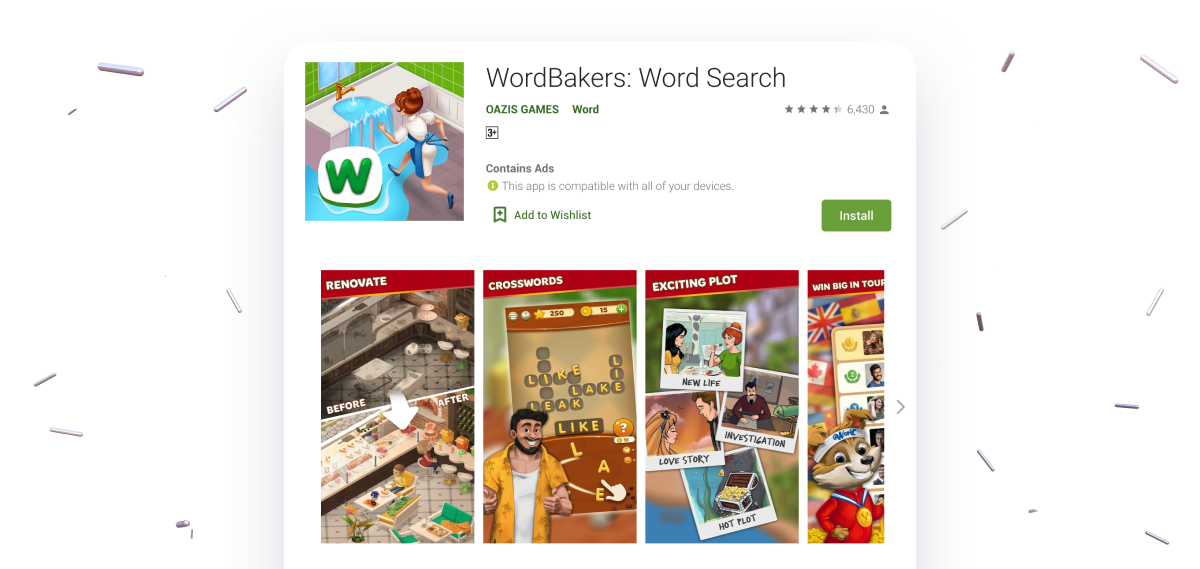 For example, we tested many variations of the store icon and discovered, after 8 tests, that the "W" icon drove the most installs. Compared to the "Word" icon, it converted 29% better and 8% better than the no word variant.

While those tests were running, our UA team created around 100 ad creatives in various formats, like Playable Ads, Video Ads, Full-Screen Ads, Native Ads, and Banner Ads. We would next dynamically test all of these creative concepts to identify the ones that not only resulted in high conversion rates but also eventually high LTV of the users acquired from each particular creative. The creatives that succeeded best would be allocated more ad spend dynamically.
Ready to unlock UA campaigns at scale
Up to this point, our team had taken many steps to set the scaling of WordBakers up for success: getting the advanced analytics in place, optimizing the monetization setup, improving the app store page and preparing ad creatives.
It was finally time to unlock the UA credit line of $1 million Appodeal had committed to take WordBakers to the next level!
Our UA team focused on three main UA channels: Facebook, Google Universal App Campaigns and programmatic ad exchanges via our DSP, AppGrowth.
Why these three channels? Let's go back to DataCore, integrated from earlier.

Besides being known to be the more effective channels, we were able to use the LTV per user data as well as LTV predictions obtained from DataCore and feed them to these channels. These channels could then use these data to obtain more similar high LTV users. Our platform also has a built in automatic UA optimizer that can adjust the budgets of the campaigns to the most effective ones dynamically.

We also used cohort analysis to decide on which users to target. Users got assigned to specific cohorts based on a number of parameters. Thanks to the LTV predictions Datacore could make projections and understand if those campaigns were profitable or not and adjusted the rates accordingly and automatically.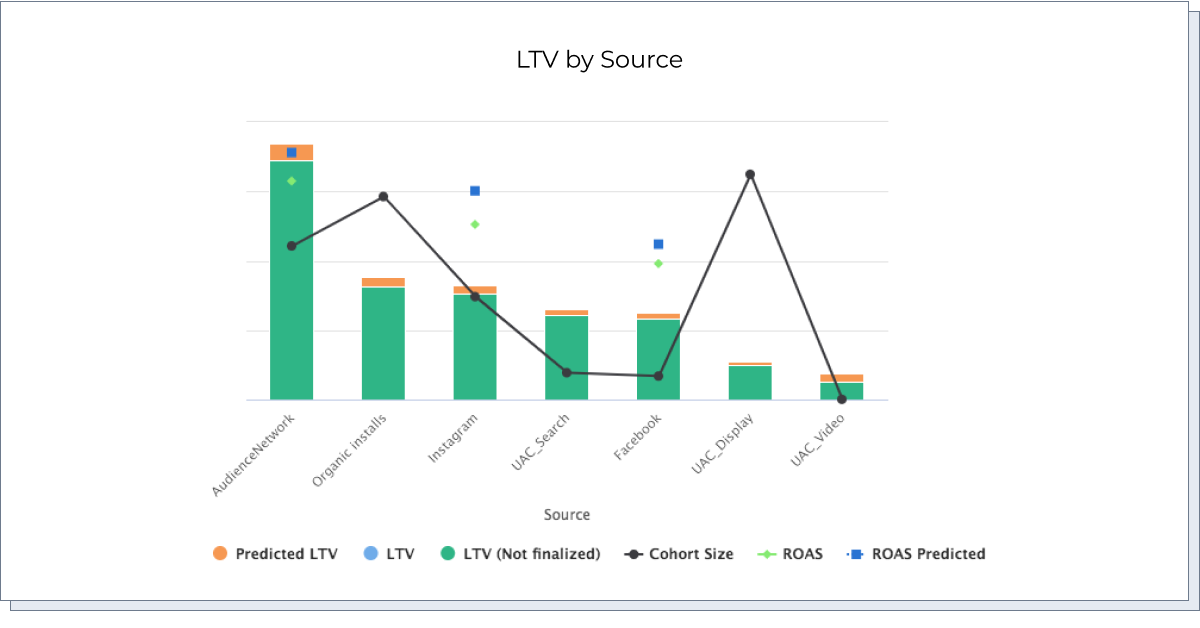 In just a month of launching the UA campaigns, we had found the perfect sweet spot where the ARPU ended up higher than the cost per install, and the conversions of high LTV users were consistent.
It was finally time to scale.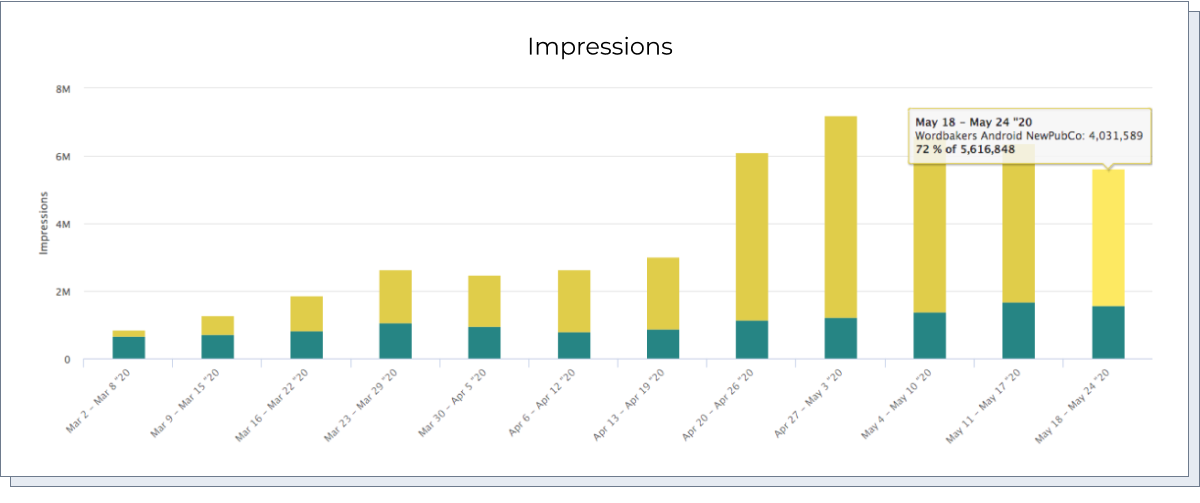 The Results!
Shortly after we scaled the UA campaigns, WordBakers reached #1 word game in their top target market of Russia.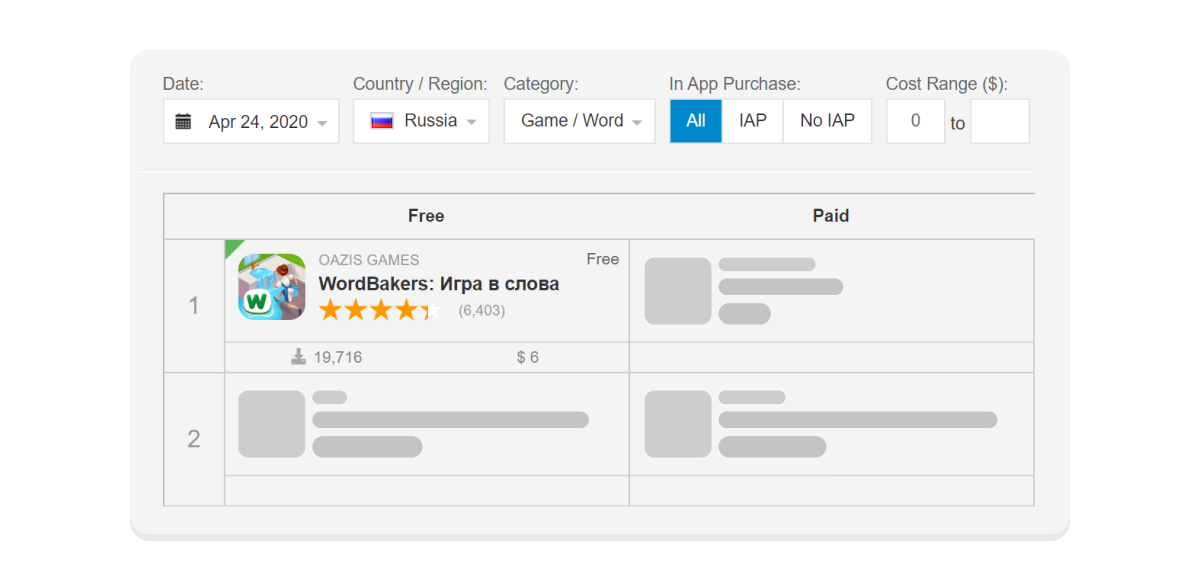 It continues to rank among the top 10 word games and is gaining in popularity in other markets with 1.2+ million downloads.
Each day, the WordBakers team earns over $2,000 daily from in-app advertising and an additional average of $400 daily from IAP in this one game, and their revenue continues to grow.
"Having our game be accelerated by the Appodeal team was a game changer. With their team's help in managing and optimizing our UA and monetization, our first gaming app WordBakers recently reached #1 word game on Google Play in our launch market of Russia. In just a few months, our game started earning us over $2,000 each day. For a small indie team like ours, the results so far were unimaginable! We can't wait to see the Appodeal team continue to make our game a popular hit around the world."

CEO of NewPubco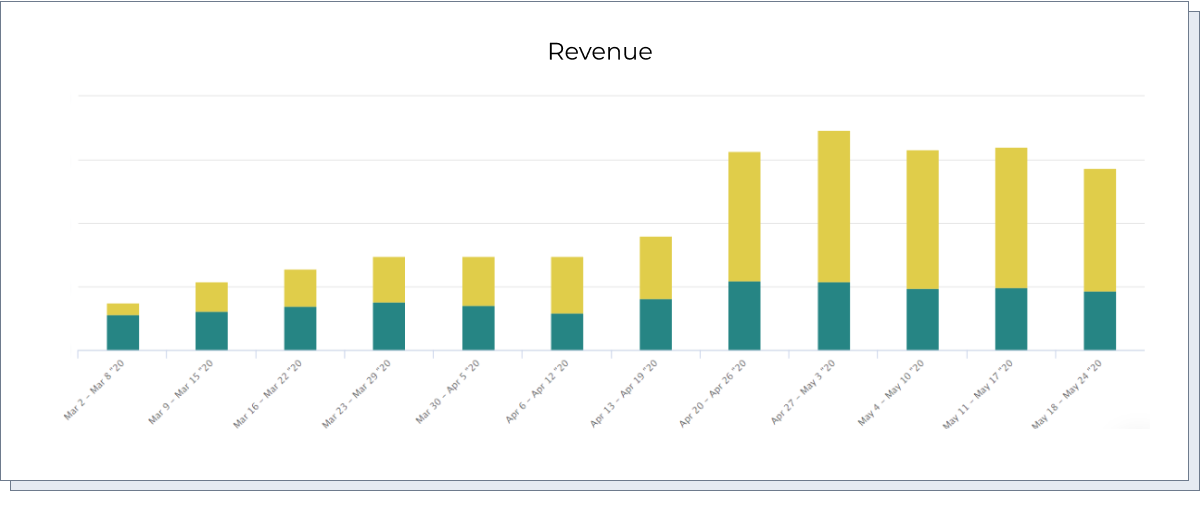 After the success of WordBakers, we are continuing our partnership with the team behind WordBakers. They've since been working on new games. Once they are launched, our team is looking forward to accelerating them into top earning hits as well.
Overall, we couldn't be more proud to see the success of the team behind WordBakers.
And we can't wait to help other mobile dev teams thrive as well!
What is truly different about the Accelerator Program is that it is one that puts the mobile dev team's interests first. What we are offering is a wholly different model than the traditional publishing one. We do not require their intellectual properties (I.P.) for teams to receive fundings for UA and development.
Our approach is more like a self-publishing platform.
At Appodeal, we encourage indie teams to be independent in the truest sense of that term. Mobile dev teams get to do what they do best -- creating awesome apps. And we do what we do best to help them turn their apps into top earning hits. Forming true partnerships with mobile dev studios is what we strive for.
If you would like to partner with us to have your mobile game be accelerated too, feel free to submit your game here! 
We are currently accepting up to 30 promising apps this quarter to turn them into top earning hits. Perhaps one of them will be yours?