Great news! Starting from SDK version 2.7 on, our SDK now fully supports our new Consent Manager that makes it more convenient for you to comply with data protection regulations, such as the General Data Protection Regulation (GDPR) and the California Consumer Privacy Act (CCPA).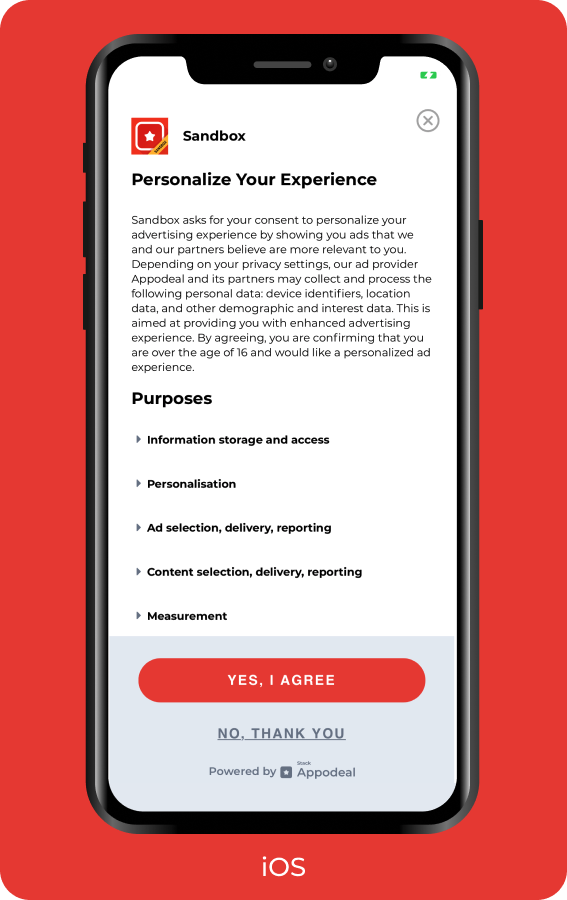 Our new Consent Manager comes with a pre-made consent window you can easily present.
New Consent Manager for GDPR & CCPA Compliance
In order for Appodeal and our ad providers to deliver ads that are more relevant to your users, as a mobile app publisher, you need to collect explicit user consent in the regions covered by these regulations.
Our handy new Consent Manager comes with a pre-made consent window that you can easily present to your users. That means you no longer need to create your own consent window.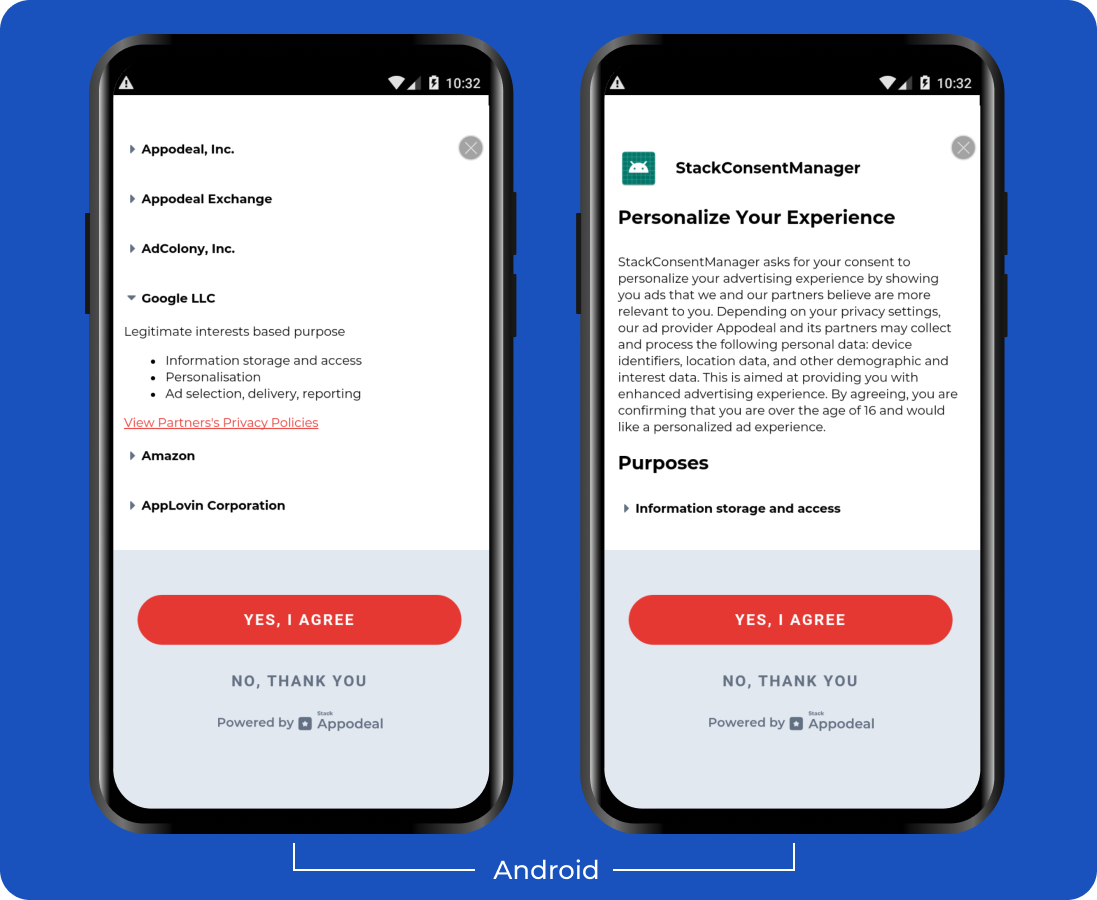 Gathering user's consent for regulation compliances now more convenient with new Consent Manager.
You can launch the consent window at any time during an app session. We recommend launching it upon your app launch.
Once your user provides a response to the consent prompt, the data will be stored locally on the user's mobile device, as per IAB's consent framework. The consent data will also be forwarded to our ad network partners, so you would just need one consent for all of our ad demand partners.
Using the Consent Manager from SDK 2.7 on also gives your users the ability to give consent to specific vendors and service providers.
Local regulation automatic triggers
Given how the GDPR is a EU regulation and CCPA is a California regulation, you may prefer to have your consent windows be presented only when your app's users are located in those regions at a given time -- instead of presenting it to all users globally.
To make this easier for you to execute, the new SDK can detect and log a parameter if your user is located within the regions covered by the regulations. If they are, you may choose to present only to these users the consent window.
Update to SDK 2.7 Today!
To take full advantage of the convenience the new Consent Manager feature has to offer, be sure to update to SDK 2.7 today, and please share with us your feedback!
The more feedback we receive, the sooner we can officially upgrade this SDK out of beta.
Let's do it!
---
Please note that you may still use the Consent Manager with any Appodeal SDK versions. However, only from SDK 2.7 on is it deeply integrated with the full functionality of the new Consent Manager (such as the forwarding of the consent data to the ad demand partners).
To learn more about the Consent Manager, check out: iOS | Android 
Disclaimer: This article is provided for the convenience of our customers only. It does not, and is not intended to, provide legal advice. Please seek advice from your own legal counsel about how GDPR and CCPA directly affects your business. Find out more about Appodeal's privacy policy on: GDPR and CCPA.