The mad global holiday shopping rush has already begun. Major advertisers will continue to aggressively outbid each other to reach consumers, especially as mobile ad has finally become a top-performing channel for major brands.
In fact, mobile formats hit $6.9 billion in Q4 2015, up a staggering 77% from $3.9 billion in Q4 2014. Mobile display ads are leading with 54% of the share of revenues with mobile search at 43%.
What does that mean for you?
This means that more than $6.9 billion are up for grabs for mobile app publishers in Q4 2016, and you can expect to see your ad revenue potentially triple during this holiday season.
However, not all ad networks are popular with major brands. In fact, you risk earning less revenue during this holiday period if you work with the wrong ad networks.
1. Enable Top Earning Holiday Season Ad Networks
To ensure you don't miss out on this peak earning period of the year, we recommend working with these ad networks below that have shown significant eCPM boost during the holiday season. (Data is from our internal historical data)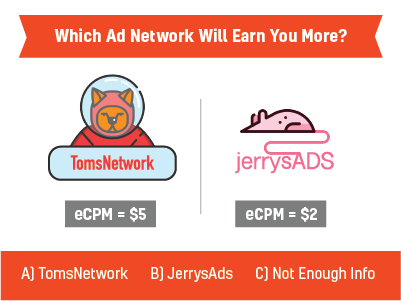 Is your app more popular in specific regions of the world? With our powerful Segments tool, you can select which ad networks to enable based on where your users are from to optimize your ad revenue even more.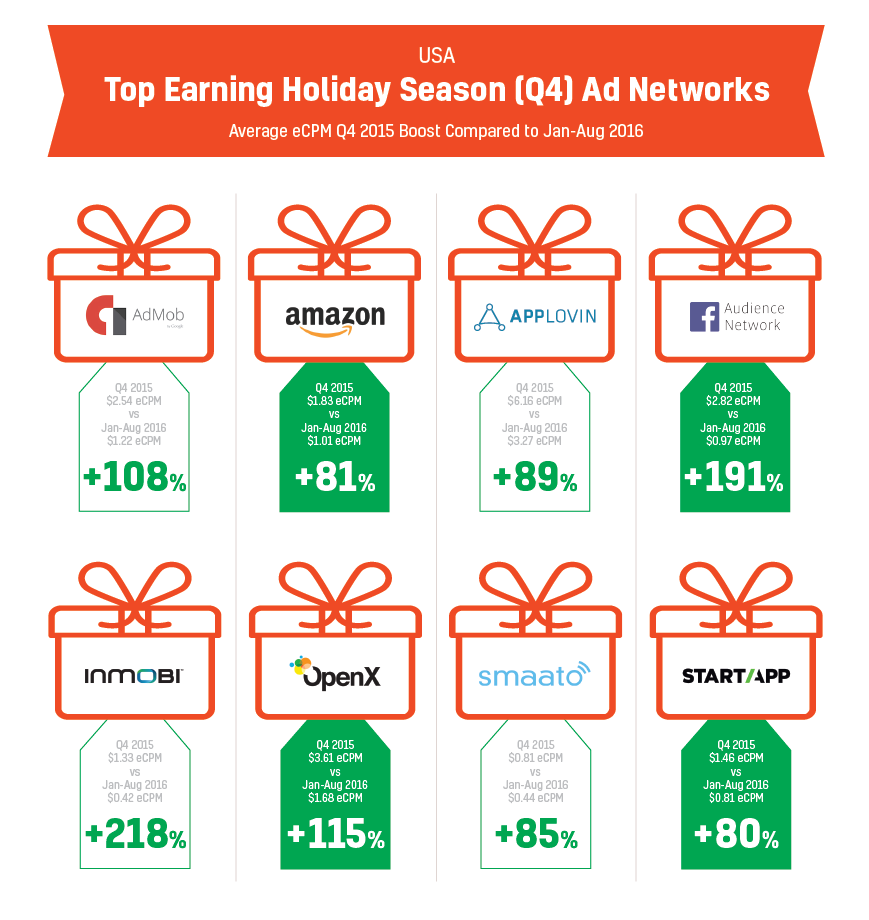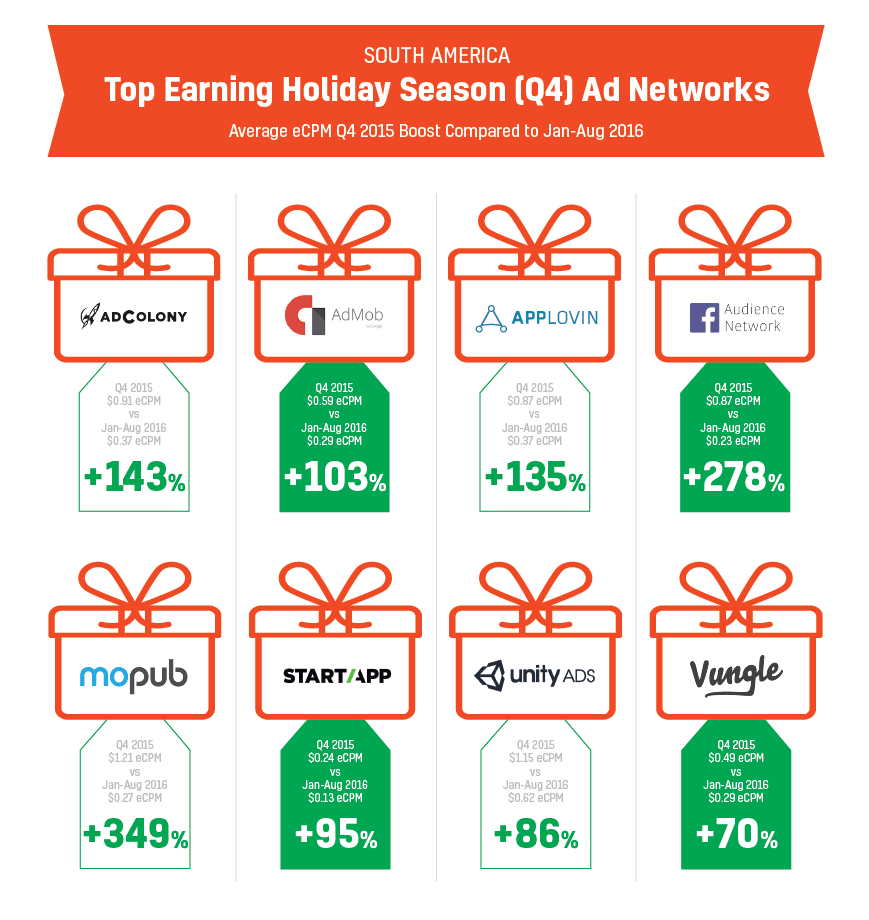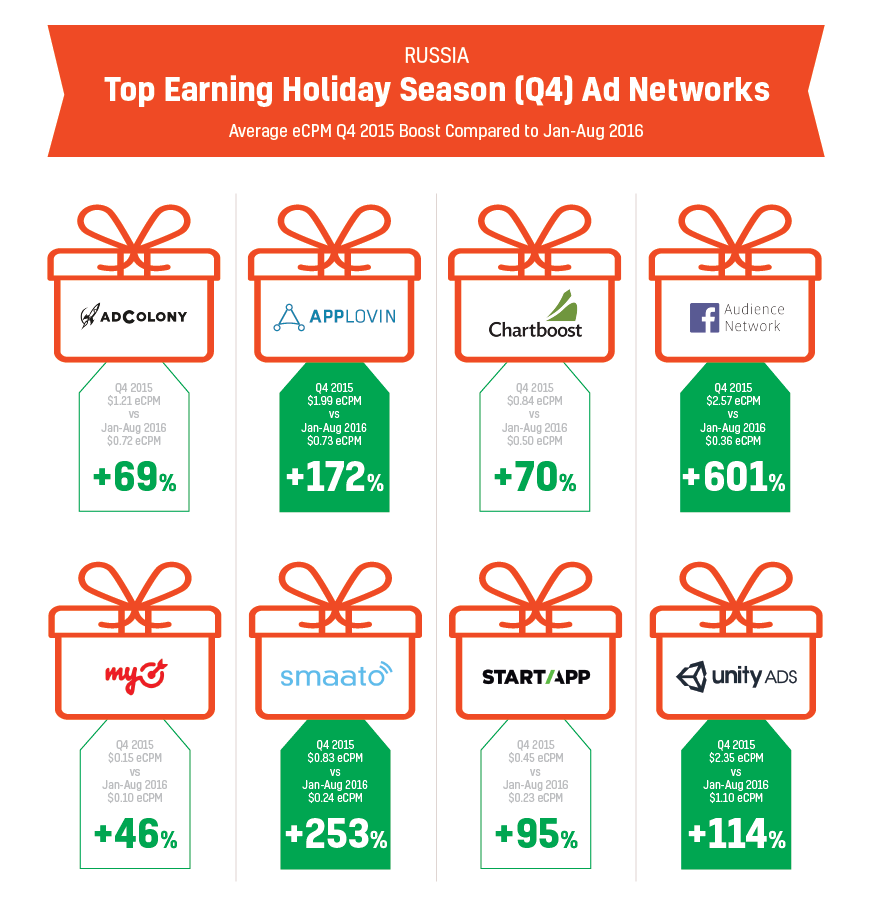 2. Prepare for Upcoming Peak Earning Periods
Black Friday (Nov 25)
Cyber Monday (Nov 28)
Weeks Leading Up to Christmas (December)
October marks the beginning of the boost in ad spending for major brands, leading to the first demand peak on Black Friday (Nov. 25 this year) in the US. From now until the end of December, you can expect ad revenue to remain two or three times higher than the rest of the year with the recommended ad networks above.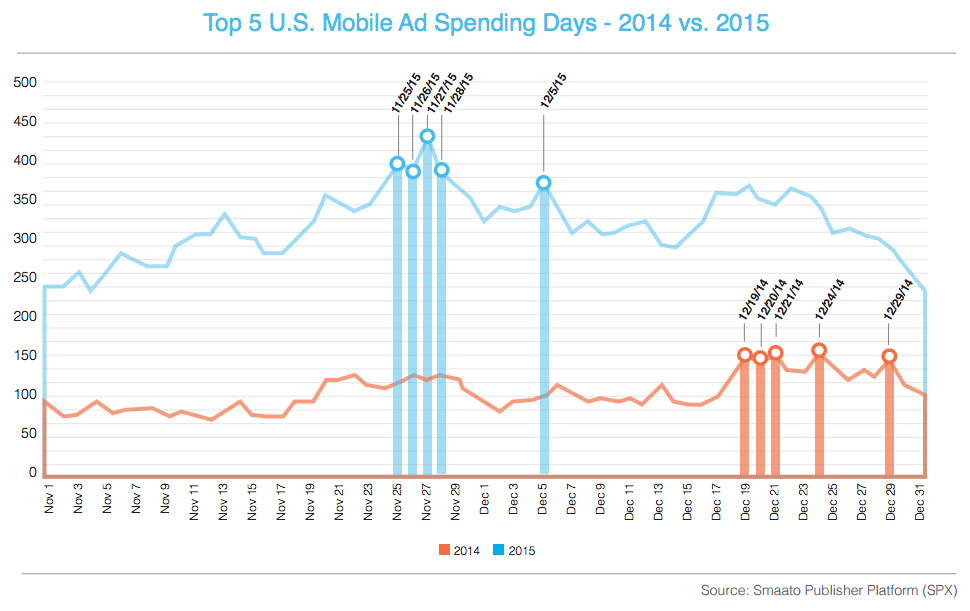 In just one year, mobile ad spend for Q4 increased by 175% in 2015 for Smaato, one of our top ad network partners. We can expect the mobile ad spend to be even higher in 2016.
3. Set Appodeal Up in Less than One Hour
If you have Appodeal integrated already, you can easily switch to these ad networks above on your dashboard in under a minute.
Haven't integrated Appodeal yet? In just an hour, you can integrate our SDK and start earning from over 35 ad networks, including the ones above. The sooner you start integrating, the sooner you can get set up optimally to boost your revenue.
Best of all? Our A.I. backed technology optimizes the ads on your behalf automatically. For every region of the world and for each impression, Appodeal will serve the most profitable ads first without any manual effort on your part.
With Appodeal integrated, all you have to do this holiday season is enjoy your time off. We will take care of monetization for you.
To start integrating or learn more, visit www.appodeal.com or email us at [email protected].