As in-app header bidding technology is catching on in mobile, we're happy to introduce our own solution — Parallel Bidding.
Parallel Bidding works as a unified auction aimed at finding the highest paying ad among all the demand sources in real time, making their opportunities equal. Ad demand sources compete harder having all the publishers' inventory at their disposal. This scenario allows mobile publishers to monetize the inventory lost to inconsistency. At the same time, buyers have an access to all impressions provided and can avoid a "waterfall" model. Therefore, Parallel Bidding is based on programmatic mediation which both publishers and advertisers benefit from.
Currently, Appodeal is at the stage of alpha testing to find the proper balance between usage of Parallel Bidding and current mediation algorithm. The integration of demand partners will be available via the following options: Open RTB, API call, and js-tags.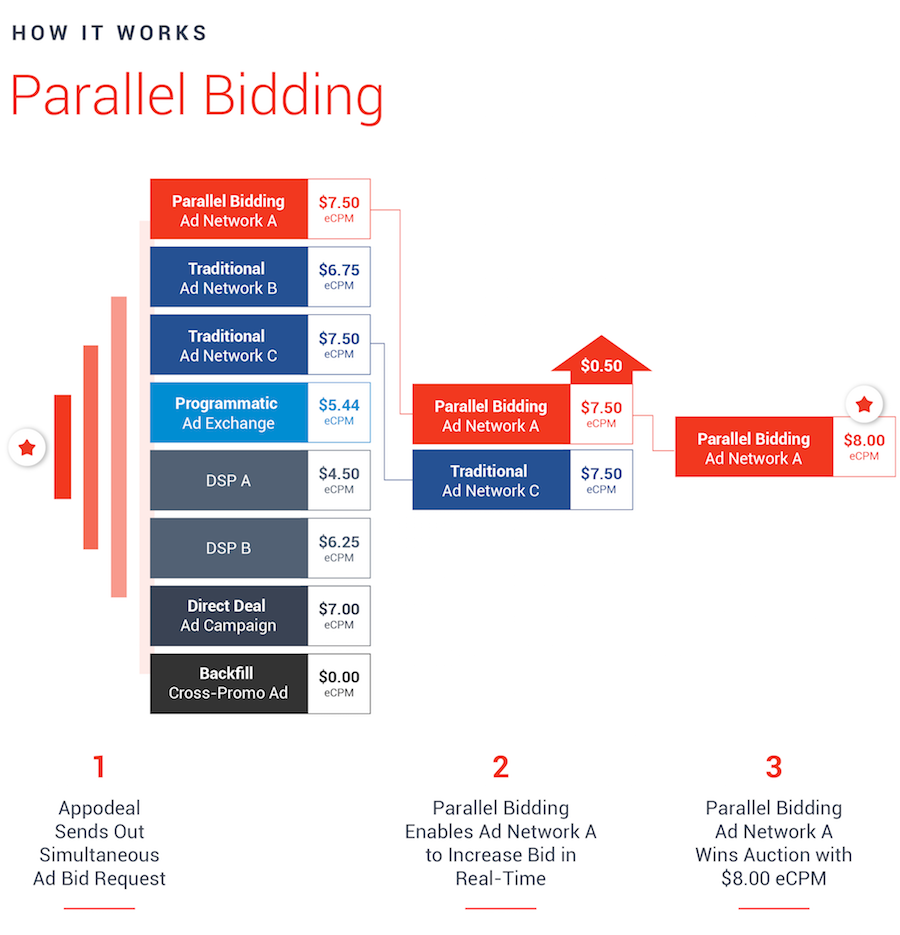 Parallel Bidding provides a closer access to the actual highest price per impression for publishers. In addition to that, parallel bidding significantly reduces latency and invigorates the ad delivery process. The ad requests and the auctions are processed on the server side, therefore, devices no longer need to run consecutive client-side ad requests.
Pavel Golubev, CEO at Appodeal:
We believe that parallel bidding technology is the next big thing in mobile in-app advertising. Also, we are certain that developers have the right to clearly understand what's happening inside their apps and have control over it. Thus, parallel bidding naturally aligns with our publishers' and partners' goals and requests.
Even though parallel bidding is quite a new solution that has not been proven by years of experience yet, its value for the industry cannot be underestimated.
Parallel bidding is now implemented as an organic part of Appodeal SDK. That means that after the alpha testing stage, the technology will be automatically available for all Appodeal clients.
To explore more on Parallel Bidding please see our guide: The Adscent of Ad Mediation.