Native ads have taken hold of the market and are poised to dominate in the next few years. Business Insider predicts native display ad revenue in the United States will make up 74% of the country's total display ad revenue by 2021. (For reference, the current share is around 56%.)
So, what's the story behind native ads? Native ads work with the internal (or native) elements of the platform. They adapt to the actual content and structure of the app. At their best, they look like an integral part of the app. (As you might have guessed, the name comes from the content and format of the ads themselves.)
Native ads represent a shift in the mobile advertising landscape. Rather than focusing on disruption and interruption, more and more emphasis is being made on less intrusive forms of advertising. The thought is, "Why not meet users where they already are?"
The audience of today is not only savvy but also selective. They're quick to reject or ignore disruptive forms of advertising altogether.
At the same time, they're not completely opposed to discovering a helpful and interesting new product or service. And what matters most is how that service that service or product is presented. The look should be natural, the content should feel like a story, and the overall design should suit the surroundings.
Better user experience usually translates into better results for you as a publisher; native ads are no exception to this rule. Ads that catch the audience's attention and promote engagement generate higher eCPMs, revenue, retention rates and clickthrough rates.
Native ads have the potential to offer you the same results as long as you prioritize quality and relevance.
Native Ad Types
Choosing the right native ad type is one of the first steps for delivering high-quality, relevant content.
Appodeal supports in-feed units, content streams, and custom native ads. Let's take a look at each one.
In-Feed or Newsfeed Units
As you can see the ad appears in the feed alongside other unsponsored pieces of content. It will be marked appropriately as an ad but won't disrupt the user's experience.
Content Stream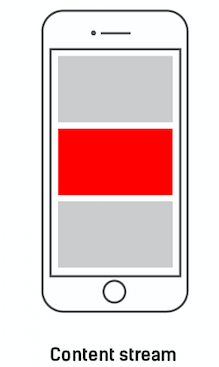 The content stream native ad functions in a similar way. It flows nicely with the existing content and avoids disruption. For native ads in this format, you have the option to display a video instead of an image, allowing you to obtain a higher eCPM.
Custom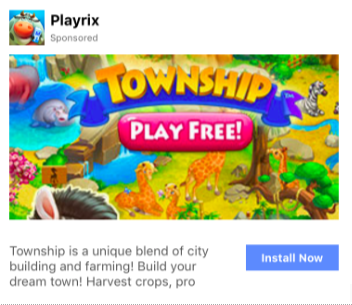 This custom example is clearly marked as sponsored and provides a relevant suggestion to users.
Publishers have the option to create their own native ads format as long as it meets the requirements described below.
Characteristics of Native Ads
A native ad should consist of the following elements: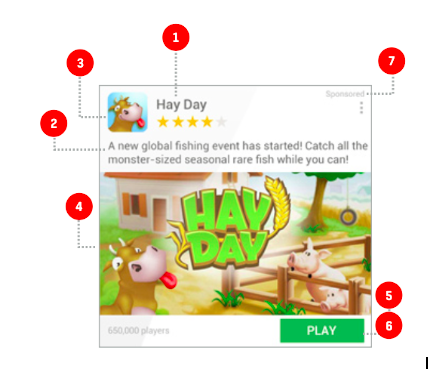 Title:  up to 25 characters (mandatory)
Description: about the product's characteristics (up to 100 characters)
Icon: of the app or a logo from 80х80 to 512х512*
Main Image: a big picture sized 1200х527**
CTA Text: on a button (mandatory)
URL: to redirect to target site (mandatory)
An element identifying it as an ad: such as ad, sponsored, advertising, promoted, or recommended.
Native ads should not overlap with other elements. For instance, you can't overlap the Main Image with an "Install" button. Every element must have a place on a page.
Facebook, Avocarrot, and MoPub require an "Adchoice" sign on all ads.
*An icon OR a main image is mandatory.
**For video native ads, swap out the main image for a video.
You may also add the following features:
Content Rating ( 12+, 18+, etc.)

Star Rating (from 1 to 5)
Appodeal Native Ad Support
Appodeal is one of the few ad monetization platforms that supports a large number of ad networks including Applovin*, Avocarrot*, Cheetah Mobile, Facebook*, InMobi, Inneractive*, Mopub*, Mobvista, MyTarget*, Opera Mediaworks*, PMA Network, Pubnative*, Smaato, and StartApp. We also support direct offers through cross-promotion and direct campaigns.
As for native ads, we support standard and video native ads. All of the ad networks mentioned above work with standard native ads.
*Supports video native ads
Elements of Native Video Ads
To provide the best fill rate possible, we allow publishers to work with the following 3 options:
Standard native ad display.

Video native ad display.

A combination. Display standard native ad or video native ad depending on request and price.
Autorun
With the autorun feature, video ads will begin automatically as soon as they appear on the screen. Otherwise, just insert a play button.
Nets timing and mute button
There is also an option to skip the ad in 5 seconds (nets timing) or mute it. (The mute button is off by default by you can opt to turn it on.) Native ads are capped at 30 seconds.
Capacity
As for capacity, publishers may upload up to 10 native ads simultaneously. If a network requests 10 natives, we fulfill this request with all 10 of your ads. This is one of the biggest advantages of native ads; we can store all of the ads in our cache and display them when necessary while the content is loading.
Not all ad networks support a capacity of 10 native ads. Some will render 2 or 3 ads depending on the number of offers at hand in each country.
Our Native Ads Box provides an automatized cache for native ads, which is determined by capacity. We can set up a parameter of 10 in the Native Ads Box so that it will work automatically and memorize the number of ads a publisher requested. It will also send requests to ad networks for additional ads and offers and load one ad after another.
Highest Paying Ads Priority
Appodeal always requests the highest paying ads. If we make a request for 10 native ads from a network and are given just one, we will continue the requests until we have 10 ads at the highest price. If for some reason the most expensive ad unit fails, we will request the next highest-paying option.
Getting Started with Integration
There are two options for starting integration:
Use a test regime. You can include a test mode in the SDK. After that, you'll receive a test offer from Appodeal, which includes video native and standard native.

Set up a cross-promotion. Just make you own ad, upload it into "Direct Campaigns," and see how it looks.
As for localization,we send publishers all the parameters and user settings for each country, but not all the networks have localized ads. Usually, one offer for all countries is made and only the main text is translated with the buttons remaining in English. (For example, the "Install" button can remain as is.)
We provide the Native Ads Helper for native ads integration. This tool is managed from your account and simplifies the integration of native ads for "collection" or "table" view, i.e. for repeating elements (news, photo galleries, etc).
To use the Native Ads Helper:
State the current placement of native ads in your personal Appodeal account.

The ad in the app will fit into the stated slots.

This means you can manage ad placement without having to reupload the app into a store.
You can also set the positions of the ad's display and specify the parameters in order of the app.
At Appodeal, you'll find both the automated and manual capabilities you need to get the most traction and revenue for your native ads. To get started, create an account today. If you've already joined Appodeal, simply select "Native" from our "Ad Types" option in dashboard to begin.