Over the past few years, the Mobile Ad industry has experienced a rapid and massive transformation increasing the amount of data available to those responsible for decision-making. With a reliable framework - based on solid evidence - now App and Game developers can measure outputs beyond mere profits to better interpret metrics such as eCPMs, impressions, and fill rates.
In our newest In-App Ad Monetization Performance Index Report, we have dived into the deepest oceans of data (known as tedious and never-ending spreadsheets) to draw a comprehensive analysis that will help you optimize your ad formats based on Region, Format, and Ad Demand sources.
If you're looking to supercharge your mobile advertising - our Mobile In-App Ad Monetization Performance Index 2022' is a MUST.
More data, metrics & charts than ever!
This year we've analyzed
6 different regions (USA, Europe West, Europe East, Middle East, Asia & Latin America)
3 ad formats (Rewarded Video, Interstitial & Banner),
2 platforms (IOS + Android,
+100.000 apps,
+70 ad Demand sources,
and +200 BILLION impressions
And we turned all this data into digestible charts that you can now access to optimize your monetization efforts.
Global overview
A fully interactive map where you can scout, in each country, the average eCPMs per platform and Ad Type.
And to make your life easier, we have also created a chart with the top 20 countries with the highest eCPMs!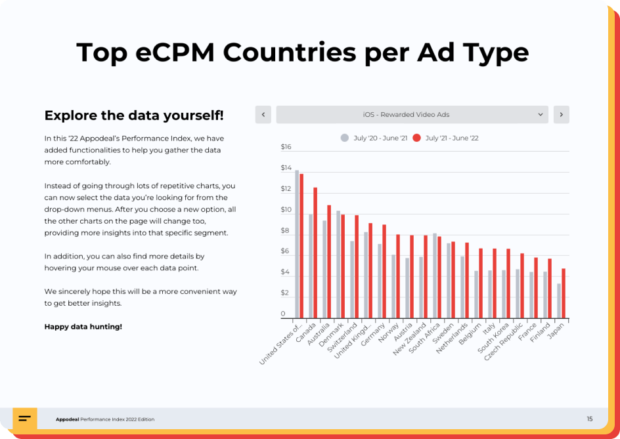 Adapt your monetization strategies on your top markets with data on eCPM countries per Ad type, a year-over-year market growth analysis, and a monthly eCPM evolution analysis in conjunction with Fill Rates and ARPU performance.
eCPM & ARPU Monthly evolution
Do you want to boost your ad incomes during specific months? Or maybe you're worried about the ups and downs of your eCPMs over the year?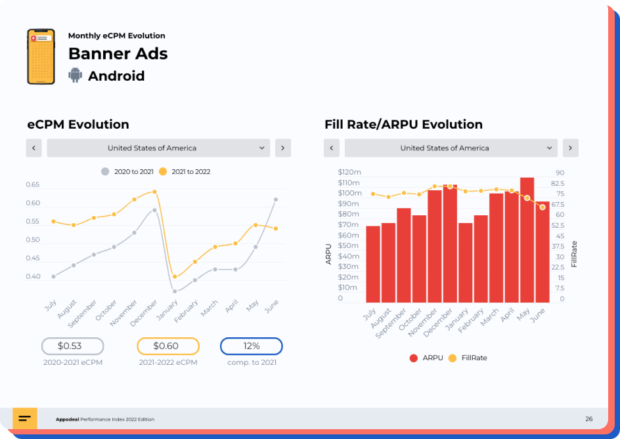 This section will help you understand the monthly trends of the eCPMs, per each market & ad format.
And next to it, you will also find a new set of data, never distributed in any other previous Performance Index, that will tell you the trends on ARPU & Fill-Rates.
Ranking of Mobile Ad Networks
Probably the most demanded chart of our Performance Index. This year, we made it more comprehensive and accessible.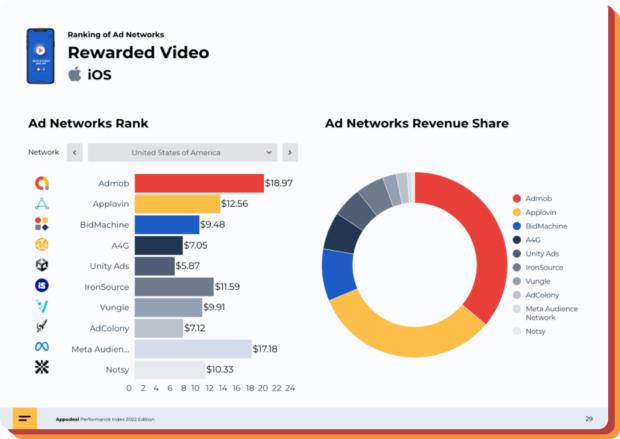 Instead of the previous convoluted layout of icons, this year we decided to represent it as a bar chart, where you can see at first glance, which ad network had more presence in the industry, but also easily compare their eCPMs.
And again, we have added a new pie chart, next to this rank, to be more transparent on the real revenue share of each ad network.
Find detailed insights by region to benchmark, compare and gauge your monetization setup!
Ranking of Ad Categories
A completely new set of charts! Data never shared before!
People have been requesting me about eCPMs per category since I took over the Performance Index in 2019, and I have finally decided to add it to this 2022 version!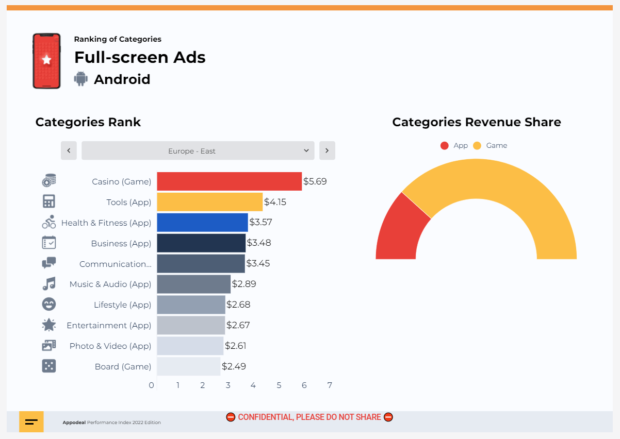 Check the eCPM ranking by categories, in both Android & iOS! Compare the average earns with your current app's or game's category, and check if you can keep improving your monetization strategy & setup!
A whole new section will help you better understand which ad units implement to maximize your revenue based on current trends.
New design & Layout for Performance Index 2022!
In this year's report, we also added new interactive functionalities to help you gather the data more comfortably. Yeah, we don't like long and boring reports either. We are some straight-to-the-point kinda guys. 😎
So instead of reading through repetitive charts that don't necessarily meet your interests, now you can select just the data that matters to you the most from our drop-down menus. In addition, you can find more details by hovering your mouse over each data point.
Key Findings in Ad-Tech Industry this 2022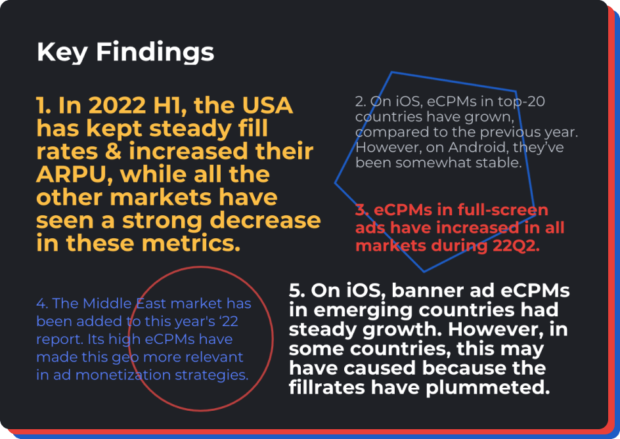 In 2022 H1, the USA has kept steady fill rates & increased their ARPU, while all the other markets have seen a strong decrease in these metrics.
On iOS, eCPMs in the top-20 countries have grown, compared to the previous year. However, on Android, they've been somewhat stable.
eCPMs in full-screen ads have increased in all markets during 22Q2.
The Middle East market has been added to this year's '22 report. Its high eCPMs have made this geo more relevant in ad monetization strategies.
On iOS, banner ads eCPMs in emerging countries had steady growth. However, in some countries, this may have happened because the fill rates have plummeted.
As the only one of its kind in the industry, this report ranks various Ad Demand sources and Ad Formats based on the overall revenue they generated for publishers with our ad mediation SDK integrated in H1 2022.
We did the boring work.
Now it's your turn to navigate through all the charts & insights, and adapt your monetization strategies to get the most out of this!