With millions of downloads, Word Pizza, a popular mobile word puzzle game by indie studio OpenMyGame, was generating consistently high profits month to month. However, the team felt that they needed additional resources to help them to accelerate their growth. By going through Appodeal's Accelerator Program and using its growth platform, Word Pizza was able to scale its monthly profits -- by 6 times!
After applying our 3-pronged holistic approach that aligned and optimized Word Pizza's monetization, user acquisition, and user engagement/retention metrics, Appodeal was able to maximize the game's LTV (life-time value) while decreasing the CPI (cost per install) of each new user so that its ROAS (return on ad spend) was over 100%. Furthermore, Appodeal funded and launched numerous UA campaigns while testing out many channels, targeting, and ongoing flow of new ad creatives.
As a result, each new user acquired through paid UA generated 1.8x the revenue over the cost of acquiring them -- contributing to Word Pizza's 6x monthly profit growth! In this article, we dive deeper into how we did it.
Table of Content
Meet Mobile Game: Word Pizza
Word Pizza is a fun and addicting word puzzle game that was launched on Android in 2017, and it had been monetizing with Appodeal's ad mediation since. The game was developed by OpenMyGame, an indie game studio based in Belarus.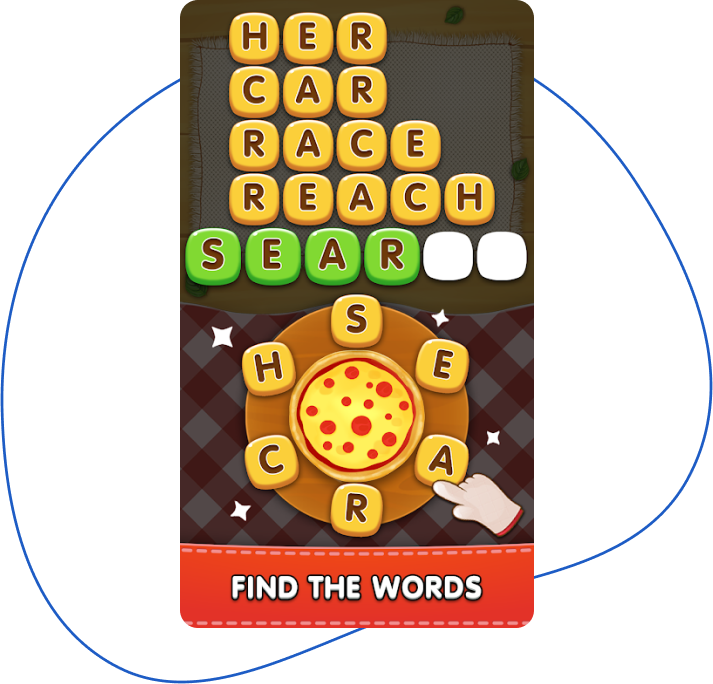 To advance to the next level, players must create words from the letters placed around a pizza -- a great way to expand one's vocabulary. To this day, Word Pizza has been downloaded around 9 million times worldwide with half of it coming from its initial primary target market of Russia.
While the game had shown impressive user growth month to month, reaching almost 3.5 million downloads and an average of 200k monthly downloads by the middle of 2020, its revenue had remained relatively flat and increased only modestly.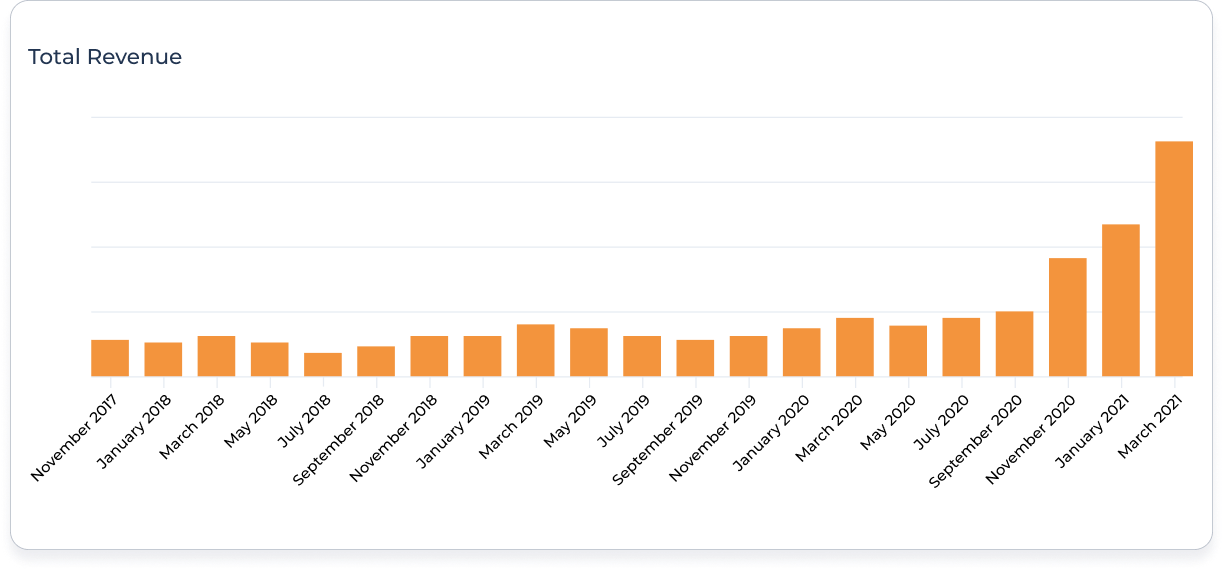 Wanting to grow Word Pizza's revenue further, the team behind the game was excited to join Appodeal's Accelerator Program and be among the first to have its profits be scaled by our 3-pronged holistic approach.
In this case study, we showcase how Word Pizza got its monthly profit scaled by 6x through Appodeal's growth platform and Accelerator Program.
So let's get this pizza party started!
Our 3-Pronged Holistic Approach to scale app's profit
To start, let's first go over quickly the most common technical obstacle blocking indies, like OpenMyGame, from being able to scale their games' profits.
And that is the lack of unified data.
Specifically, indies need these 3 prongs of core data and functions synergized and performing optimally together in order to be profitable:
User Acquisition
Monetization
Engagement/Retention
However, unless you belong to a huge publishing company with a big team and a Business Intelligence tool to align these 3 data, they are typically siloed from each other. When they're siloed, it means you do not get clear insights on your business performance as well as which areas to focus on and where resources should be invested in for the best results. You also do not get the benefit of the 3 functions optimizing one another.
That was one of the obstacles we've identified for OpenMyGame to scale Word Pizza's profits.

Here's a general example to show why. Let's say a game deploys a user acquisition strategy that is successful in acquiring millions of new users. But these same newly acquired users quit the game after just a few minutes, and they end up generating no revenue. At the same time, the game might be very successful at retaining a very specific type of its user base, who are also generating most of the game's revenue. Yet, because the game's user acquisition approach is not aligned with their retention and monetization data, the game has not been able to acquire more of these users at scale, let alone scale their profits.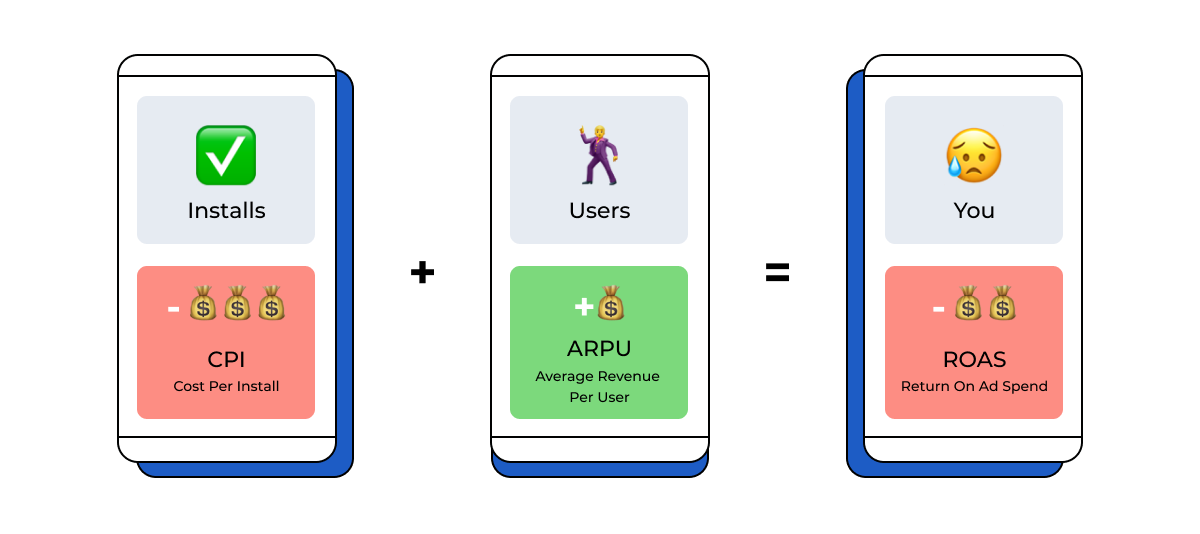 To counter the previous example, here's an example of how having unified data can scale profits. With unified data, your user acquisition would not simply be acquiring as many users as possible at the lowest cost. Instead, it would smartly acquire users that are more likely to have high retention rates (RR) and more likely to generate higher average revenue per user (ARPU), while optimizing for a lower cost per install (CPI) at the same time.
Here are some numbers to illustrate what that looks like. Let's say newly acquired users that are retained for 7 days have an average ARPU of $1.50 and a CPI of $1. That means each new user is bringing in $0.50 in profits, a 150% return on ad spend (ROAS). Scaling profits would mean to scale acquiring more of these types of users.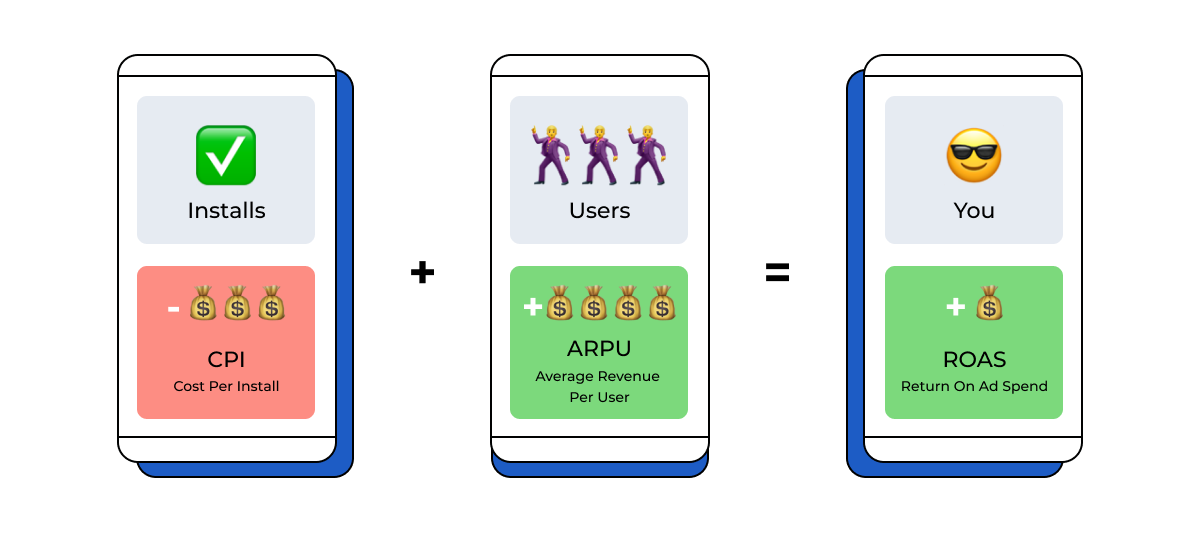 When the 3 prongs of user acquisition, engagement/retention, and monetization data are aligned and synergized within one unified business intelligence tool, this method of scaling profitable users would then actually be possible to do. What was once nearly impossible to find out can also now easily be accessible and viewed directly on our new growth platform dashboard.
And that's how our 3-pronged holistic approach works to scale profits in a nutshell.
Prior to joining the Accelerator Program, Word Pizza did not have its user acquisition, engagement/retention, and monetization data aligned within one business intelligence tool, which meant it was not acquiring new profitable users at scale. Its monthly revenue was stagnant as a result.
After the initial setup of aligning the data from disparate sources, like AppsFlyer for user acquisition, Firebase for engagement, and Appodeal's ad mediation for monetization, Word Pizza now had clearer insights on its business performance and a definitive source for identifying actions to scale its profitable users.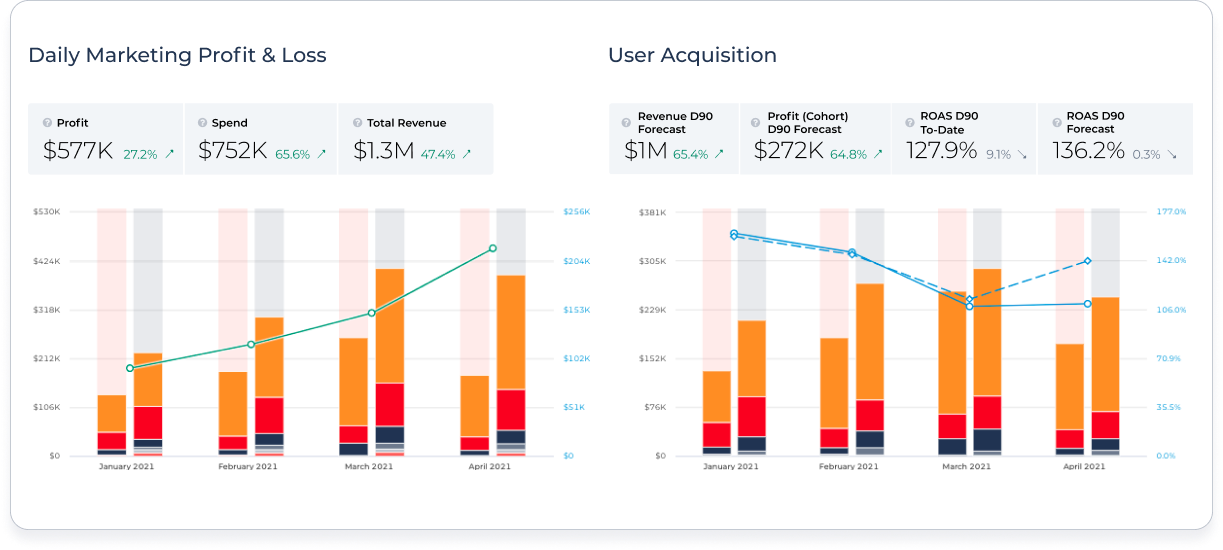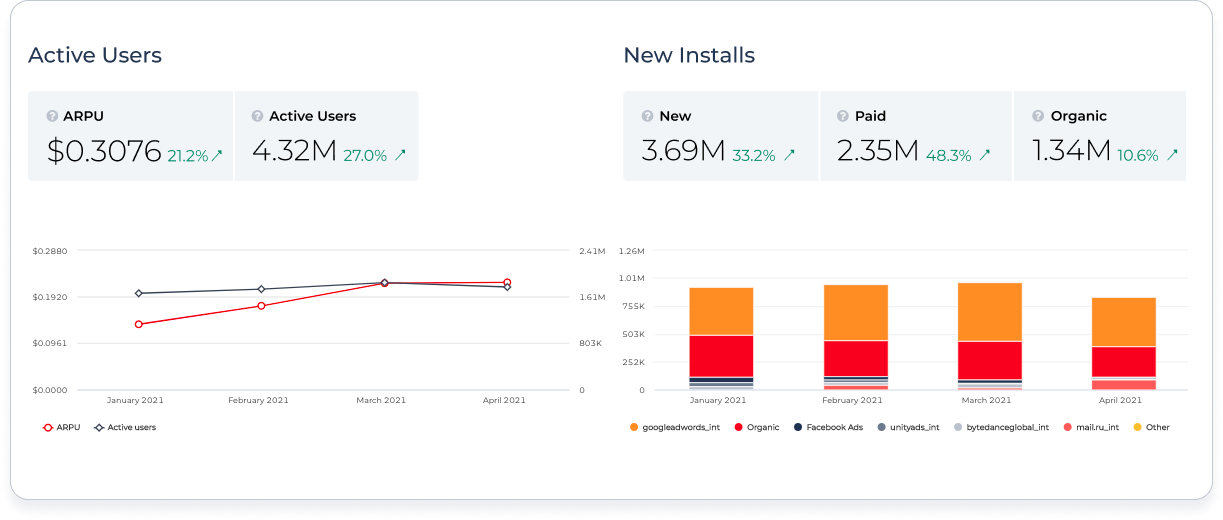 Now that we have the essential business intelligence tool all up and running, let's take a deeper look to see how our 3-pronged holistic approach was applied to Word Pizza and see what happened after!
1st Prong: Optimizing User Acquisition
In order to acquire profitable users, the return on ad spend (ROAS) must be over 100%. Hence, exceeding that was our main goal. With user acquisition, there are many factors that contribute to that: finding the right UA channels, creatives, and audience targeting that bring in high earning and highly retained users.
You would want your new users to stick around longer, so that your opportunities to monetize them, through in-app ads or purchases, are higher. You want to avoid acquiring a bunch of new downloads with users who stop playing after the first session. While this might help you rank on the charts for the short-term, it ultimately does not generate you long-term success nor profits. That is why it is crucial to keep a close eye on the retention rates of your new users from your UA campaigns.
Our new growth platform makes it possible to track and align the retention rates, LTV, ARPU, CPI, ROAS, and many more metrics, to the user acquisition campaigns. It can even track them down to the channel, creatives, and ad set level, which allows for some deep optimization and alignment of UA and monetization strategies.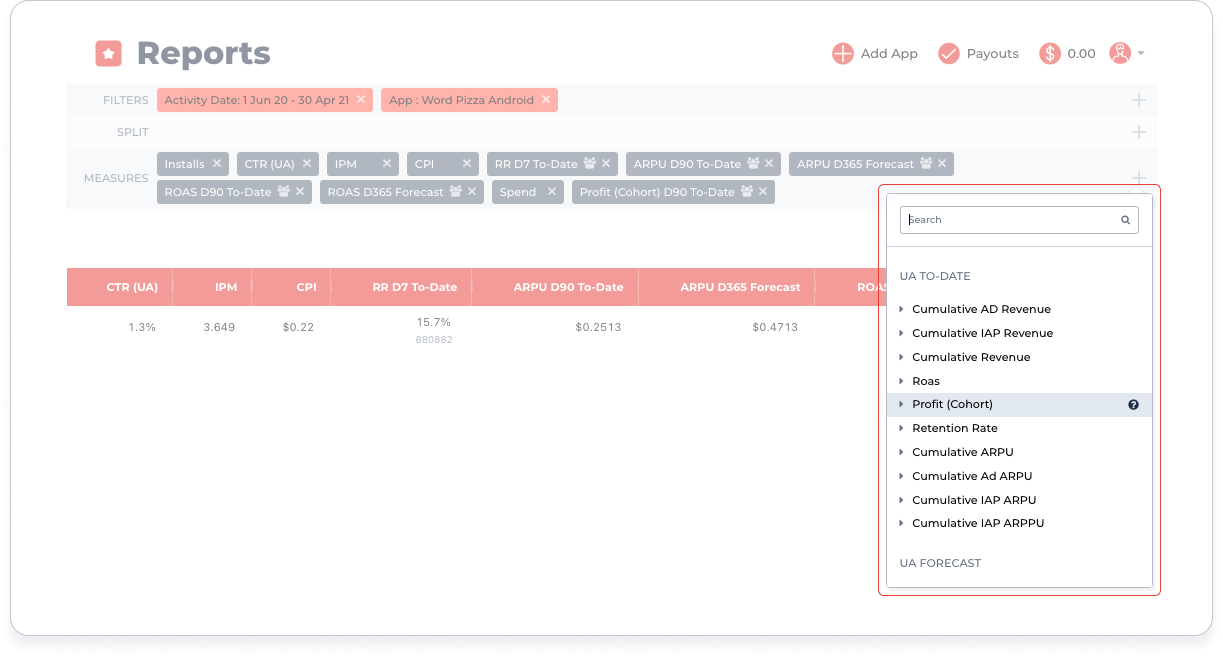 And so with these metrics trackers in place, here are some of the major activities we did to optimize the user acquisition campaigns for Word Pizza:
1. UA Funding to test various UA channels and expand to other markets
To run UA campaigns, you need money. And since many indies don't have extra cash for UA lying around, that is where we come in with funding.
So the first thing we did was to unlock our dedicated funding of $30 million to test, run and scale UA campaigns for apps, like Word Pizza, accepted into the Accelerator Program.
It's important to diversify and experiment with multiple channels, as you may never know where potential users could be waiting to know about your game. While Facebook and Google remained two of the biggest and most effective UA channels, there were several emerging ones that have been proven to be effective as well.
Also, the main goal was to utilize the right channels that not only bring in new users but also to bring in long-term users that will generate higher ad LTV and positive ROAS in the long run.
For Word Pizza, we've tested and narrowed it down to the following UA channels as being the most effective and highest positive ROAS ones to invest more time and ad spend on Google Ads, Mail.ru, Unity, Facebook, TikTok, and AppGrowth.

It was also essential to target the right countries that have optimal CPI and ARPU ratios. Besides targeting the Russian version of the game to Russia and the CIS markets, for the English version we have identified the US, Israel, Brazil, and several other countries as being the countries to target to reach the maximal ROAS.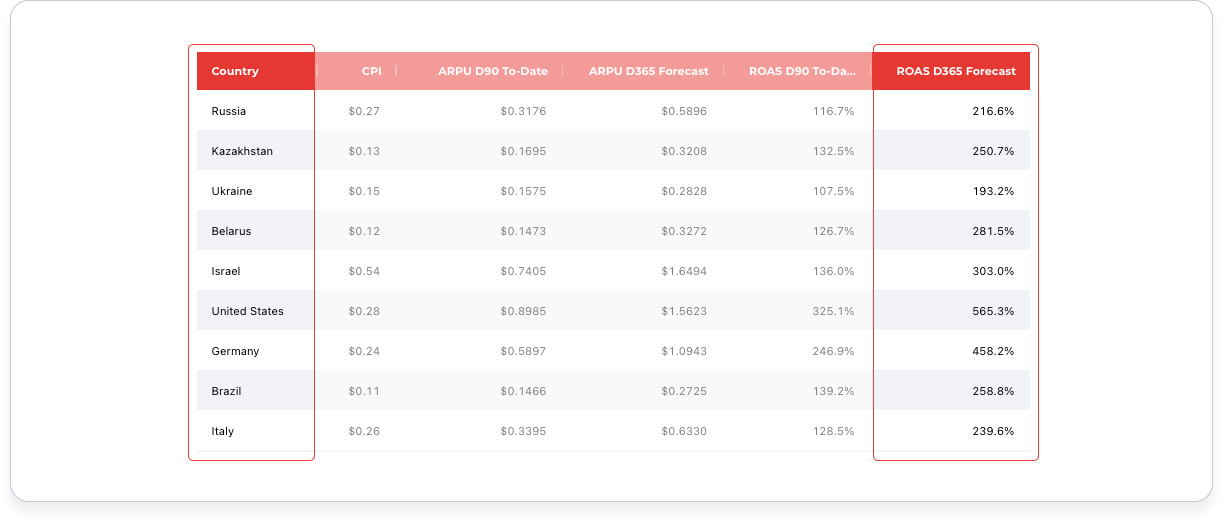 2. Leveraging the power of LTV and ROAS forecasting
One of the main blind spots of how user acquisition had been done in the past is the disconnect between the cost to acquire a user and the LTV of this user, as well as clear insights on the ROAS of this user. This blind spot exists because it takes some time for a user's true LTV to be known. For example, if it takes 90 days for a user to generate positive ROAS but due to limited time frame data of your user's revenue, you only know how much the user-generated after 7 days. Running UA campaigns with this insufficient data will likely not lead to positive profit growth in the long term since a user's LTV revenue is not being optimized.
Using our growth platform, we were able to overcome this blind spot by leveraging the power of LTV and ROAS forecasting.
Because user acquisition, retention, and monetization data are aligned in our growth platform, it is able to learn over time, based on historical performances, of what the forecasted LTV/ROAS of newly acquired users will be, whether it is 90 days into the future, 180 days, 270 days, 365 days, and even 730 days out.
With Word Pizza, we were able to dissect and pinpoint which UA channels, campaigns, creatives, target settings, and more dimensions would yield the optimal forecasted LTV/ROAS results, and allocate more budget to them. This forecasted LTV/ROAS approach enabled us to set the foundation for scaling up actual profits into the future.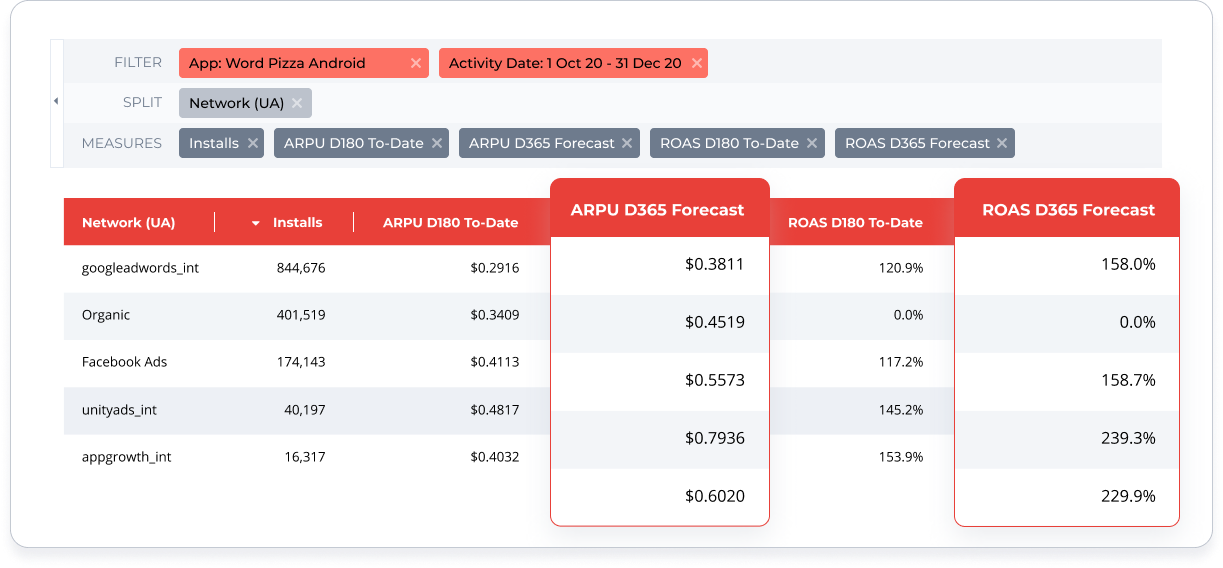 3. Creating and testing a high volume of ad creatives
Once the right channels and targetings have been identified, the next key ingredient for optimizing UA campaigns is high converting ad creatives!
Our creative team, since we began accelerating Word Pizza, had created more than 300 ad creatives that our UA team then ran to A/B test for the best-performing ones.
The CTR (click-through rate), IPM (installs per 1,000 impressions), and installs are some obvious metrics to look for as they directly impact the CPI (cost-per installs). Generally, the higher the CTR and IPM, the lower the CPI.

However, as mentioned earlier, our main goal was to optimize for the ROAS in the long term. So if we look at some of the ad creatives we tested, some of the "best" performing ones actually had lower CTR or IPM. Also, some with high CTR and IPM turned out to be false winners as their ROAS ended up not crossing the 100% line.

Because our growth platform can also track the ROAS and ARPU and attribute them down to the UA creative level, we did not need to worry about wasting UA budgets on non-profitable UA creatives.
4. Automating UA optimization
With our growth platform's ROAS predictor and our in-house UA bidding optimizer, we were able to shift ad spend early on to the creatives that have shown to be more likely to attract higher-earning users.
In addition to ad creatives, our UA bidding optimizer (soon to be released to all users) can also automatically shift ad budgets to the channels, campaigns, and ad sets that will yield the best-desired results, which is ROAS in this case.
By continuously A/B testing the creatives, channels, and targetings, eventually, the ones with the most optimal ARPU, ROAS, and CPI were identified, which then can be scaled later.
2nd Prong: Optimizing Monetization
With new users coming to play Word Pizza, it was essential to have the optimal monetization set up in place to monetize these users.
Since OpenMyGame was already a user of Appodeal's intelligent ad mediation product, Word Pizza was already generating ad revenue from our over 70 ad demand partners. But as we noted earlier, their profits and revenue, while consistent, were stagnant.

Hence, another goal was to maximize their revenue so that the LTV/ARPU of the new users from our user acquisition campaigns become higher than the CPI by wider margins. The difference between them ends up as profits.
To achieve that, we focused on three major ad formats: banners, interstitials, and rewarded videos. And we ran continuous A/B tests to see which monetization setup yielded not just the highest ad LTV but also without negatively affecting other metrics, like retention rates.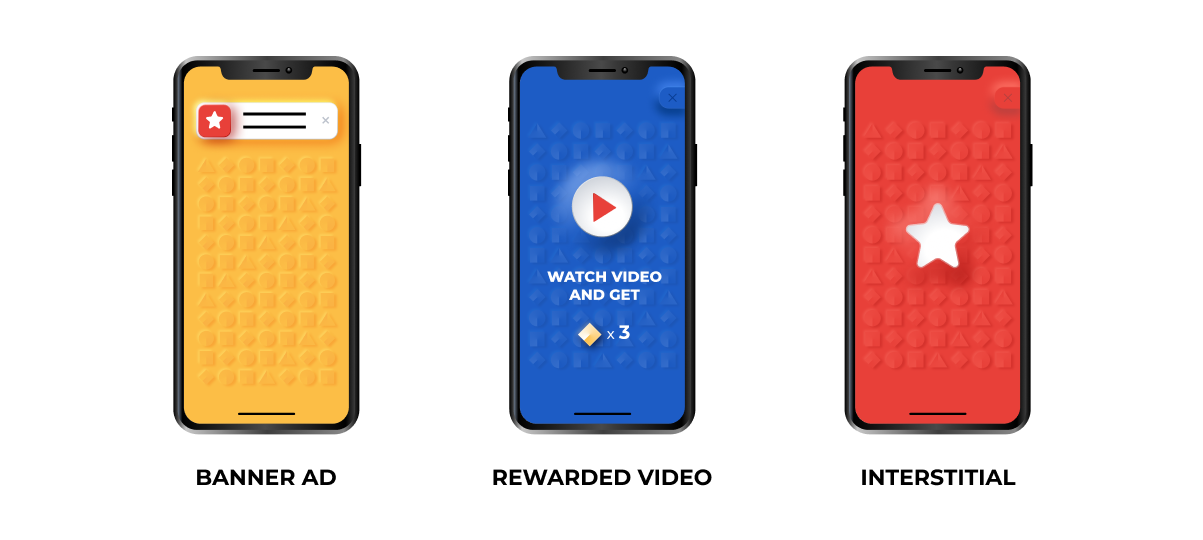 Here are some examples of the tests we ran and some of their surprising results:
1. Optimizing existing ad networks and testing out new ones
Even with over 70 ad demand sources within our ad mediation stack, we still continuously test for new strong performing ad networks. For example, A4G network, a new network added to Appodeal, had demonstrated high eCPMs and fill rates, which as you can see below won a lot of ad impressions, making up for about 15% of revenue after it was added.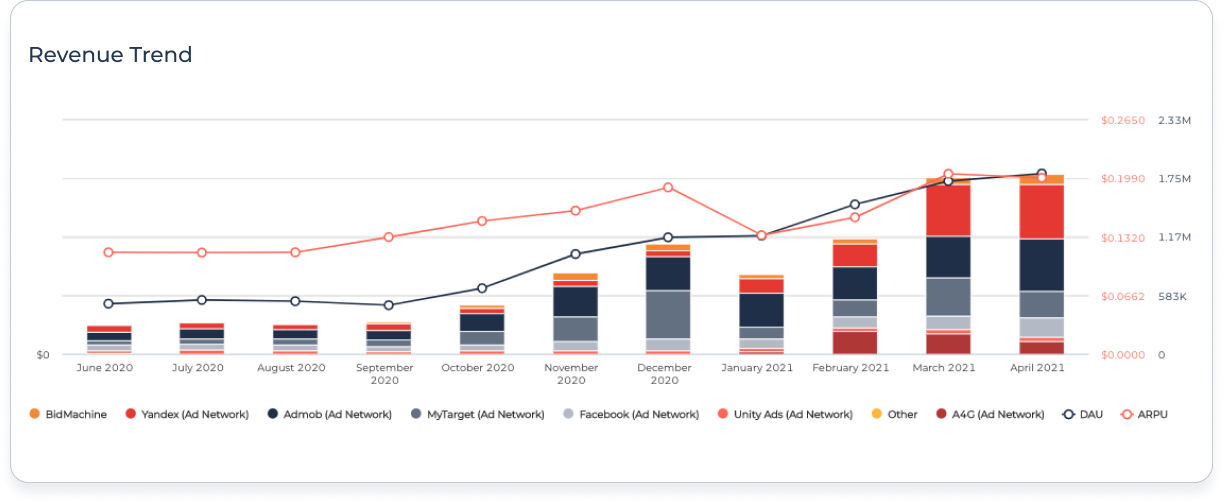 When combined with the other strong ad networks for Russia (Word Pizza's top target market), such as Admob, MyTarget, Yandex, and Facebook, Word Pizza's ad placements have received high supplies of high quality and high paying ad bids competing for each ad impression that increased its ARPU over time. (Note that Q1 of a new year is typically when ad revenue drops after the holiday period peak in Q4.)

2. Setting up the right pricefloors
Price floors are the minimum bid amount an ad has to bid to even compete for an ad impression. Setting a price floor is an effective method to ensure that the ad placement is delivering an ad that matches or exceeds the value of the placement. Sometimes it is better to have no ads than a low-quality and paying ad served.
Using our growth platform, here's an example of our monetization team's test of various price floors for banner ads in Russia for Word Pizza. We were testing to see whether a price floor of $0.02, $0.04, or $0.08 would result in better ad LTV. After a 7 day testing period, it became clear that a price floor of $0.02 generated the highest ad LTV, and so this price floor was then applied for banner ads in Russia.

Such A/B tests and insights enabled our monetization team to use a data-driven approach to optimize many aspects of the monetization setup for Word Pizza. By maximizing the ARPU/LTV of users through monetization optimization, and decreasing CPI of UA campaigns, two of the three key elements were set to scale Word Pizza's profits.
Now let's dive a bit deeper into the third ingredient: engagement and retention.
3rd Prong: Optimizing Engagement and Retention
User engagement and retention metrics directly impact revenue potentials. When new users are highly engaged and retained, that means their ARPU becomes higher, increasing the ROAS of the UA activities.
It is true that the gameplay itself has the biggest influence on a game's retention rate. However, there are mechanics related to UA and monetization that can be A/B tested as well so that both ARPU and retention rates are well-balanced and at optimal levels.
Here are some interesting ways in which Word Pizza's engagement and retention rates were optimized using insights from our growth platform dashboard.
1. A/B tested when to first show ads
Using our growth platform, we ran an experiment to see when would be the best time to start showing the first banner ad after a user opens up Word Pizza. Would it be better for retention rate and ARPU if banner ads start appearing after 3 minutes of gameplay, 5 minutes, or 10 minutes?
In this case, all three options led to similar ARPU and retention rates results, which is not always the case for other games. Knowing this, any one of these options can simply be rolled out based on the user experience desired with confidence.

2. A/B tested ad network and ad format for retention
Other experiments we ran were to see whether enabling or disabling certain ad networks or ad formats of the in-app ads would benefit or harm retention rates and ARPU. After all, not all ad networks are created equally. While it's commonly known that each ad network's eCPMs vary, their effect on retention rates can also vary because some ad networks use a cost per install (CPI) model.
Here's a test that we did with Unity Ad Network to see whether its interstitial and rewarded video ads should be included or not as a part of Word Pizza's monetization setup. Interestingly, enabling or disabling Unity Ad did not seem to have many positive or negative effects on both the ARPU and retention rates.


As a result, we ended up adding Unity Ad as an additional ad demand source to maximize the fill-rate potential given that there were no noticeable issues with adding this into the monetization setup.
3. Nurturing cost per action (CPA) events
There are certain actions users can take within a game that can signal whether the user will become long-term engaged and profitable users or not. Some of these actions could be completing a tutorial, winning five gaming rounds, playing for 10 minutes, or others determined by the developer.
It can even be based on whether a user has been retained and by how many days.
Using our growth platform, we were able to identify and track several key events and segment users that have completed them. These key events showed a strong correlation with users that end up generating higher ARPU than those that have not completed them.
Two of them were the Retention Rate Day 2 and Day 7 events. Since users that were retained for 2 days and 7 days showed among the highest retention rates, ARPU and ROAS, our growth platform could take it even further by training UA channels, like Facebook, to target more new users that were more likely to complete these CPA events of being retained for 2 days or 7 days.

By optimizing UA for retention and ARPU, your ROAS after 365 days will be much likely to exceed 100% and your UA strategy will be primed to scale profits.
Ready to scale!
To summarize, when the 3-prongs of user acquisition, monetization, and engagement/retention data are aligned and working together, that is what makes the scaling of profits possible and predictable.
Once the groundwork of optimizing the LTV and ARPU while keeping CPI low so that the ROAS of UA campaigns exceeds 100%, then we can be confident that a game is ready to be scaled. After preparing Word Pizza to get to this level, it was then time to unlock more UA spending out of the $30 million funding pot and scale Word Pizza to become a top-earning hit!
So how did Word Pizza do after?
Result #1: Scaled Monthly Profits by 6 Times
After years of stagnant revenue growth, in just a few months of being a part of the Accelerator Program, Word Pizza saw its monthly profits increase by 6X.
We started scaling their ad spend (represented by the left bar), and then their revenue (the right bar) grew even more so. If you look at the profit (the green line), you would see that their monthly actual profit-to-date had increased by 6x from July 2020 to April 2021.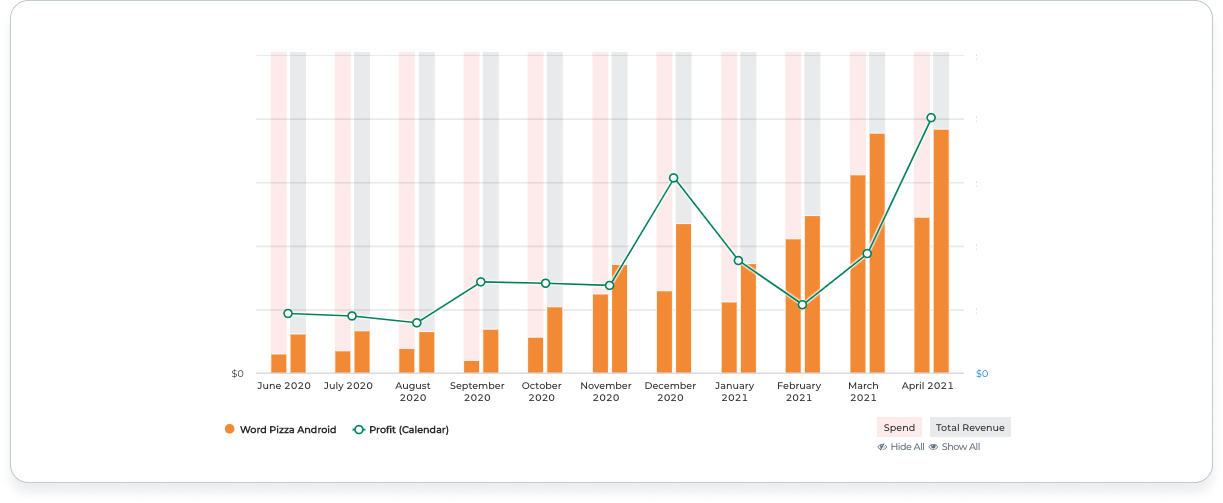 Furthermore, if we consider the future revenue that has not been realized yet, you can see on the chart below that the ROAS 365 days out are still being generated. But we can see that based on the actual ROAS to date and the ROAS 365 day forecast, we can expect an average of 200% ROAS, meaning that investment spent to acquire a new user, it generated twice the amount back to Word Pizza.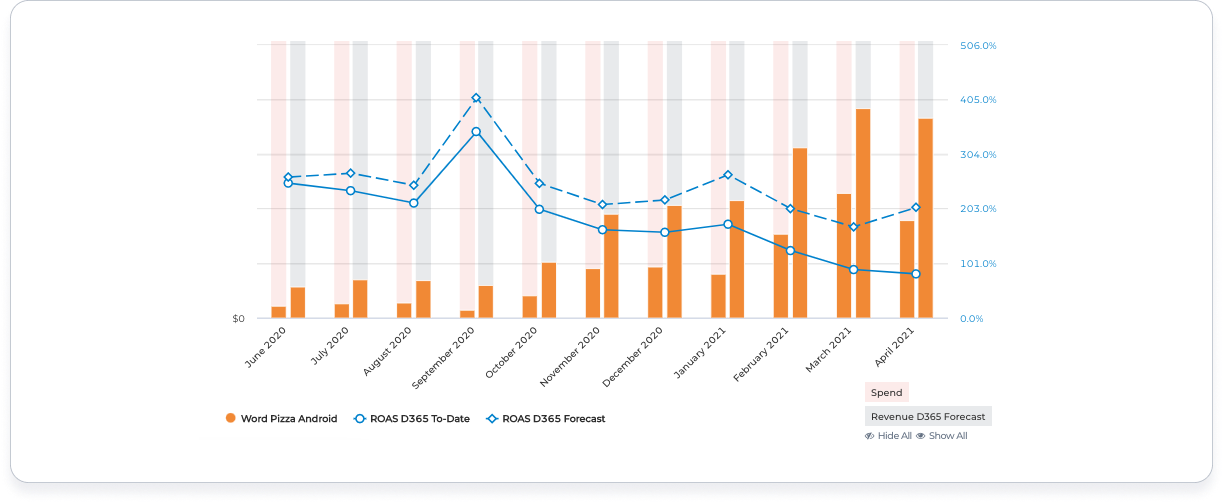 Result #2: #1 Word Game on Google Play in Russia!
After lingering among the top 10 word games in Russia, Word Pizza finally reached number 1 for numerous days in 2021!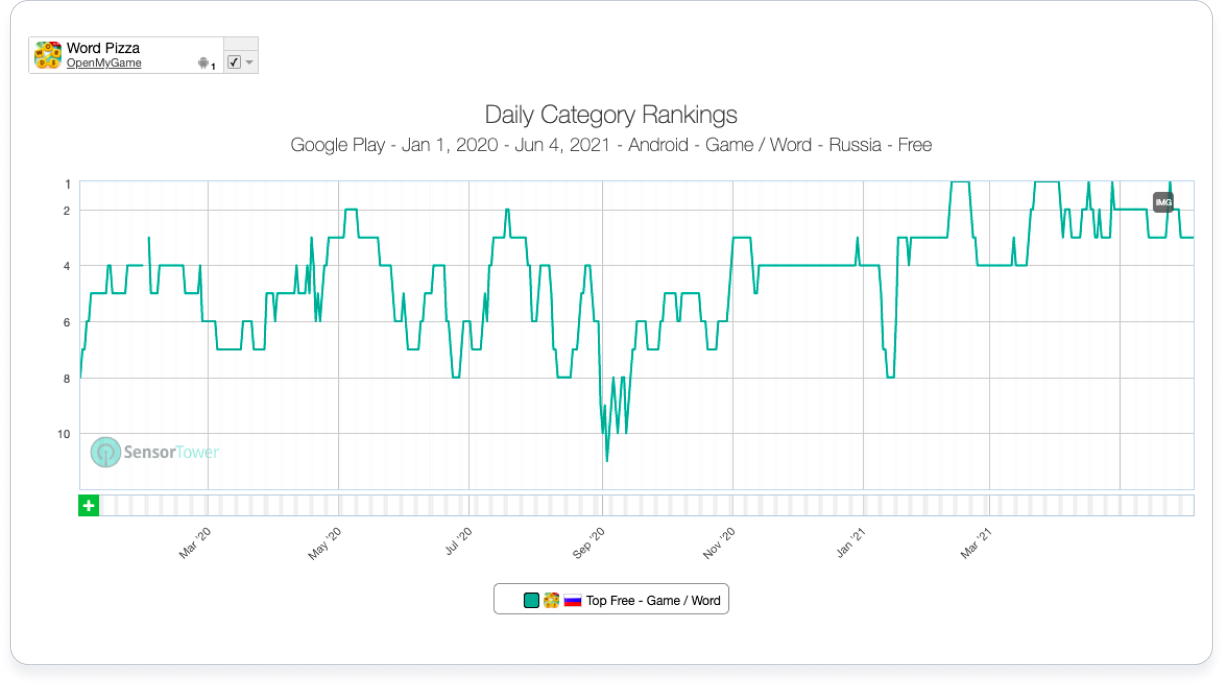 Since Word Pizza participated in the Accelerator Program in mid-2020, its number of downloads worldwide had since doubled to almost 9 million as well. In addition to the Russian-speaking markets, Word Pizza is also expanding into other countries in Europe and South America and in the U.S.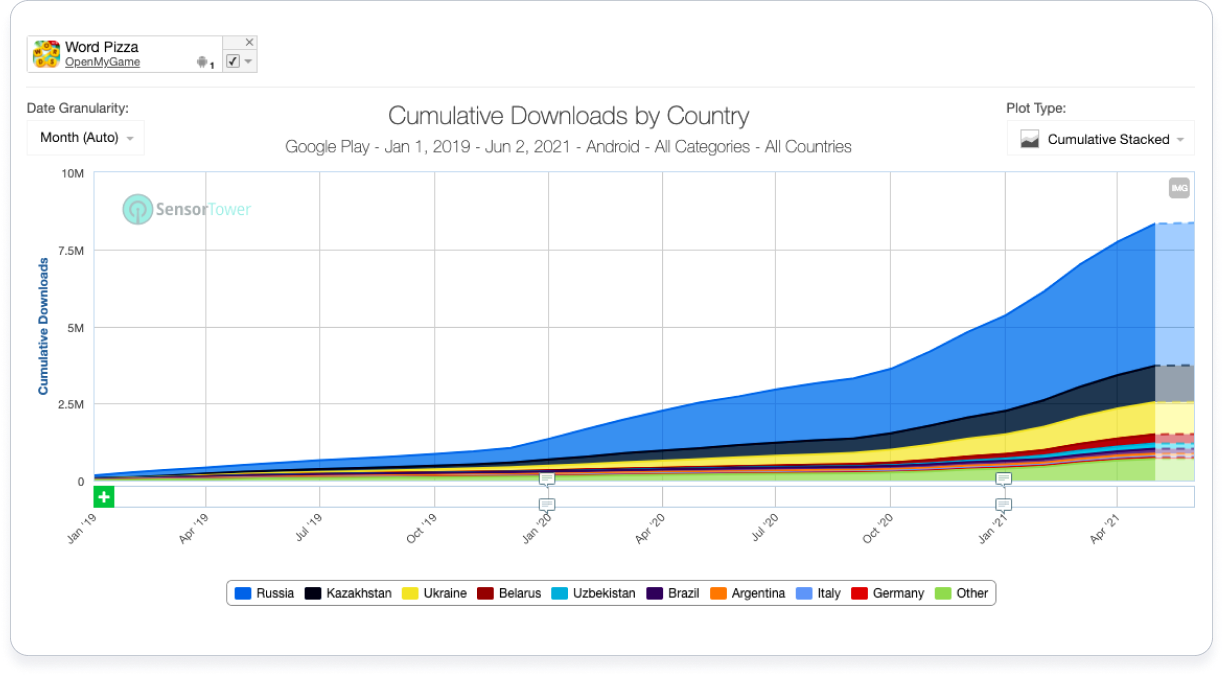 Result #3: More Resources to Develop and Accelerate More Games!
Thanks to the successful scaling of profits for Word Pizza on Android, more games by OpenMyGame, such as Sea of Words, Relax Jigsaw Puzzle, and Word Pizza for iOS, is now also being accelerated in our program.
With each game Appodeal accelerates for OpenMyGame, we are gaining new insights on what can be applied to the other games, which allows us to compress the time needed to accelerate them. We also continuously analyze the market and gaming trends to recommend some new improvements to their games or potential future releases that are more likely to become top-earning hits.
With the combined new profits from these titles, OpenMyGame has been able to rapidly grow its team to over 30 employees. That means now they have much more resources to develop more games faster that can eventually have their profits scaled by Appodeal's Accelerator Program and growth platform too.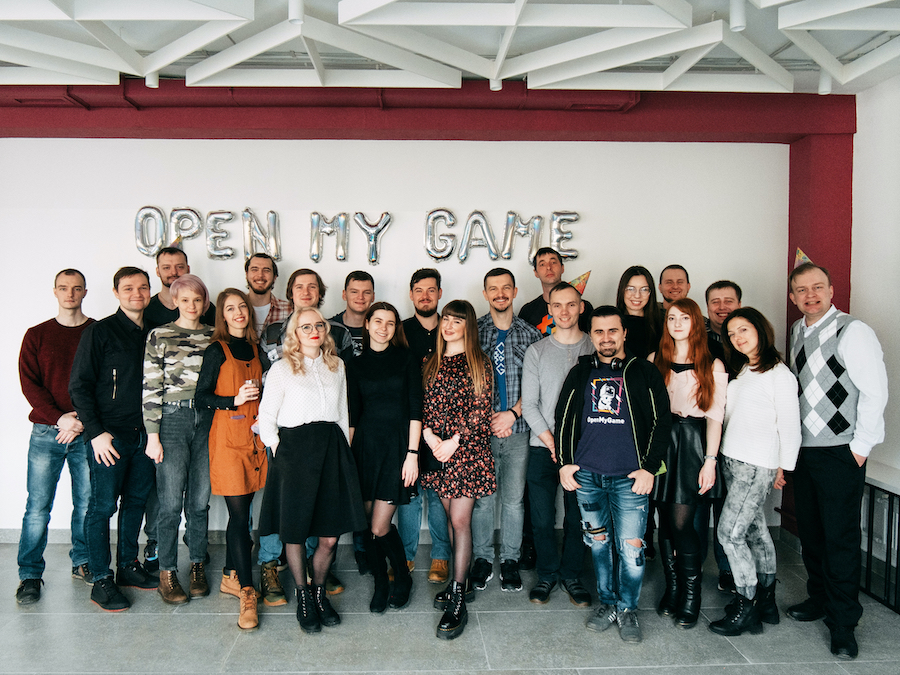 "As an indie gaming studio, our passion has always been in creating games of our own vision. Thanks to the team at Appodeal for helping us in growing our games, we now have much more time and expertise to create all these other games we've been wanting to make! Joining Appodeal's Accelerator Program definitely helped take our gaming studio to the next level."

Vladimir Timoshkov, CEO of OpenMyGame
How to Accelerate Your App with Appodeal
Appodeal was originally created in 2015 by indies for indies so they can monetize their apps for the highest revenue with less hassle through our intelligent ad mediation platform. The Accelerator Program was a new offering released in 2020 to advance our mission of helping indies turn their mobile app businesses into thriving one.
The idea behind the Accelerator Program is that we believe that indie developers should do what they do best -- creating awesome games and apps!
Here is what sets Appodeal apart:
New All-in-one Growth Intelligence Dashboard
Appodeal's new all-in-one growth intelligence dashboard can align all your user acquisition, monetization, and user engagement/retention data into one definitive go-to hub about your app's real business performance. Instead of spending valuable time checking a bunch of different disconnected dashboards, this one dashboard shows all the data you need to know so you can make smarter data-driven decisions to identify the best ways for your app to scale its profits.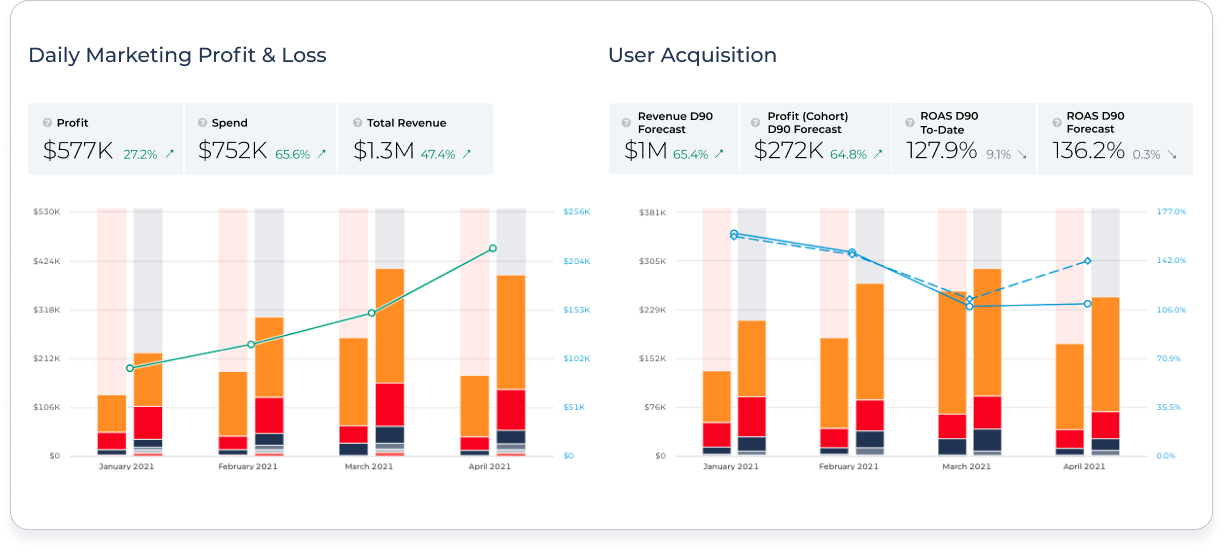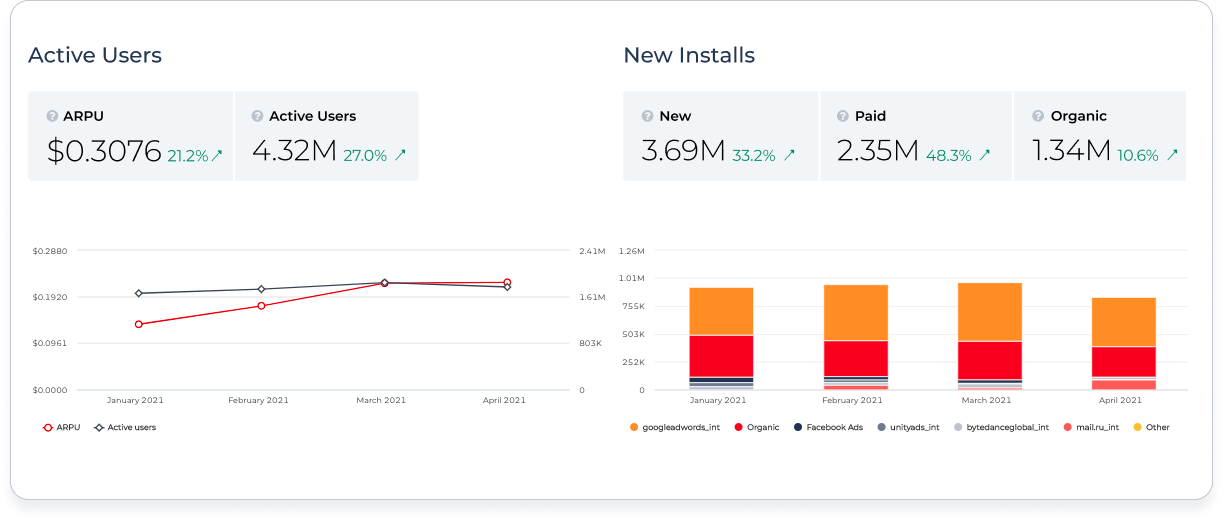 Best of all, this platform is free and available to anyone. Specifically, it was created with indie developers in mind, so you can have the same insights (if not more) as enterprise-size gaming companies. In 2021, this is the new must have tool for indie developers to scale. There's no more reason to use separate siloed tools for suboptimal results.
Funding
We understand that indie developers are running on a very tight budget. Many are using their own financial resources and valuable time to create their game. Unless they have a hit game already as their cash-cow, it would be extremely difficult for indies to have money left over to run user acquisition campaigns, and at scale.
That is why we provide dedicated funding for UA and further app development. Each year, we allocate up to $30 million to invest in promising apps and scale them into top earning hits.
Long-term Partnership
We believe in long-term partnerships. Period. As you can see with OpenMyGame, we not only just accelerated one of their games, but we are eager to accelerate their previous titles and their upcoming ones as well. In fact, we even recommend types of games with high market demand potential for them to develop next so that they can continue having a string of hits for years to come!
Keep IP
We firmly believe that indies should remain indies. This Accelerator Program is an option for them to do just that without them needing to give up their IP (intellectual property) and being gobbled up by a big publisher.
Get Started
To get started with Appodeal and to scale your app's profit too, just take a few seconds to apply for our Accelerator Program by submitting your game here.
After you submit it, you will receive further instructions that will guide you through how to set up Appodeal's growth platform so you can take full advantage of it on your own -- all for free.
After we review your initial application, you may also receive instructions on how to complete the process for a full review of your app and acceptance into the Accelerator Program.
Best of luck!
>> Apply for Accelerator Program