The holiday season is here one year more, and usually, mobile game & app developers expect the highest profits. However, with all that has happened during 2020, the mobile industry is divided. Dozens of game & app developers have already contacted us, asking our expectations for this last quarter of 2020.
Rest assured, the eCPM's will increase up to 30% in some cases. If you still haven't integrated Appodeal, now it is the time to do it. Otherwise, you may miss your best months of 2020 in terms of revenue.
In this article, you can find a convenient analysis of the eCPM's growth for these latest months, and we're comparing it with previous years to tell you what is going to happen and how to take advantage of the 2020 holiday season.
Let's throw some light into what's coming in terms of revenue & eCPM:
Holiday Season: the Top-Earning months for Mobile Apps & Games.
If you already know what already happens on these dates, and want to go straight away to our analysis, you may jump to the next section.
However, for developers who have recently launched a mobile app or game, don't jump yet. Let me explain to you very shortly why the holiday season is so important in the mobile industry, and what new changes & opportunities you are about to experience in your app.
It is this wonderful time of the year when people spend more time and money on their devices. This means, more eye-balls glued on your app, for longer times, and more chances for you to get more ad impressions, and increase your eCPMs.
On the other hand, it is also the time that companies are spending more of their marketing budget on paid advertising. Brands are eager to boost their sales during the holiday season, clients have more opportunities to find interesting deals, and also more excuses to spend their money on presents for their loved ones. Some of your users may have been saving money looking for promos and discounts.
Because of that, in the past, the Holiday Season has always reported higher LTV's & overall earnings!
Or said in the language of internet: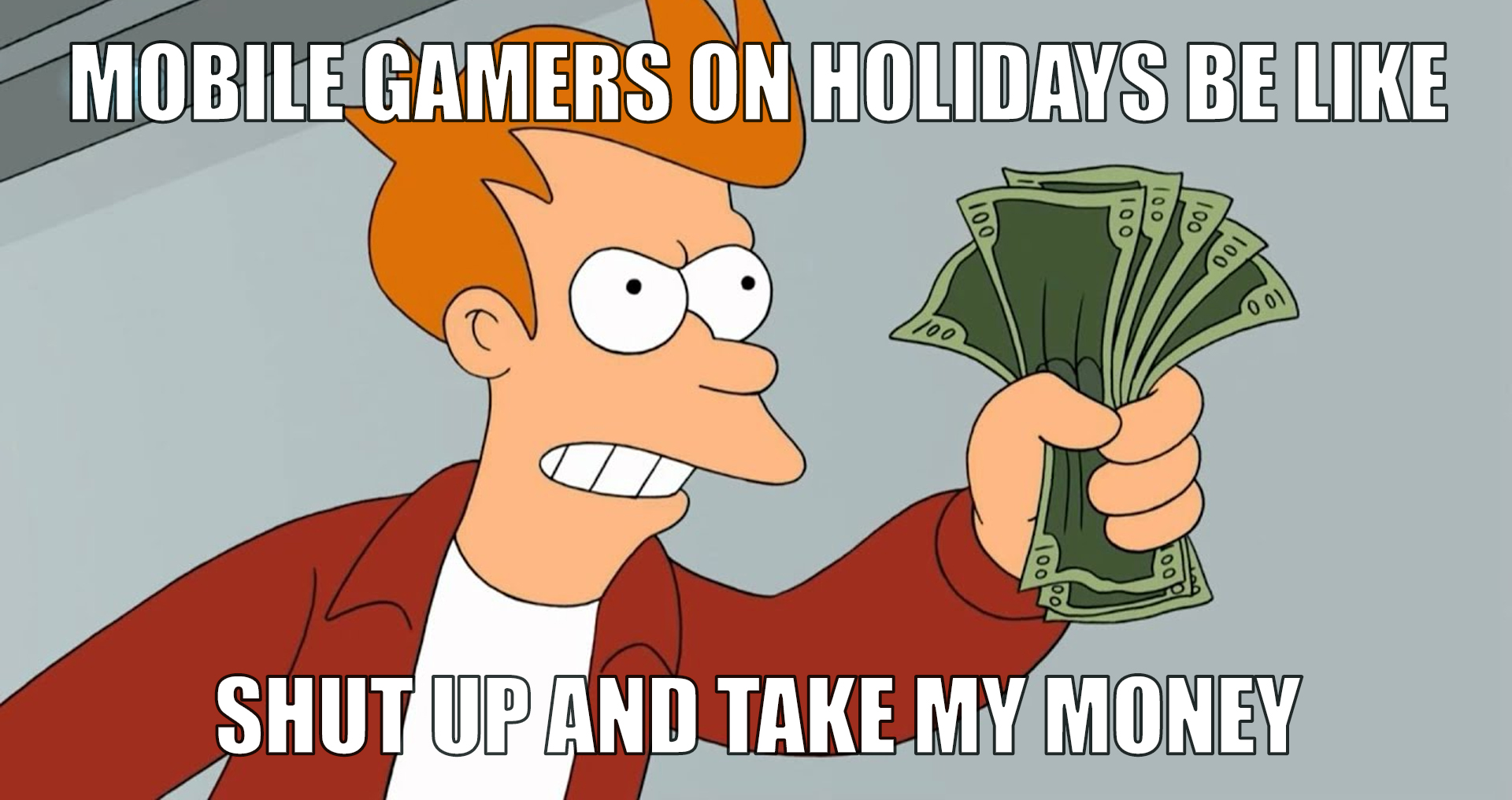 eCPMs will rise & shine in USA Markets
For this holiday season, the mobile developers who have already integrated the Appodeal SDK in their apps and games can expect that their eCPMs in US markets will increase substantially.
We have divided the charts into three different sections, depending on the mobile ad format that they were extracted: Rewarded Video, Interstitial & Banners.
To avoid the usual misleading conclusion due to the vast differences in eCPM values between different platforms and ad formats, we have represented the eCPM growth in percentages. This way, the non-experienced user can see in a glimpse the evolution and progression of the eCPMs over the months.
Rewarded Video eCPMs on USA
In Rewarded Video Ads, we can see that the early Q3 of 2020 did not start as good as in previous years.
In iOS, we see a fall in the eCPMs during August, but in the next two months, the situation has recovered, and we have perceived an eCPM growth even higher than the previous years. On Android, the eCPM took a bit more time to grow, but again in October, the projections were even better than the earlier years.
If the trend keeps growing in the same direction, we can expect booming eCPMs in both iOS & Android platforms for the 2020 holiday season.
Interstitial eCPMs on USA
As you can easily see, the trend of Interstitial eCPMs contrasts with the Rewarded Video eCPMs.
In iOS, eCPMs usually fluctuate up and down. Each year, the eCPM falls a bit in October, but it usually recovers in November & December. On the other side, Android seems to have two differentiated trends: (1) from 2017 to 2018, we can perceive a continued growth; (2) in 2019 and 2020, the eCPMs boomed during September, and kept increasing afterward.
In both platforms, we can expect that the Interstitial eCPMs will keep increasing during the holiday season. The growth trend will probably resemble much more of the data acquired last year, 2019, than the previous ones.
Banner eCPMs on USA
Banners are the most consolidated in-app ad format, and therefore, it's not unusual to perceive a common trend for the past years, as we can see on the iOS eCPM chart.
One year more, you can expect that Banner eCPMs will take up in November in US Markets.
In iOS, this uplift will be way more noticeable, but this is only because, on Android, the banner eCPMs have already stepped up in October. And, still, they are going to keep rising.

Good expectations for the eCPMs in West Europe
In Western Europe markets, we anticipate that in-app mobile eCPMs will increase significantly for Appodeal users, as the charts already point out.
We have followed the same methodology to analyze the eCPMs in the West EU markets. All the graphs are represented in percentages to simplify its reading. We have also divided the In-App Ad eCPMs into three categories, depending on the Ad Type: Rewarded Videos, Interstitials, and Banners.
Rewarded Video eCPMs on Western Europe
In both iOS and Android, the trend for this 2020 resembles more than the one we had in 2018. However, we have considered the data received during last year's holiday season to extract the estimates for this year, and the result is still very favorable.
The eCPMs will keep increasing steadily for November & December of 2020. this growth won't be as jaw-dropping as what we had on iOS last September, but still, the apps and games with Appodeal SDK will highly increase their ad revenues.
Interstitial eCPMs on Western Europe
Once again, the charts show us a similar pattern of the eCPM growth on iOS for the last three years. From August to September, interstitial eCPMs have risen a lot. In October, it narrows down again. November and December, they bump again.
On Android, we can identify again that Interstitial eCPMs follow two patterns, just as it happened in US Markets. The first pattern, in 2017-2018, shows steady but consistent growth. The second pattern, in 2019-2020, displays a remarkable increase in September, and a significant rise in November & December.
Banner eCPMs on Western Europe
The banner eCPM growth on iOS & Android for Western European countries are not that easy to decipher.
We can see some tangent lines between certain months of 2019 and previous years. Still, banner eCPMs during the third quarter of the year usually fluctuate a lot. These variations can make more difficult the task of interpreting the data collected on these two charts.
We can perceive in both platforms that banner eCPMs during November & December tend to rocket up, no matter the growth during the previous month. This 2020 won't be an exception.

Tips & Conclusions to benefit from the Holiday eCPM growth
The holiday season has always been known for generating major in-app ad revenues in the mobile ad industry. Even with the COVID situation, the data shows that this 2020 holiday season, the eCPMs will increase again.
For those apps & games that rely only on banners, this may be an excellent time to start testing interstitials, at least on their Android versions.
Developers & Publishers, who already have integrated ad interstitials, should seriously consider optimizing their waterfalls and test Rewarded Video Ads.
By tweaking your Monetization strategy these holidays, you will not just boost your total eCPMs, but also increase your overall ad revenue.
However!!!! When reading this analysis, you must be aware that the data represented is extracted from the apps & games that have Appodeal SDK integrated.
Even if the growth eCPM expectations for this holiday season 2020 may be promising for our clients, this may not be the same for other mobile games and apps using other mediation & growth platforms with different performances and reports.
We can only estimate the eCPM growth for those mobile developers and publishers that have integrated the Appodeal SDK.
If you are a developer or publisher and still haven't integrated Appodeal SDK in your Apps and Games, NOW it is the time.
We have already given you all the data.
Now it's your choice to use your Intelligence Growth Tools. Sign up to Appodeal & Turn your apps into successful, data-driven, top-earning hits.
Or again, in the language of the internet: