The best monetization strategy is a multi-faceted strategy. Most developers see the best results from combining different revenue streams and optimizing them to make sure they're getting the most out of each without interfering with one another. For Topface, it was important to balance direct ads, networks, and IAPS - all without harming user retention.
The head of mobile development at the dating service Topface, Evgenyi Dementyev shared the data and findings of their recent experiment with us. The team was trying to find a perfect balance between the number of direct ads displayed, banners from networks, and user retention.
Hear from Evgenyi below, as he describes the experiment and the team's findings.
About Topface
We launched the Topface dating app for iOS and Android at the beginning of 2012. Since then, the app has been downloaded more than 15 million times, and our mobile users have generated more than 3 million daily sessions.
Monetization is based on in-app purchases, while ads (full-screen banners) are used for additional revenue. They appear after some time spent in the app, and only to active users who haven't made purchases for an extended period of time. After any size purchase of coins or likes, we stop showing ads to this user for a month.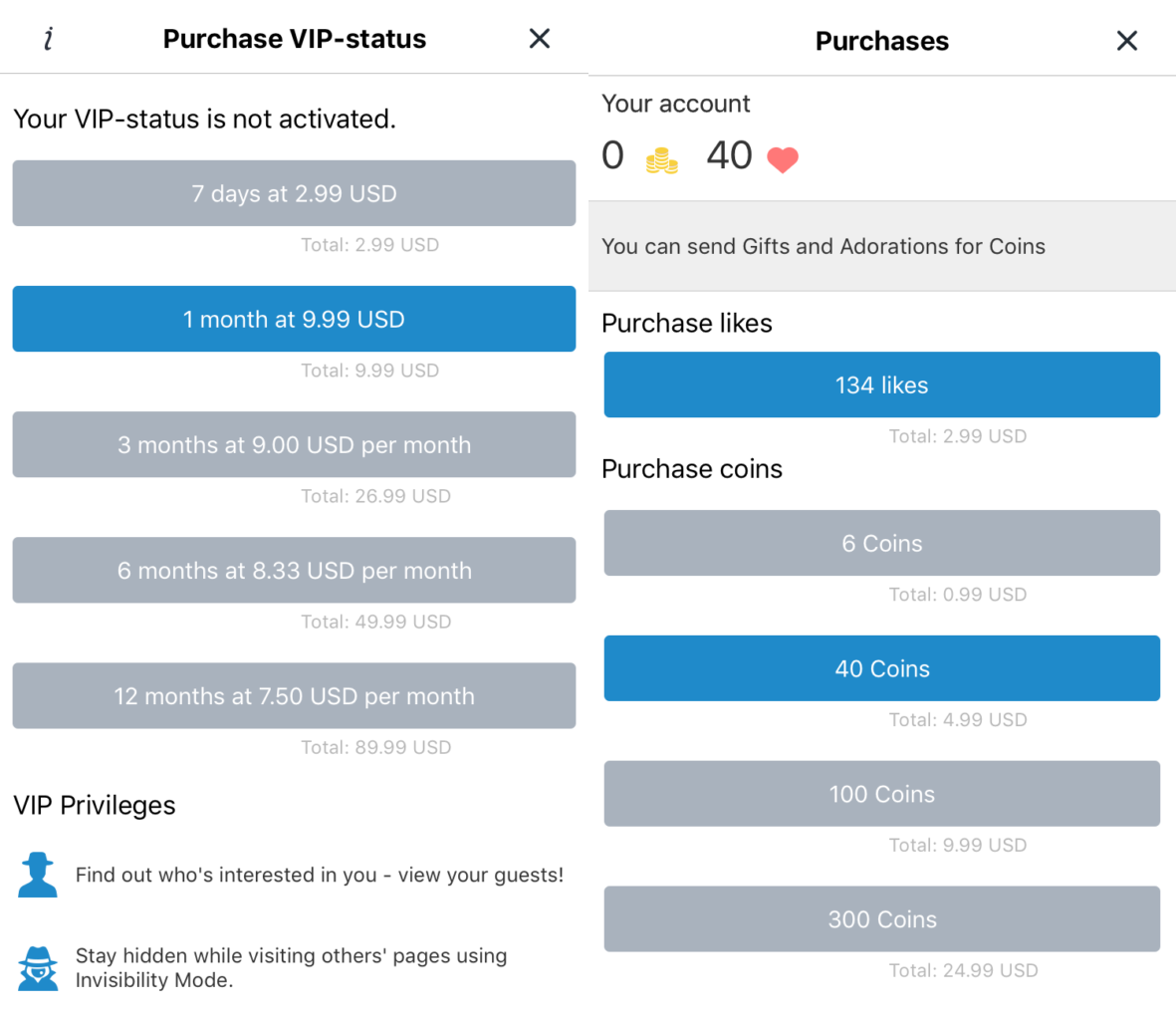 In-app purchases in the Topface app
The percentage of non-paying users is quite high, as in any dating service, so we are constantly searching for better options which would satisfy both us and the users. Topface builds ads through the Appodeal ad mediation service and this experiment was conducted in collaboration with them.
 The Experiment
The aim of the experiment was to determine the most efficient way to combine direct and indirect ads. The former, usually developed together with an ad provider, are more interesting as they can be made interactive, and bring larger revenue.
On the other hand, direct ads are more demanding, take more effort, and that's exactly the reason why we still work with networks. Our goal was also to find better places for ad units from direct advertisers while keeping the networks' ad revenue.
Therefore we had several tasks:
To modify banner display management, in particular, to add a possibility of placing direct ads in between indirect ads.

To understand how eCPM and revenue depend on ads displayed per daily user. Based on this data, to build a model which calculates a 'display net cost' depending on its index number.

Finally, to find a threshold after which an ad stops bringing in significant revenue and only annoys users.
The experiment was conducted through our personal admin panel and Appodeal Segments. We divided all the Russian traffic into 10 control groups - 5 each for iOS and Android.
The groups differed only by the number of banners shown per 24 hour period: one, three, five, seven, nine. Users were shown full-screen banners after launching the app or after hibernation mode was disabled and in any case no more than one in 30 minutes. During the week of the experiment, we were tracking revenue and retention metrics.
The Findings
It's worth mentioning that the results of the experiment are relevant for our particular app, whereas for other apps they can be used for understanding general trends, as numbers may vary.  
Our control group was the one with 7 ads displayed per 24 hours. Before the experiment, the app had 7 ad units, so we wanted to know how effective this number is. All metrics and revenue shifts were compared to data gathered from that particular group and the results proved our initial assumptions true:
In all 10 groups, retention metrics were almost the same

The first ad displayed makes up 36% of all ad displays, bringing 42% of revenue

eCPM for the group which saw an ad once per 24 hours was 15% higher than in the control group with 7 ads displayed in a 24 hour period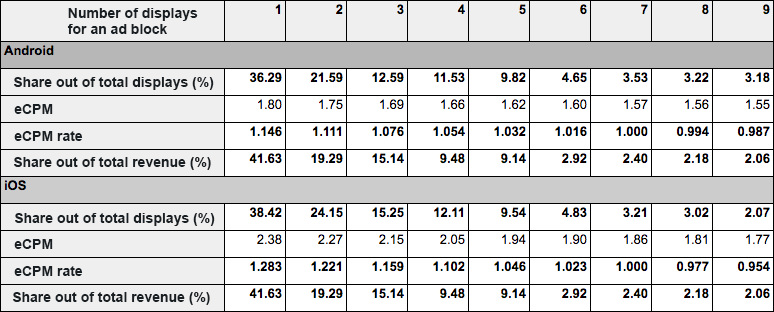 We compared the average mean for each display with the control group
We determined the fall in eCPM after increasing the number of ads, how the revenue structure from each display looks, and the threshold after which an increase in ads displayed no longer increases revenue.
It turned out that showing 6 or more ads in a 24 hour period generated an insignificant revenue increase. eCPM decreased so that the revenue difference between fifth, seventh, and ninth displays was minor.
Shareout of total displays - Shareout of total revenue
The Conclusion
During the experiment, the app revenue certainly fell, since among the variable groups were the ones with too few banners. However, we did come to the following conclusions:
Showing full-screen banners more than 5 times in 24 hours is inefficient - it doesn't create a significant revenue increase and annoys users

At the same time, we can show up to five banners as it doesn't affect retention

Finally, we determined the dependency of our revenue on the number of ad displays and calculated the cost of every banner for the Topface app
I think that we'll repeat the experiment in half a year in order to confirm our findings are still accurate. For now, we're able to calculate the cost of direct advertising campaigns more accurately and build them in more efficiently. On top of that, we'll stop annoying our users with unnecessary, ill-performing ads.
The Topface team made sure to test and optimize the performance of their monetization strategy, as well as commit to testing regularly to ensure it's always operating at optimum levels. Tools like Appodeal can help to make this process easier, but it's always going to be important to use those tools to your benefit!
Get in touch with us today to learn more about how you can put Appodeal's suite of tools to good use.