When Steve Jobs introduced the first iPhone in 2007, he referred to it as a revolutionary product, and in many ways, his pronouncement was spot on. The iPhone has changed the way we conduct our lives, making it simpler to access information and communicate with others.
Of course, the best new products and features do the exact same thing—they solve problems with ease and finesse. They fill a hole in the marketplace and make us wonder how we ever survived without them.
At Appodeal, we understand publishers' need for in-depth analytics and a thorough comprehension of app performance down to the user level. For this reason, we're releasing an innovative new feature, something with no comparison on the market: Appodeal Insights. This breakthrough tool combines form and function to revolutionize your monetization strategy. Insights is both innovative and disruptive, providing publishers with the means to analyze each section of their user base in detail as it pertains to impressions, clicks, eCPM, and CTR.
For a better understanding of the acumen Insights provides, we'll review two use cases and parameters.
Use Cases
User Acquisition
Before the dawn of Insights and Segments, user acquisition strategy enhancement generally relied on assessment of performance of users as a whole. Publishers who monetized their apps through ad revenue were unable to break their user base into divisions, which negatively affected their user acquisition.
Today, publishers can use Insights to determine which segments perform best, adjust user acquisition strategies accordingly, and avoid wasting money on efforts that do not bring value to their apps.
Appodeal Insights is available over API as well as over the interactive dashboard. It enables app developers to:
manually inspect, perform deep analysis, and adjust user acquisition campaigns as well as ad placements
feed this data to an automated user acquisition robot to learn what works and what doesn't work and which cohorts of users fail to bring in revenue
A/B Testing
What happens when an app developer wants to compare the performance of ads when displayed during app launch or between game levels? Or perform another sort of A/B testing? Certainly, this information is not accessible from ad networks. However, publishers can now use Segments and Insights to create custom placements (e.g.  ad_upon_app_launch and in_btwn_levels).
Insights displays the performance of each placement, and publishers may analyze the respective eCPMs to determine the most effective placement.
Labeling Users
Publishers may label each user in a customized way as they wish. For example, each user can be labeled with a custom tag according to their current level in the game. After assigning a custom tag, publishers can head to the Insights dashboard and compare the performance of each tag. Thus, capabilities are now available to analyze the audience by more than generic info; publishers have access to the specifics and unique characteristics of their apps
Parameters
*Model*
Publishers can sort the insights by impression, clicks, eCPM, or CTR per device manufacturer,  maker, or brand. This information is particularly useful in the case of Android as every device is different. Devices that do not fall in one of the pre-designated categories are listed as "other."
Connection

With this parameter, publishes can keep track of how connection type (Mobile, WiFi, other, or unknown) affects their impressions, clicks, eCPM, and CTR.
SDK
These insights provide publishers with an up-close and personal look into how each SDK update improves the performance of their apps. Publishers can dive in and analyze the effect of each update on the overall performance.
Segments
Segments may be used in a variety of ways to see performance metrics of each segment you've created. Say, for example, you've purchased traffic from Chartboost. You can create a segment for this traffic and analyze its performance in comparison to other sources to determine its value.
Likewise, you can analyze the performance of several ad networks to figure out which one generates the best traffic.
Placement
Curious which placement generates the best eCPM? Or how changing placement affects your CTR? Use this parameter to find out and focus on the placement strategy that's the most successful for you.
Package Version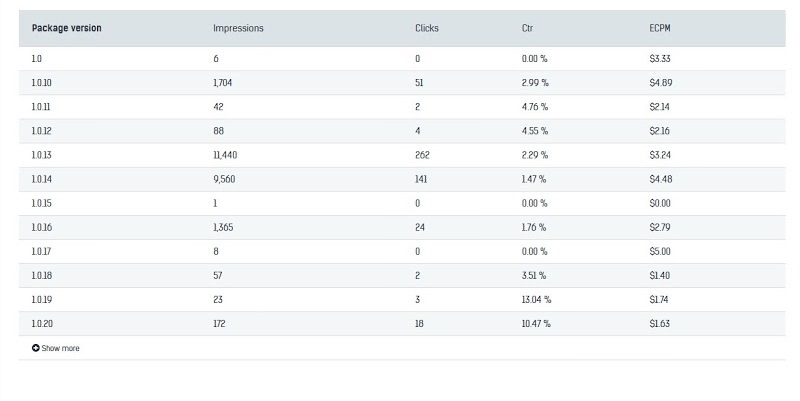 This parameter is especially useful when you have a few versions of your app. Use it to see if changes made in the latest version affected ad performance and compare your results.
OS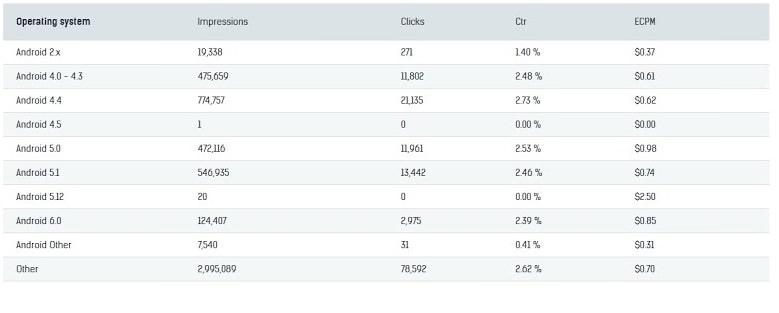 Check out how the operating system influences your performance. Publishers can get up close and personal with key data such as the average eCPM per OS version.
Kind
Analyze clicks, CTR, eCPM, and impressions per device type (smartphone, tablet, or unknown). If you find, for example, your data is higher on tablets, you can work to improve the user experience for your smartphone users.
User parameters
Our DMP partner, Personagraph, provides data regarding the following user insights so publishers can monetize users more effectively. (Please contact us via e-mail if you are interested in becoming an Appodeal data partner.)

Appodeal collects data independently to offer the user insights below:


With Insights, publishers no longer have to sit in the dark wondering how an app update or new source of traffic will affect their monetization efforts. The Insights tool acts as a floodlight, spotlighting the most important parameters and their influence on one's user base.
For information on Insights, be sure to check out recent press release and article in App Developer.