The holiday season is coming up soon. If you're a mobile app publisher, you probably know what that means—it's prime earning season!
Year after year, the eCPMs during the months of November and December were at their highest and this year is expected to be no different.
During these months, advertisers, especially brands, try to compete aggressively among each other for limited ad inventory in order to reach consumers leading up to Black Friday in the US and Christmas.
The main way for advertisers to compete and win ad impressions is to increase their ad bids, which means higher eCPMs for mobile app publishers monetizing with ads.
Let's take a look at our actual eCPM data of over 35 billion impressions on iOS and Android in the US and Western Europe around the holiday periods from the past two years.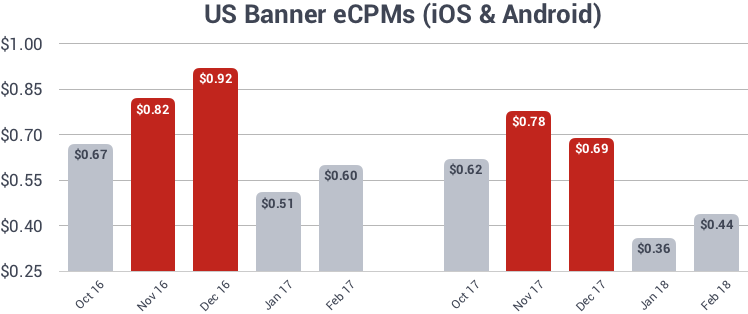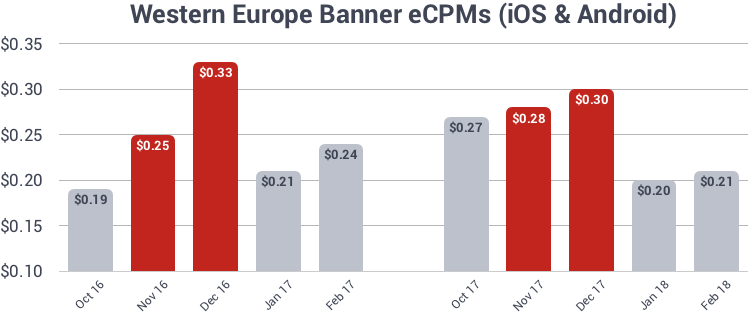 As you can see above, banner ads' eCPMs increased dramatically during the two peak months and then dropped back down in January, by almost 50% in some cases. The reason for this increase is that banners remain the most popular ad format for brand advertisers and they tend to increase their ad spend significantly leading up to the holiday season.
Now let's take a look at rewarded videos.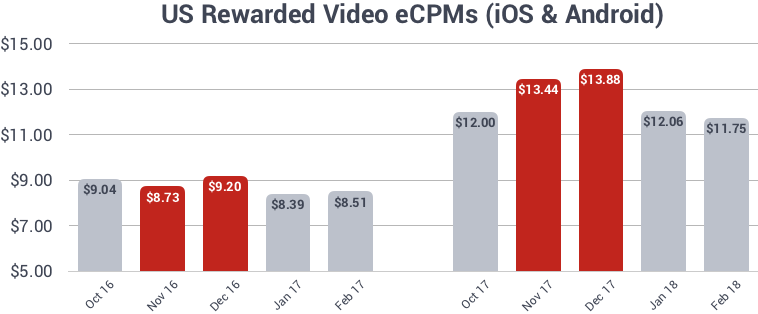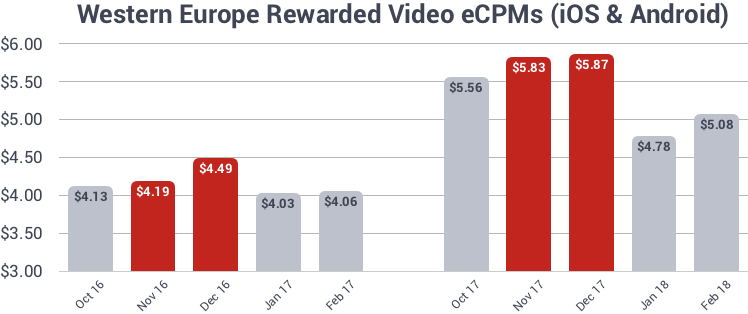 Rewarded videos, as you can see, saw their eCPMs jumped significantly in general from 2016 to 2017, thanks to the rapid gains in this format's popularity. While the holiday period's eCPM increase might not be as drastic as banner's, the actual eCPMs were the highest across all ad formats. In the US market, the eCPMs of rewarded videos even reached an impressive peak of $13.88 in December 2017.
Lastly, let's take a look at the holiday boost for interstitials.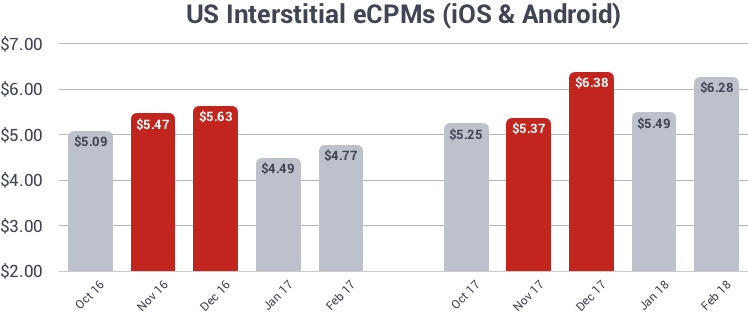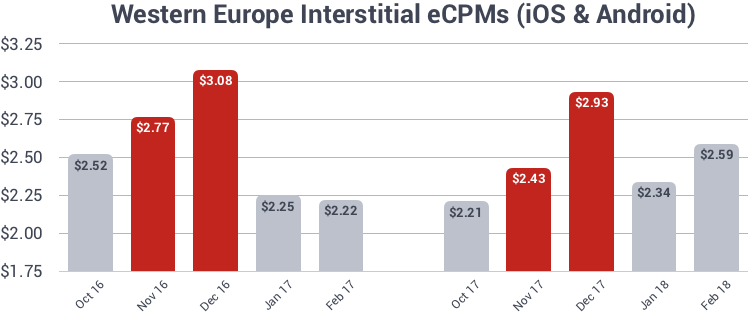 Again, interstitials' eCPMs climbed and peaked in December before decreasing again in January, by around 20%. Interstitials' eCPMs, in general, tend to not fluctuate too much throughout the year, but the peak period does give this format a decent boost in eCPMs.
The Key to Higher Ad Revenue and Lower UA Cost this Holiday Season
If you're a mobile app publisher, what does this information mean for you?
It means now would be the time to start monetizing with ads, if you are not already. Don't wait until the middle of the peak period.
While the start of a new year might seem like a good time to launch something new, like a new ad monetization partnership, or placing your first ads into your app, as you can see from the historical data, that would not be wise.
What would be better is to ensure your ad monetization setup is in place now so you can earn the highest ad revenue possible during the peak months of November and December. Then invest this additional revenue in user acquisition ad campaigns after the new year when the ad bid competition is less intense (ie. less expensive).
Higher ad revenue and lower UA cost, sounds like the perfect win-win gift for yourself this holiday season, doesn't it?
Ready to start elevating your app's ad revenue?